I've forgotten to mentioned that while the guys were busy posing for art by the beach, the gurls were pampering themselves silly with
pedicure
and
manicure
. It was a bargain it seems and the dudette came all the way to Cesmin Beach
Resort
Cottages to do it for them.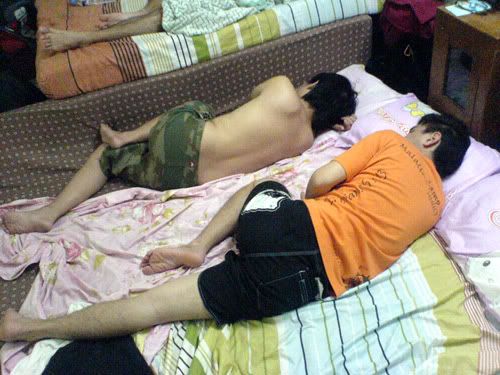 synchronize sleeping
Day 4. June 12, 2009. We headed to Full Gospel Fellowship, pastored by Ps Jerry Tadina. We're to do a Youth Service (mini-concert-thing) there. It was a small church along the red light district of the area as Ps Jerry mentioned to us. No, no one went missing as pastor held an iron grip around us to prevent us from
Pulling Stunts®
.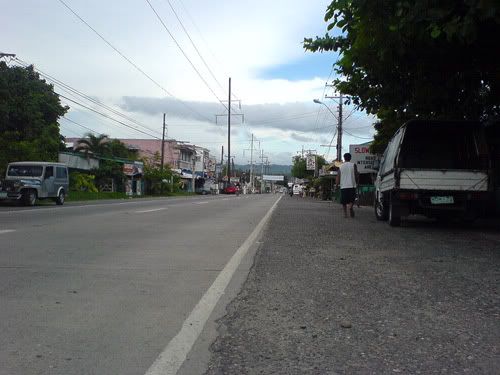 the (not so) red light district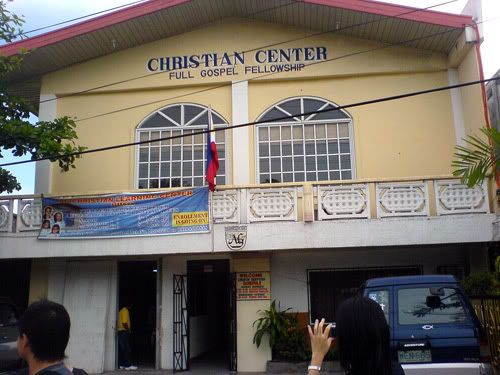 a place of hope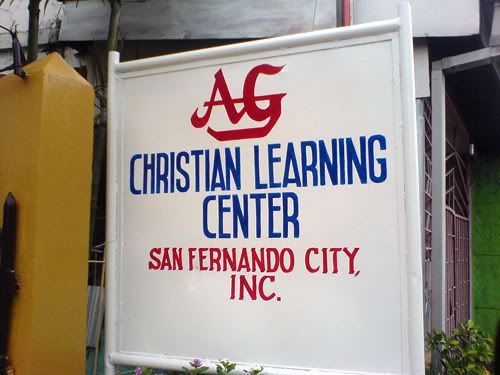 and of learning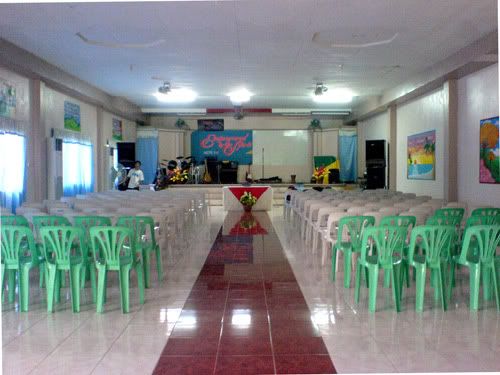 the hall
Despite the outward appearance of the church, the hall is very nice and clean. Tiled floors and decorated walls. We practiced a few of songs and get the sound checked out. Interestingly enough, they have no acoustic guitar at all. Just two electric guitars (and one would easily presume the people here would have an acoustic guitar in every nook). Soon it was time to eat dinner and for the concert.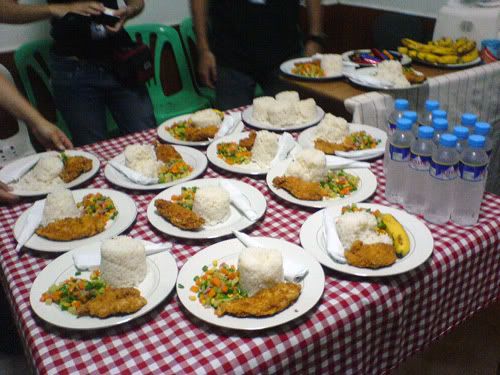 chicken chop rice
Here's the funny part. We being Malaysians, have a preset idea of what a concert would be like. In our minds a concert would be... Oh, I dunno.. a 7 to 10 tracks worth and with that mindset we actually cooked up 14 concert songs and practiced them hard only to use less than half of it throughout the entire mission trip.
hehe~
Nonetheless, the concert was good. The sketch was well played and the messaged was delivered wonderfully. All in all, a job well done.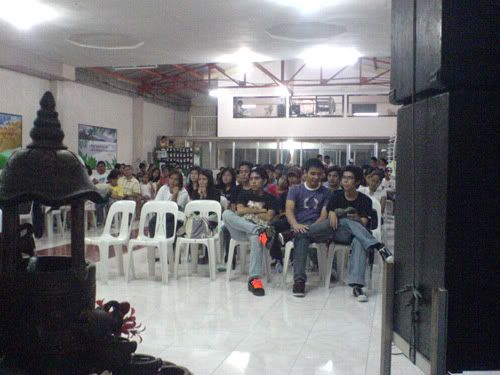 the crowd
The next day however, we're supposed to return to the same church to conduct various workshops from dances to creative arts to multimedia and to worship workshop. Julian, Wayne, Jennifer (Kae Lynn) and myself were to conduct the Worship Workshop. They were very shy. Maybe due to our Malaysian english and all but all in all, they were responsive and that's
A Good Thing®
. Unfortunately though, I didn't take any pics of the workshop. What I do have however, are pictures of Kee Weng and Lucius sleeping earlier that morning. Lucius sure has some weird sleeping poses..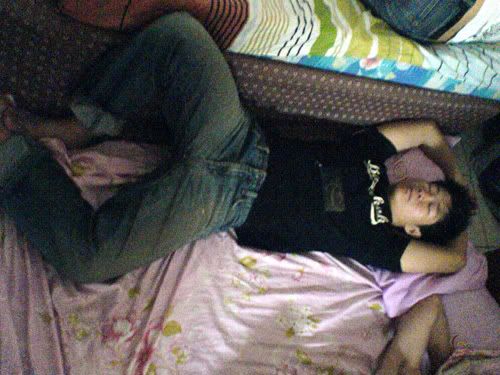 imagine: multimedia and worship workshop pic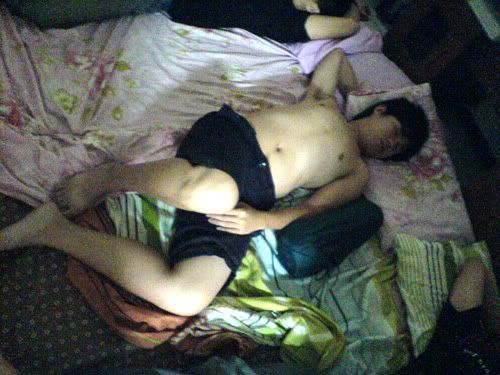 imagine: creative arts and dance pic
Later that night, it would be our last night in Cesmin Beach
Resort
Cottages. After this we would be splitting up into two main teams once again and heading to two different places. What's more, our Philippino guide and
chef
extraodinaire, Dante; Real Men of Genius & GARRR~ will be no longer at our service. So as a farewell, he BBQ'ed for us
Some Good Food®
. In momento of him, I shall refrain from commenting anymore on the food.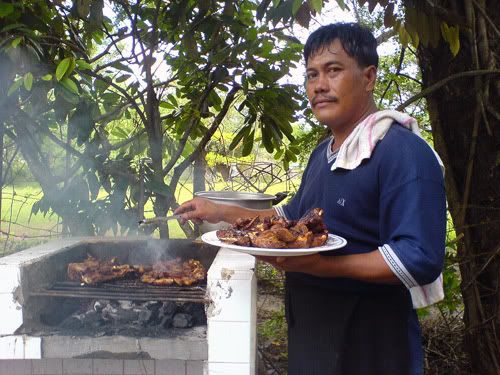 Dante! So GARRR!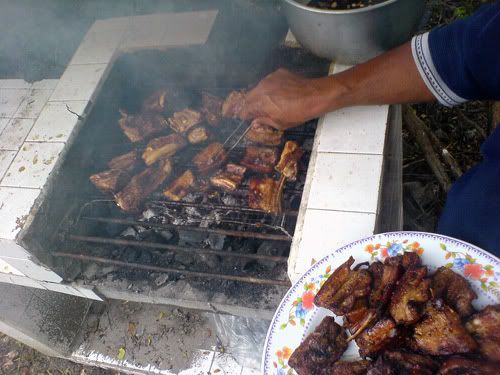 the grill he cooks on is GARRR!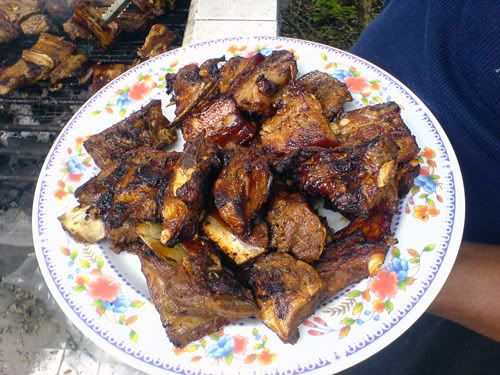 the pork chops he cooks is GARRR!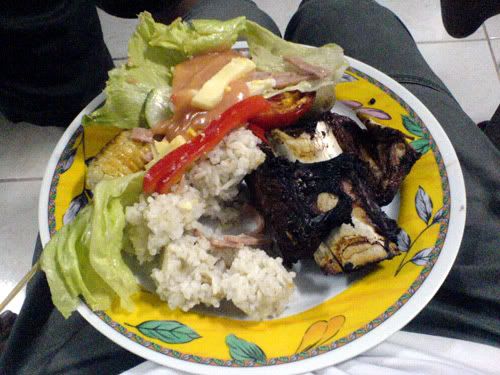 the final product is but a testament to his GARRR!
FYMT Presents: Real Men of Genius & GARRR!
(Real Men of Genius & GARRR!)
Today we salute you, Mr Dante A Real Man Of Epic GARRR Proportions
(Mr Dante A Real Man Of Epic GARRR Proportions)
Walking around knowing every nook and cranny of La Union,
You're the real Philippino hero.
(Runnin free!)
Sure, you're taking care of a bunch of Malaysian tourists and you
Have to make sure that they do not get lost or eaten by a cow.
(Watch out now!)
Your keen sense of smell and taste ensures that they eat only the
Best food Philippines has to offer. You even brought to Jollibee.
(Jolleyyyy!)
So crack open a nice cold bottle of PG-friendly drink, Mr Dante!
Cause we all know that when the going gets tough, you are GARRR!
(Mr Dante A Real Man Of Epic GARRR Proportions~)
The next morning, June 14th. We were leaving Cesmin to Ps Ramel Tadina's church which is somewhere near the coastal farmlands.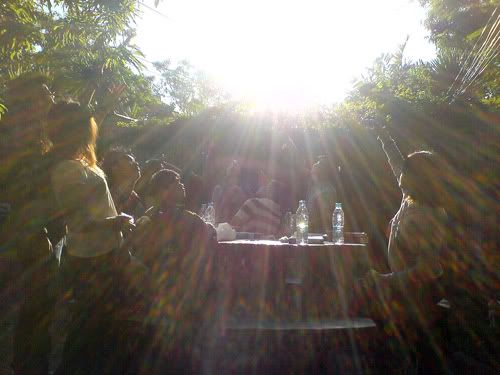 the bright morning sun of 7am
Ps Ramel is Ps Jerry's younger brother. For no reason whatsoever, I've forgotten to take both their pics so just imagine them for now as we move along. Ps Ramel brought us to a special beach where rather than hearing the sound of waves crashing into sand, we can hear the sound of waves crashing into... rocks... pebbles and other nice looking stones. Yes, it's a beach of stones.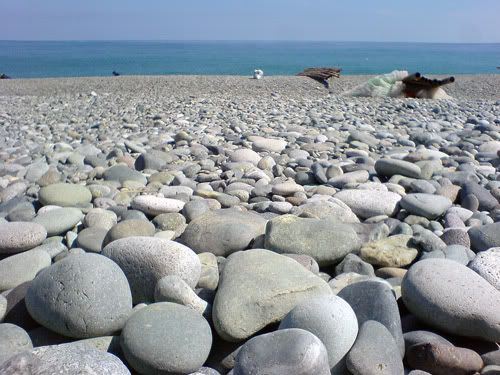 these stones cover the higher part of the beach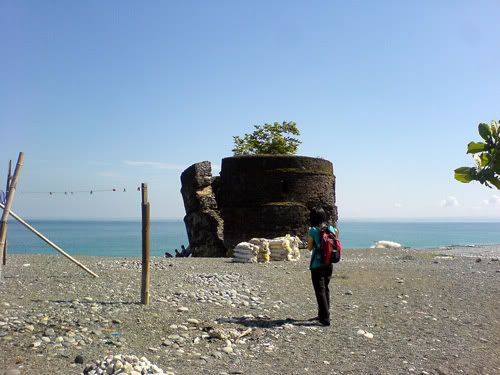 and nearby is a structure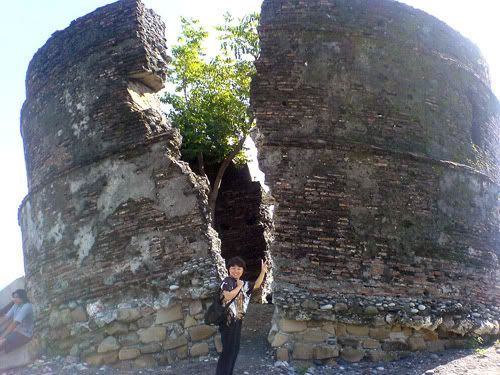 the structure is split in two and has a tree in the middle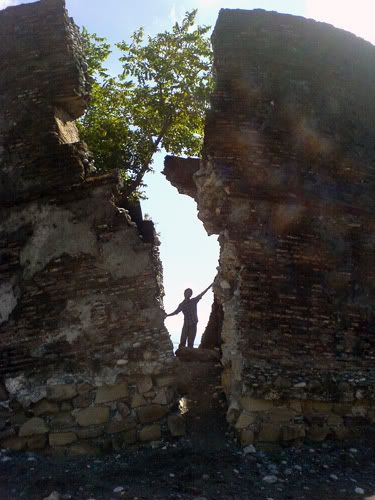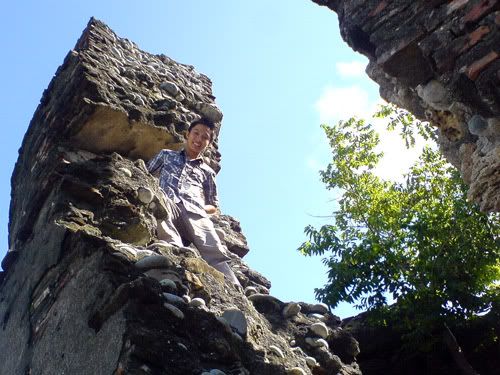 wayne upped his agi and flip the ex out of the pop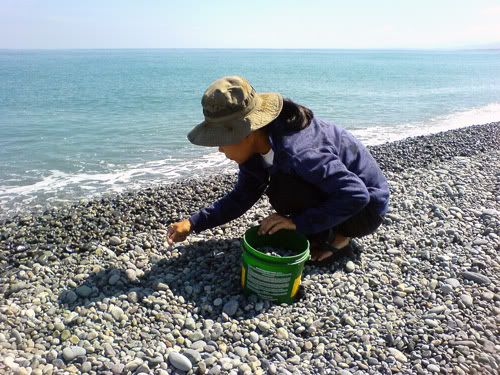 a woman collecting the nicer pebbles to sell - its their livelihood
Soon it was time for Sunday service. Ramel brought us to his church which consists mainly of farmers and the like, welcome to the Family Church.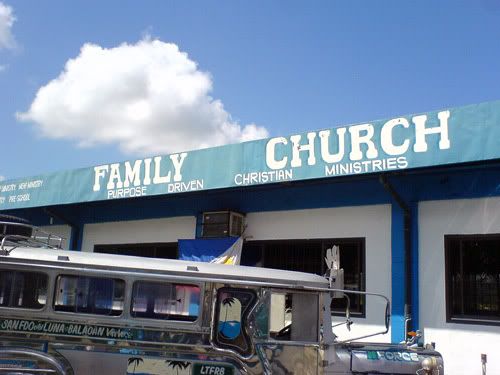 they have a jeepney for transport!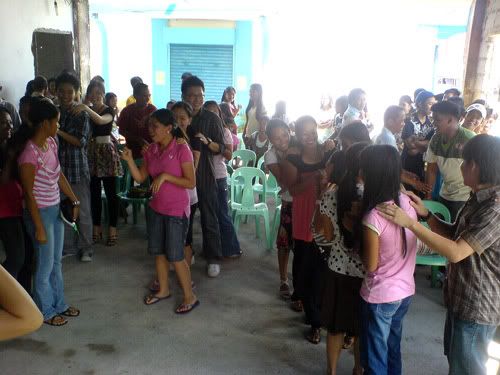 the youths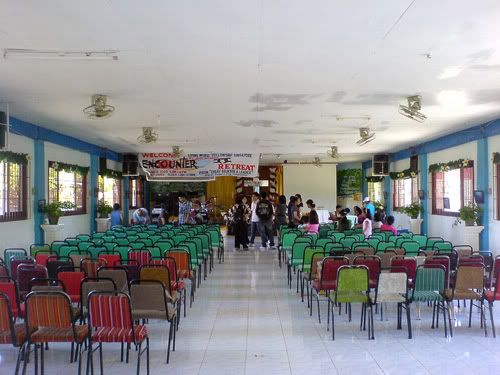 the hall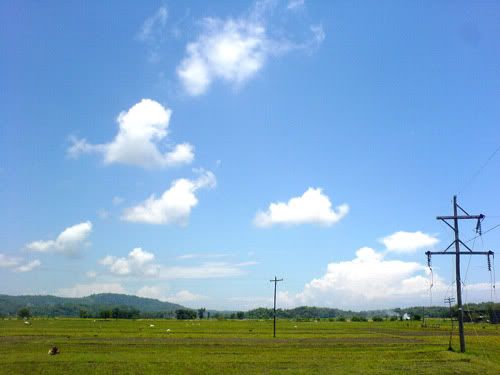 next to the church
Comparatively to his older brother's congregation, the people and the youths of Ps Ramel's church were more lively and less shy. Despite not being able to really communicate well in english, they were not hindered. It was kewl~ In any case, right after lunch, we headed back to Cesmin to grab our belongings and using public transport, we made our way to Baguio City: The Summer City of Philippines!
*cue adventure music, preferably non-MJ*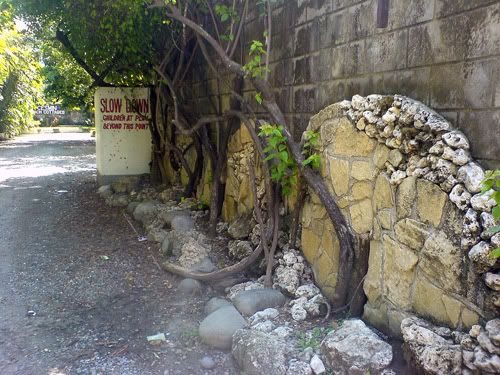 Goodbye Cesmin Beach Resort Cottages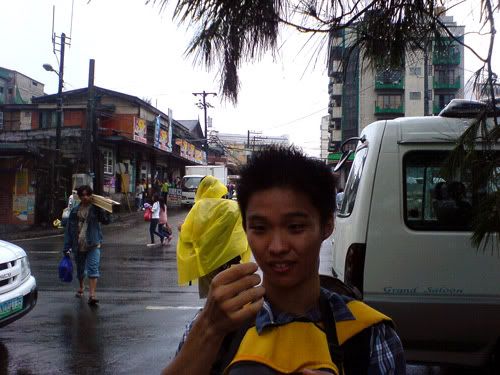 And Hello Baguio!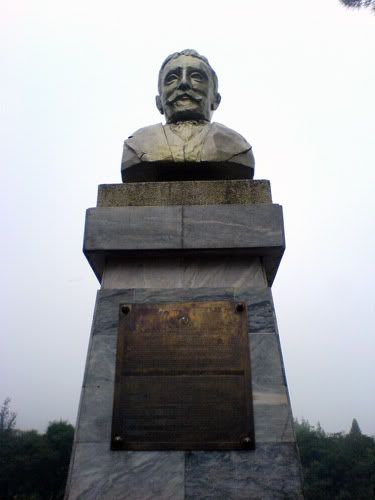 the dude who architectured the park
Once again, I remembered taking pictures of us eating the long BBQ'ed small intestines of a pig but somehow I'm not able to find it anywhere! I guess I'll just let your mind do the work for me. Soon, the president of Asia Pacific Theology Seminary (APTS), Rev Tham Wan picked us lost people up from the the middle of Baguio and brought us to our new lodging, the guest room of APTS.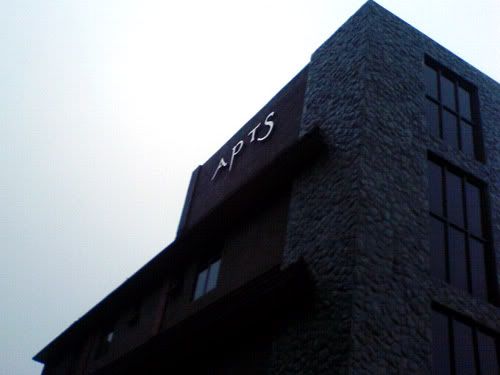 For Masters Degree only
Awesome view for only USD5000... A YEAR!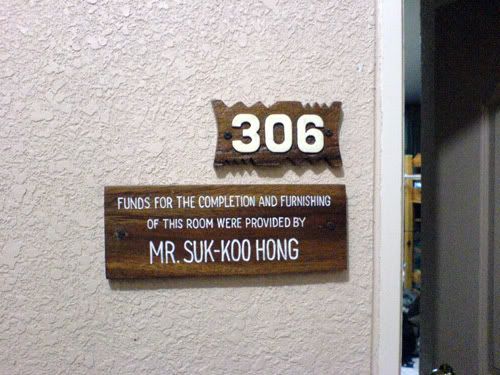 the men's room: american standard - drinkable tap water is awesome!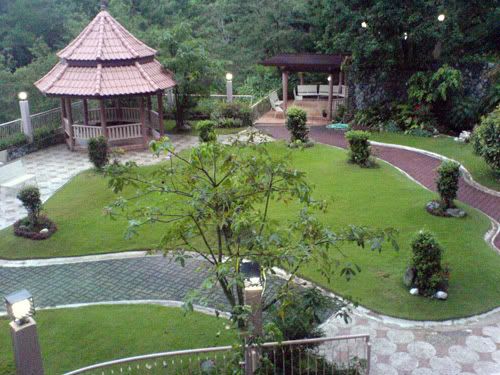 we do our devotions in that little hut on the top left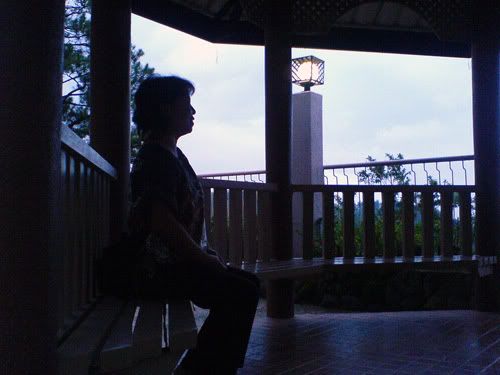 Ps Joanne's elmo pic
The whole place is simply.... breathtaking. It's hard not to be tempted to further one's studies to Masters degree over here where the place is always cool, the food is dirt cheap and the service is quality. The drinkable tap water and new towels every two days blew us away. We stayed in dorms with double-decked beds, each with its own set of towels and comforter. Students however, have their own rooms. Naish~
Later that evening Rev Tham Wan invited us over to his house in APTS for a get-together BBQ dinner with the rest of the lecturers there. Food rated
SGF®
for those who're keeping track.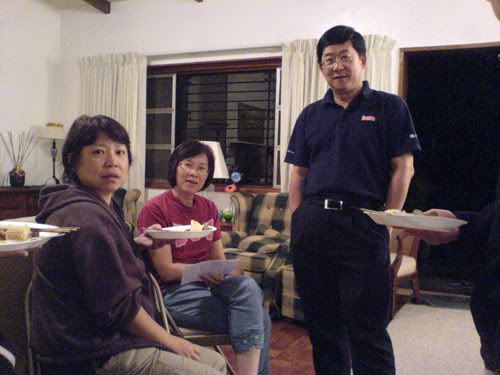 The Reverends:
Tham Wan (right), his wife Moon Tee (middle) and Joanne Lee (left)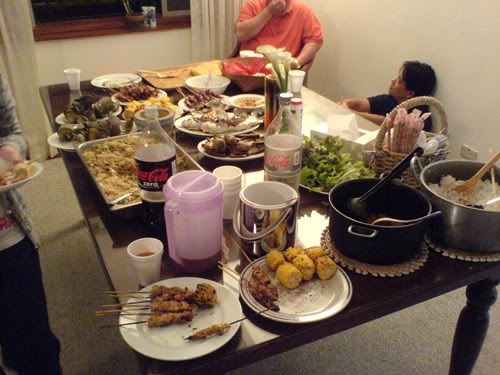 lotsa lotsa lotsa food~!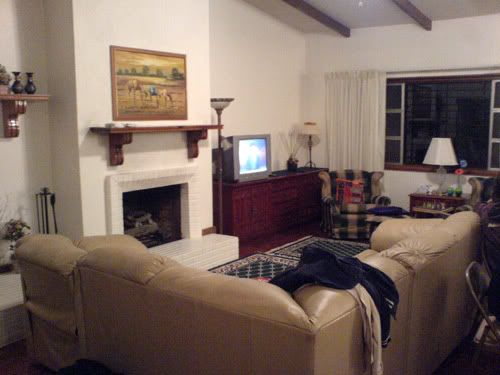 the american styled home for the president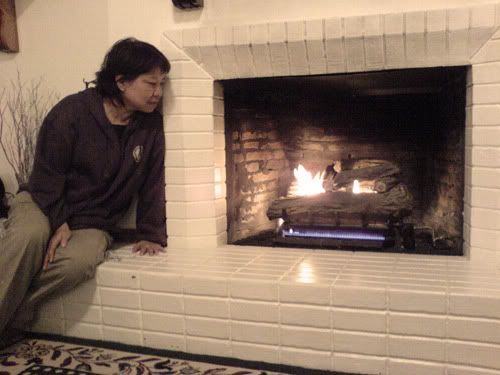 fireplace shot no. 1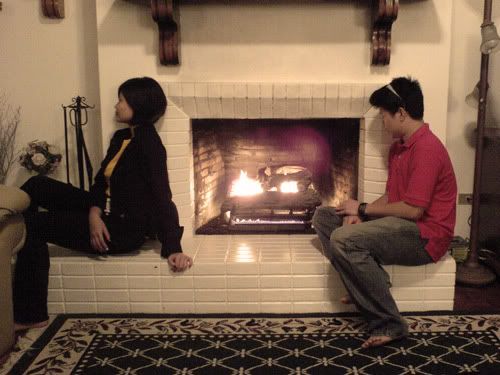 fireplace shot no. 2
All in all, it was a very fruitful two days for us and with that, the end of this post. The next day, more mission work to be done..... I think.
Good nite peeps~