Picture this:-
Guy stares at juicy succulent piece of
char siew
on the plate. Turns attention to lovely girlfriend, who's eating normally. Uses chop-sticks to pick up thick-gravy coated
char siew
. Mouth starts to water as he imagine sinking his teeth into juicy
char siew
. Snaps out of it and diverts attention to lovely girlfriend. Looks down at his prize, gives it to lovely girlfriend.
Girl : Eh? I thought you liked juicy succulent gravy
char siew
?
Guy : No larrr. Today stomach not feeling well. You take it lorr. It's nice.
Girl : Sure or not.. So fake one?
Guy :
*smiles*
Sure larr 'ling (short for darling). Stomach not feeling well.
Girl :
*pauses*
Thanx 'ling (read top).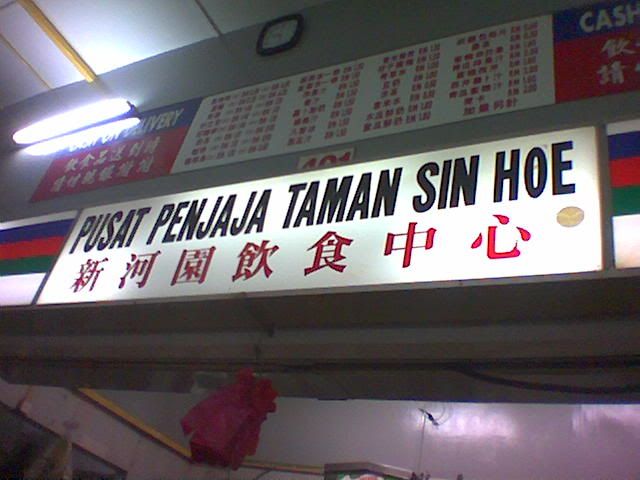 sin hoe foodcourt bukit baru
That's the usual scenario of couples giving excuses to give something they like a lot to their loved ones instead of keeping it for themselves. I was reminded about it today when my dad gave my mom a piece of sliced fish (marinated with special herbs and spices) saying he's full already and then continues to finish the other half of his bowl.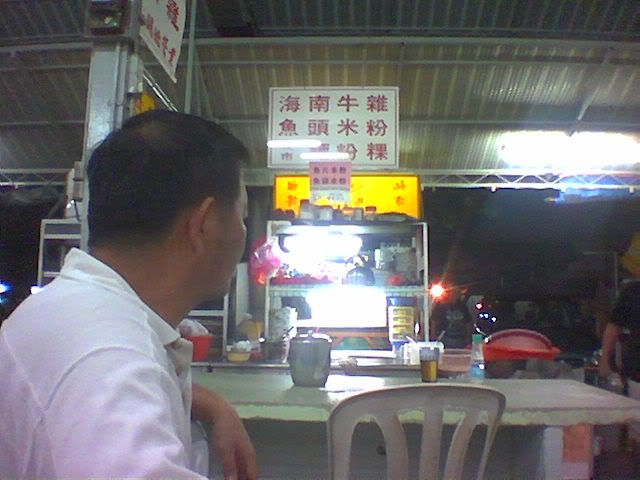 the man with the iron stall - brother lai
It's funny how we as humans express our love to others. Doesn't have to be a couple-relationships, it can be brotherly love or even as good friends. We give away something we like to the other, together with an excuse of why we don't want it. Call it a sort of sacrifice, big or small. In the end, it's an act of love.
Yes, love. A word that has been torn asunder and twisted by the
darkside
media of the world we live in today. Something that holds an enormous value has been made so cheap as if it could be bought - overused and meaningless in every sense of the way. It seems we're so caught up with the world that we forgotten something that's more than just a word to us - love.
steven curtis chapman
all about love

We've got CDs, tapes and videos, radios and TV shows
Conferences, retreats and seminars
We've got books and magazines to read on everything from A to Z
And a web to surf from anywhere we are
But I hope with all this information buzzing through our brains
That we will not let our hearts forget the most important thing is

Love love love love love ...it's all about
Love love love love love
Everything else comes down to this
Nothing any higher on the list than love
It's all about love

Now they're fighting in the Middle East and they're fighting down on 7th street
And there are fights in my own house on given days
It's like something's lurking deep inside that can't seem to be satisfied
But life was not meant to be lived this way
'Cause it's true for every man and woman, every boy and girl
That our only hope for living here together in this world is ...

Love love love love love ...it's all about
Love love love love love
Everything else comes down to this
Nothing any higher on the list than love

This is the reason we were made
To know the love of our creator
And to give the love He's given us away
Yeah, the Maker and the Father and the God of everything
He says to ...

Love love love ... He says love love love
Love love love ... 'cause after all it's all about love
God says ...

Love love love love love ...it's all about
Love love love love love
Everything else comes down to this
Nothing any higher on the list than love
'cause after all it's all about love