Check out http://www.faceanalyzer.com or click
here
, sign up, put a pic and get your face analyzed. Okay, if it weren't for the word
anal
that's inside
anal
yze, I wouldn't be making a fuss but I can't help but notice my taskbar having a minimized window that's called "FACEANAL...". So blame the com, I'm innocent here.
Ahaks~
As if being called butt-face isn't enough, some dude just HAD to be specific, "go scr*w yourself anal-face!".
Ouch!!
My bad, my bad. No profanity in this blog. I know~
So I took that face analyzing test and had my face.. analyzed. Can't stop thinking about that word..
*sigh*
Anyways, I had a four of my pictures analyzed (there we go again) and found out all of them fit quite nicely, especially the celebrity match. Seriously, I'm actually quite satisfied with, well, my face. So being analyzed isn't so bad after all. What a word.
Ahaks~
So all in all, this is what I am,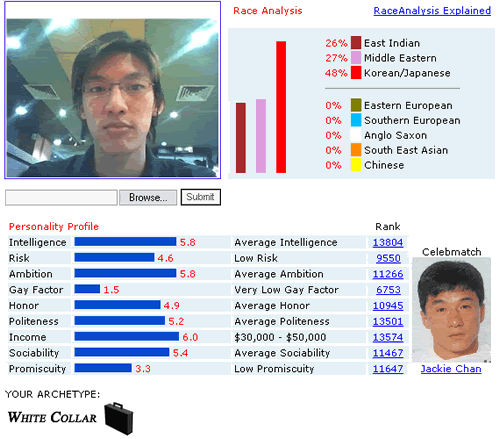 i do lots of stunts
a crazy stunt man full of injuries
i (think) i'm handsome
quoting an sms, "He's (andy lau) really a handsome chap. =)"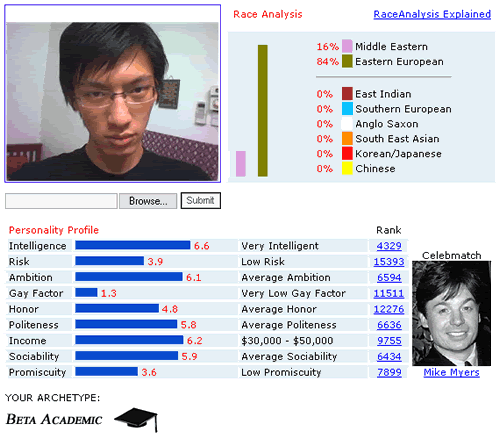 i wanna grow up to be austin powers
austin danger powers - danger is my middle name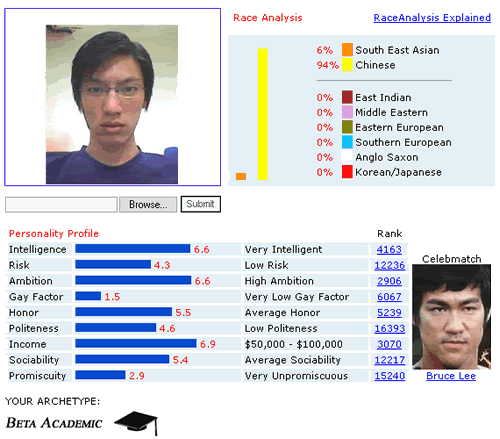 and finally,
i kick ass!!