Couple of months back I was introduced to a band called Altered Bridge that features familiar names like Main Singer, Guitarist, Bassist and Drummer. Heard of them before haven't you?
ahaks~
Was kidding about that part - mostly. I don't know all their names but I do know the name of their guitarist. His name is Tremonti, Mark Tremonti. People who aren't really into guitars or bands wouldn't know his name, but go down to any jamming studio in town and mention Tremonti, and you'll get lots of response.
He was the guitarist for Creed, ya know, the band that played familiar tunes like
My Sacrifice
and
One Last Breath
. Can still hear that opening intro for
One Last Breath
as ringtones these days. Was awarded best rock guitarist in some bla-bla award thingy too. He's so good that he has his own
website
that has tones of stuff, even him teaching how to shred that cheap axe in my house to pieces - very impressive.
But in any case, this post wasn't supposed to be about Tremonti and all. Was gonna write about ads. Yea, those commercial ads, short for advertisements, that you're forced to watch every-single-day. Heck, sometimes I feel that we watch more ads than shows. But watching those ads aren't so bad you know. Some of them are really cool and stuff while others.. well, they suck - real bad.
Take for example that ad for a certain insurance company whose 3-letter name starts with an 'M' and ends with an
*ahem*
'A'. I believe as many people do, that this has got to be the worst ad I've
ever
seen. Seriously, the ad is so bad that I think people would rather walk across a busy freeway without any insurance than to buy theirs.
Fortunately, there are tons of
really really
cool commercials out there to cover up that particular black sheep. Take that banned
xBox360
ad. Now that's cool. Remember that Toyota VIOS ad with that giant octo-thing? That's cool too. Recently, I stumbled upon a new ad from Rexona. No, not that lame-breakdance-wannabe ad from Malaysia, this one's an international favourite. If you're free, do check this out.
Enjoy peeps~ And a word of reminder,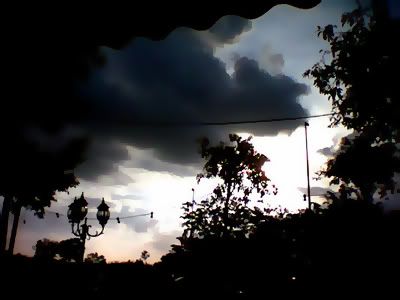 don't let that blardy cloud cover your sun
Nitez~