The hall way was busy as ever but all I could hear is the silence that filled the air. The sound of the clock ticking boomed into my ear as I waited anxiously. I found myself pacing to and fro in front of door way, unable to sit still, unable to rest. A great flood of emotions rushed through me like a
Korean soap drama
with a never ending plot and unabashed
love between siblings
who are unaware that they're siblings. Owh, what a rush.
A nurse.. a particularly hot nurse, whom I'm pretty sure is rather poor due to the lack of covering on her body, came out into the waiting room. "Sir", she addressed me. I waited for her follow-up response. I waited again. "Uh... yea?", I finally replied. "Congratulations, you're a proud father".
Camera zoomed and focused as a gentle stream of tears flowed down my cheeks.. no, it's the
other
cheek; the one on my face. "Thank you", I said slightly sobbing as I handed her a wad of cash. "Go get yourself some new clothes for Christmas". Generosity was me.
I pused the swinging door open with both hands, a gust of wind (of unknown origin) blew my hair and cape (also of unknown origin) in slow-mo fashion. My wife laid on the bed, smiling from ear to ear. "I'm so proud of you", I told her with tears flowing down my cheeks, the
other
cheek; the one on my face. The doctor turned to me, carrying in his arms new life and new destiny. "Congratulations" he said to me as he moved his arms forward gesturing me to hold the new life in my arms.
*cue When Love Takes You In by Steven Curtis Chapman*
I held him in my arms and the first thing I noticed about him was that...
* *

* * * *

* * * * * *

* * * *

* *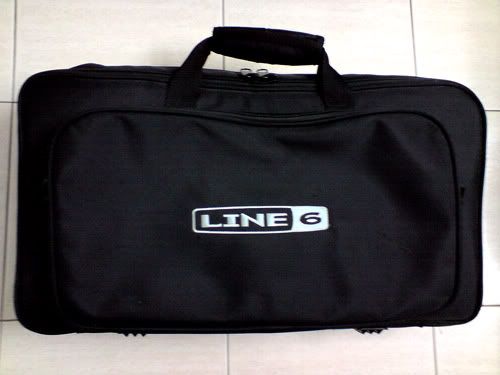 he's black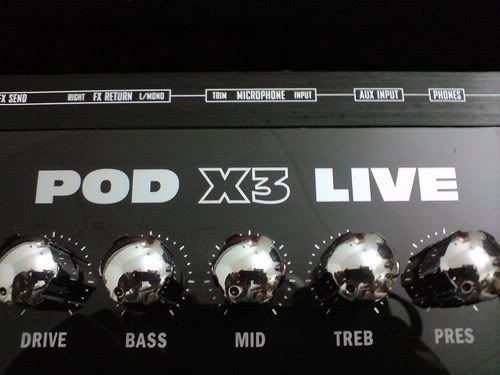 beautifully black, if i may add
For unknown reasons I'm thinking of VJ now...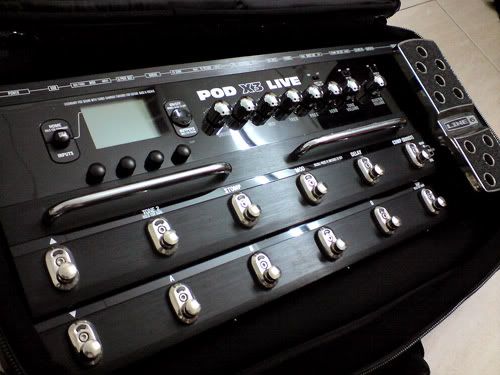 i miss VJ... :(
Some awesome specs of them Line 6
Pod X3 Live
:
In and Outs
1/4-inch Instrument Input (w/ Normal/Pad switch)
~ XLR Microphone Input (w/ Trim Adjust)
~ USB 2.0 for computer recording
~ S/PDIF Stereo Digital Audio output
~ Stereo 1/4-inch Line outputs (with Amp/Line Pad switch)
~ Stereo XLR Balanced Line outputs
~ 1/4-inch stereo effect loop
~ Variax Digital Connector
~ 1/4-inch Expression Pedal input
~ Midi In & Out/Thru
~ 1/4-inch stereo headphones out
~ Pedal 2 input for optional second Expression Pedal Controller
~ 1/8-inch Stereo (CD/MP3) Jam Along input
Amp, Cab, & Effects Models

~ Massive model set for guitar, bass & vocals
~ 78 guitar amp models
~ 24 guitar cab models
~ 98 stompbox and studio effects
~ 28 bass amp models
~ 22 bass cab models
~ 6 vocal preamp models
~ A.I.R.™ II cab/mic modeling with 4 mic options each
~ POD Farm plug-in, a free download, provides all models in Mac® AU/RTAS®/VST® and Windows® RTAS®/VST® compatible formats
Controls
~Expansive Backlit LCD display
~ 8 Chrome "Amp Control" Knobs: Drive, Bass, Mid, Treble, Presence, Reverb, Tone, Volume, Master Volume
~ Metal Tap Tempo/Tuner footswitch
~ 5 metal stompbox On/Off footswitches: Amp, Stomp, Mod, Delay, Comp/Boost
~ Built-in heavy-duty Wah/Volume/Expression pedal
~ Dedicated Bank Up/Down & A/B/C/D metal footswitches for preset selection
~ Dedicated "Dual Tone" control metal footswitch
~ 5 Context-Sensitive Parameter Edit knobs
~ Dedicated Input/Output configuration buttons
~ Ground Lift switch
Additional Features
Rugged, stage-ready design with premium metal footswitches
~ Send guitar through two complete Amp/Effect signal chains simultaneously
~ Independent Tone Processing for 1/4-inch and XLR inputs
~ 2 chrome handlebars
~ USB 2.0 Multi-Channel digital computer recording (Stereo Wet/Dry Per Input)
~ Studio-quality 24-bit A/D and D/A Converters and 32-bit floating point processing
~ Up to 9 Simultaneous Effects Per Signal Chain, with Pre & Post amp routing
~ Tap Tempo control for time-based effects
~ Precision Chromatic Tuner, with Audio Mute & Bypass options
~ USB 2.0 Cable included
~ External Power Adapter included
~ MIDI lets you automate every move
The best part about my new baby boy is that he has these little thingies~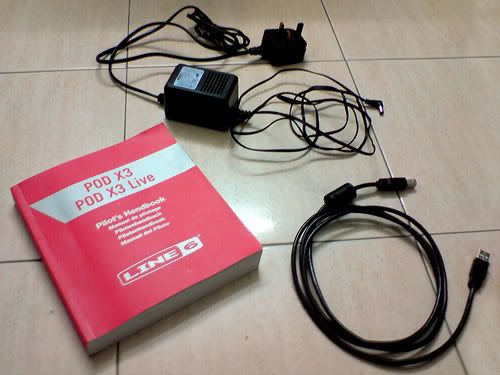 owh mai.. is that some USB?
With these guys I can connect it to my computer and update my drives, download amp models, etc and since Line 6 has a huge community, there's plentiful to download and put into my patch. But of all the patches that are available online, online one interest me, only one catches my breath.


Lincoln Brewster ftw~!
The even better part about the above video is the fact that he generously
uploads
the
patches
that he pain-stakingly took hours and days to perfect for our tonal pleasure. I download them and place em in my Pod and I jizzed~ For more info, check out his
website
.


Today Is The Day


Let The Praises Ring


jamming session
Thanks
Lincoln Brewster
. You really made my day.
so beautifully and wonderfully paired
p.s. it sounds way better then the hillsong's patch