Meet Elina Goh. Simple in looks, laughs like a pig, a passion for God, and a heart of gold. She's special for two reasons. One; her birthday falls on the first day of Chinese New Year. How cool is that?! So instead of buying her presents and all, just hand her a nice simple red packet. Kill two birds with a
guli
. The second reason? Well, because she's my sis and that makes her ever more special.
ahaks~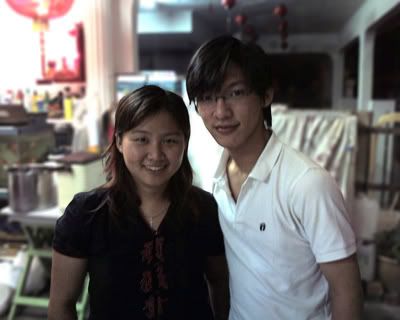 Elina Goh, you ARE the best
I've always looked up to her, ever since I knew her back in MHS. She was in form 6 and she carries a testimony that moved me back then and even now. She was a new Christian back then and at the same time a first generation Christian, she was persecuted by her family but yet she endured it all and held God up high. To her He's her only hope indeed. For that,
*salute*
respect!
ahaks~
I miss those times we hang out together with my dad and bro. Miss those times her two friends, Elaine and Syiok Sial (not real name) accompanied us on those lonely nights.
*sigh*
Good ol' times. You're the best Elina!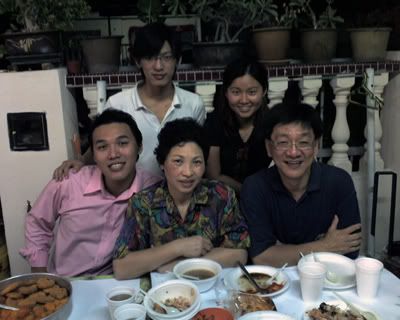 see.. fits well doesn't it?
Heard of the Konn Manns? No? Well you better, because they're gonna get you and you wouldn't even know what hit ya.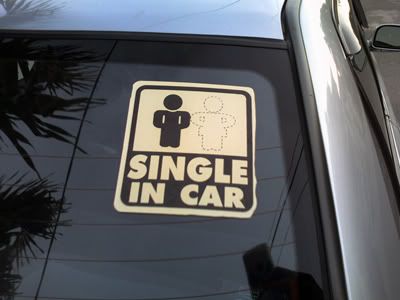 i think, therefore im single
Nearing the end of CNY, my ex-high school mates went on a trip together to Sagil Waterfall. It was quite a tedious event as we planned and try to keep the figures as small as possible but, like all other youths, we're experts at spending.
ahaks~
So where IS Sagil? Heard of the
*ahem*
famous Gunung Ledang (Mount Ledang)? It's the mountain where the legendary warrior of Malacca, Hang Tuah and the Princess of Mount Ledang
got down and dirty
disappeared without a trace. Still blurr? Go buy a pirated DVD of
Puteri Gunung Ledang
larr and save yourself some trouble kay?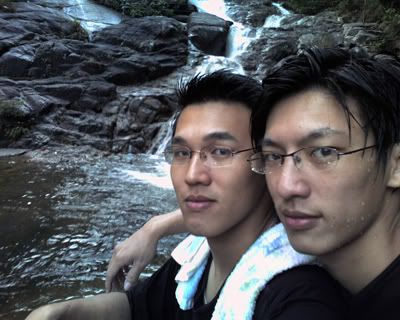 my bro and i... it hard..
So the 9 of us (8 Konn Manns and bro) went on a road trip all the way there. I've always like travelling with them in the Turbo Van aka Blink 182 Van. I dunno, I guess there's just something about a bunch of guys sitting in a van talking nonsense all day long. Anyway, Sagil Waterfall is a really cool place indeed. It has many waterfalls, small ones at the bottom, rough ones at the top - we went to the top. It's easy for me to say "we went to the top", but the truth is it's one really long and tiring hike all the way to the highest point but we, the JackAssCrew will not be easy defeated.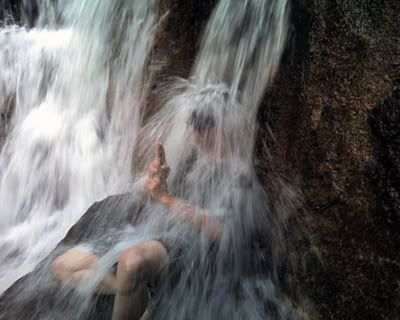 naruto wannabe
After a long and weary trudge up the very steep path, we eventually reach the end of the road. The reward? A very satisfying time to slipping and falling unto hard rocks and swimming in a pool of water that has plenty of fishes. In case you're wondering, yea, we did try to catch those fishes but end up looking like a bunch of idiots.
ahaks~
Had a really great time there. These are just one of those memories that will be kept in the archive of the Konn Manns.
Hehe~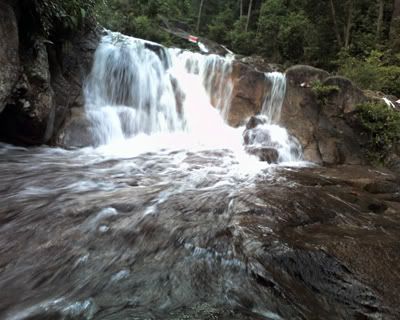 smooth clear waters mann..
Ladies and Gentlemen..
I present you.. the Konn Manns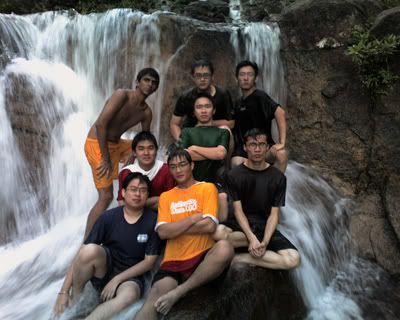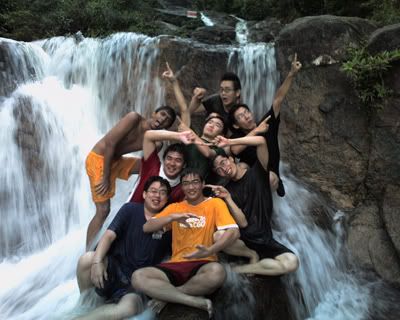 Good nite peeps~!! Practice! Practice! Practice for NOC4!!