Cyber's cfMMU peeps were selling really cool t-shirts last Thursday. One of them had the words
"A Blatant Christmas"
and a picture of cartoon Santa Claus, sitting down lifeless with a spear stabbed through him. At the back of it, is this post's title. Real cool t-shirt indeed.
This Christmas God has blessed me with things that I've missed out during Christmas a few years already. He gave me a beautiful and serene Christmas. More so, He gave me an abundance of delicious food to eat - all the good stuffs. Christmas eve dinner, I had awesome
char siew fun
in the shop that's just outside my
taman
. Good stuff though the price-to-quantity ratio isn't really good IMO.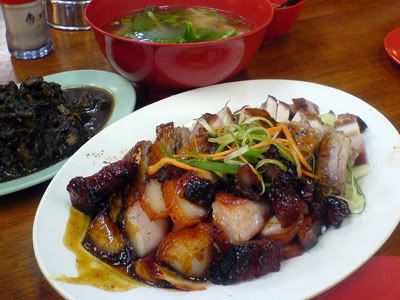 love-the-fat-love-the-fat-love-the-fat-love-the-fat
Two days before Christmas and on the eve, I spend the entire day cleaning up the house - both indoor and the compound. So finally, on Christmas day, my family enjoyed a good day of eating
Some Good Food®
. For lunch we went to
Bunga Raya
to eat some good, old school mutton soup.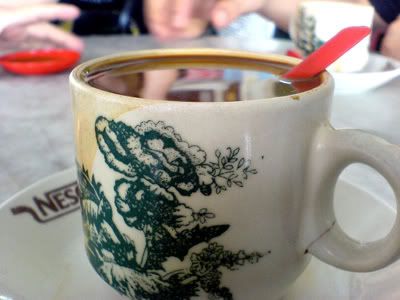 old-school kopi-c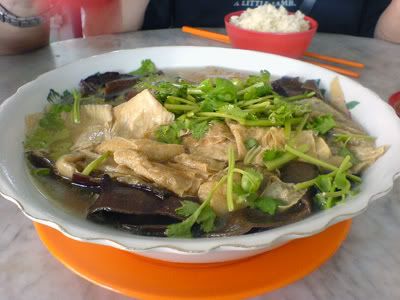 old-school mutton, baby
Family came back home, watched some t.v. and napped till dinner time. Dinner's the highlight of the evening - it's Christmas after all. Unfortunately, my family can't afford to buy turkey and stuff, so we headed down to our good ol' family friend's restaurant,
Tai Pan Seafood Restaurant
and ate to our hearts content. Ordered
kangkung belacan
,
BBQ spare ribs
,
beancurd
,
oatmeal prawns
, and
sweet & sour crab
.
Real
good stuff!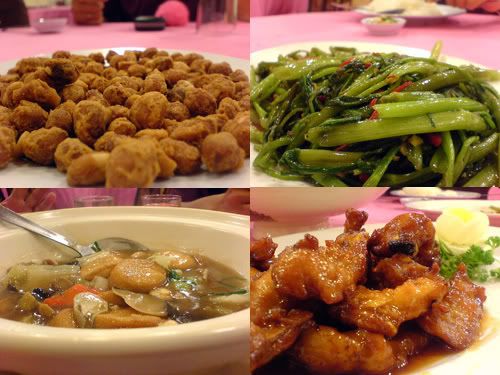 mm mmm~ yeaaa~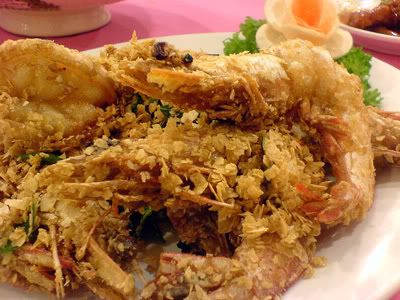 right now i pity you.. yes, YOU.. /pats head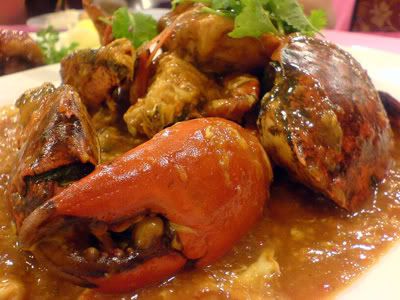 that's a big crap crab
Okay, the last one was a lil' cheap. Anyway, to increase the festivities, the owner who's in his mid-thirties whom we call
kor
which means big bro, open up a bottle of wine for us, gave us free fruits and desserts. Yeap. He rocks alright. Almost every time we eat there for a celebration, be it Chinese New Year, Christmas, birthdays, etc, he'll always throw in good stuffs on the house.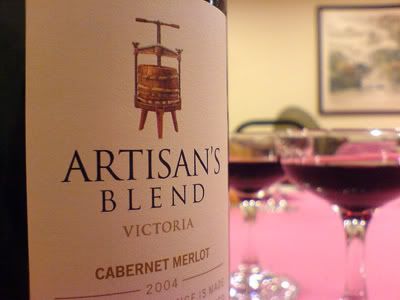 dad says its rather fruity but honestly, it's just dry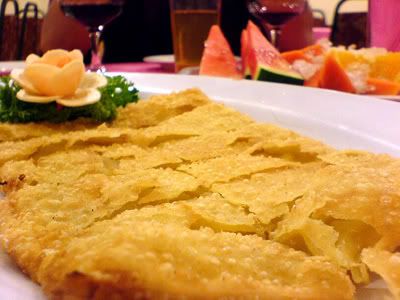 some.. sort.. of.. dessert?
And that, ladies and gentlemen, is a good Christmas dinner as a family; five dishes - RM120. A bottle of Australian wine, fruits and desserts - on the house. Hope ya'll had a blessed Christmas too. Remember, it's not what you do, it's who you do it with.
Good nite peeps and once again, twas a Blessed Christmas.