After long period of waiting for my present from Neo Ann Na, sister of Neo Wee Liem, Justin finally passed it to me. This has got to be the best present Ann Na has ever given me, Pillar's latest album,
Above
. Yup, I'm a Pillar fan ever since I got my hands on their earlier album,
Fireproof
. I'm not surprised if you guys have never heard of Pillar before. After all, not everyone is a fan of Christian Rock music. I can only summarize their music as this -
rap, rock
and
God
.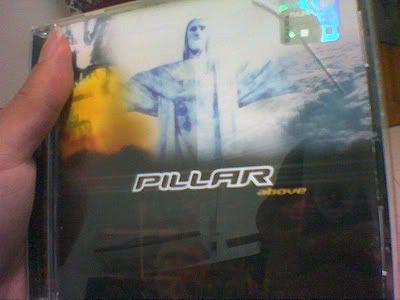 pillar's newest album, above
So if you're bored with those typical stereotype rap/rock bands out there
*cough*
Lim Biskut
*cough*
, go ahead and grab yourself a Pillar album. Any one will do, it's all good. So far, I've got 3 of their albums, Fireproof, Where Do We Go From Here, and the Christmas gift from Nana, Above. Ann Na, if you're reading this, I know I owe you a movie and an outing, I will fulfill my promise so be patient okay?
ahaks~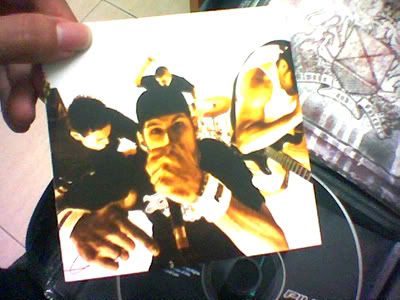 sorry nana and thanx gal
I came home earlier (around 12am), went to my brothers room only to see a shocking scene - bro's new handphone! Being kinda dumb when it comes to mobile phones, all I know is that it's a Samsung phone and it has a 1.3 megapix digicam on it. Compared to my 0.6 megapix phonecam, I'm 700,000 pixels short. That's more than half, just in case you didn't notice.
ahaks~
Initially I was kinda curious about this new toy of his but after awhile I got kinda fed up as I dunno how to operate that Samsung phone of his. It's too complex for a simple guy like me. Samsung sux..
bleh~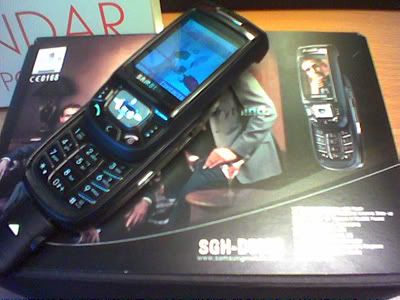 new toy rawks? nahh~
Exams are drawing near indeed. In fact, I have less than a week to study. 2 papers on the 12th and the last one is on the 14th - a beautifully bloody Saturday afternoon.
*sigh*
I hate taking exams on Saturdays. So to be able to concentrate on my studies, I made a promise to God. Despite having bought Civilization IV yesterday, while I was on the way home after a good time at CG, I promised God I will not touch any of my games till my exams are over. Though the clouds of regret are hovering over me right now, somehow I will survive the temptation - I hope.
ahaks~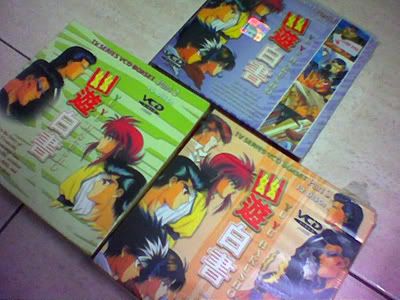 brains... fried... watched... too long...
In fact, to decrease any temptation that will distract me from studying, I finally finish watching the YuYu Hakusho anime that I borrowed last Thursday from Kay Lyn (you rock gal!!). Kay Lyn, anime queen and japanese language sensei was gracious enough to borrow me that anime and finally, after hours and hours of watching, I've finish the entire series. Oh yea, forgot to mention that there's 38 CDs and one CD is more or less an hour. So with no (visible) temptation, I'm able to concentrate fully on studying. Now all I need is some motivation. I remember someone once asked me not too long ago, "Do you motivate me to study?".. do I?
pillar
father

your life is like castle built upon the sand
all the work is done but it will not stand
your life is like a picture without any paint
it's left you feeling blank and a little incomplete
from the answer that you seek
all the questions that you have all lie in Him

He is the way the truth and the life
He's my road to take me home
He is the way the truth and the life
He's my father and my friend

life is overwhelming when you start to doubt
have faith He is with you, here and now
many questions you have asked along your way
like who i am, where i come from, where will i go
when i leave here from this world
i have faith that heaven is within my reach

He is the way the truth and the life
He's my road to take me home
He is the way the truth and the life
He's my father and my friend

He is the way the truth and the life
He's my road to take me home
He is the way the truth and the life
He's my father and my
father and my friend