Well, the holidays are over. Suxmyx has been trying to add to my ever growing rotten infectious disease called keyboard-to-head-kanser with it's new tag-line;
"Welcome to Washington DC'ed like million times"
. Gotta hand it to their publicity board. Register now, regret later.
heh~
What an annoyance eh?
the bright sun of the beautiful sunday
This Sunday service worship was bad. I shan't elaborate further for I've promised myself that I shall never be in that ever situation again..
Anyway
The message was good though.
Uncle
Bro Fook Meng did a great dive into the Word and gave us a different perspective of some things about Jesus. Also, this Sunday Service has got to be the most interactive one ever. Even Fook Meng said so himself.
hehe~
Wonder who's that auntie..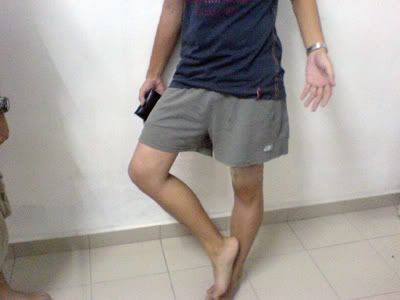 one of the twin wearing hot-pants
Had a (hopefully) fruitful Music Leaders meeting after a great dinner sponsored by our boss.
Yea~
Rocking all the way from Ipoh, Land Of The Chiqs. Gonna implement some changes in the music thingy of CCC. With a combination of four services on Saturday and Sunday, it's gonna be either very interesting or very tiring for musicians and all those involved. Lets see what happens.
tiun's new hairstyle - nice
Went to Lionel's house to celebrate 3 special people's birthday, Amy, James and Boy. Fellowship was fun. Bunch of CF'ers came and got to watch 5 guys throwing themselves into the pool, soaking their wallets and causing their new, expensive hand phones to short-circuit. Smooth. Real smooth.
scandal.....
It's my sincerest desire to see all 3 of you to draw nearer to the Lord and serve Him faithfully as you progress in age and grow in wisdom. Especially you Boy, never forget the heart of worship - and you'll definitely grow in your skills and passion.
sweet facial boy.. heh~
It's been a looooong day. Good nite peeps~