Some days work is fun, some days it ain't at all. Some days work is mediocre, some days it's filled with lots of
fun
work. Some days - no work. Those days with no work has got to be the most boring'est thingy days in the history of thingies.. an days.
(does it make sense?)
Those days seems to last for eternity and eternity, my friend, is a long time.. 9 working hours to be exact.
ahaks~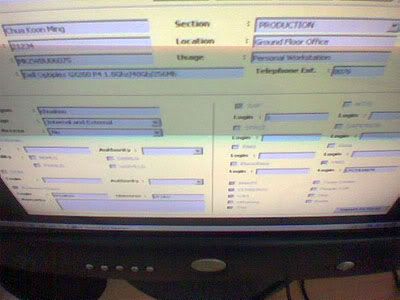 staring into nothing - seriously
It's my 3rd day of the 3rd week
of the 3rd year
of Industrial Training and I've done absolutely nothing for the past 3 days. I'm sooooo bored!! My cubicle is next to the walk way and people can look in from the glass panel, therefore I can't sleep. And since I can't sleep while working I'm forced to stare in front of the computer screen while trying to cook up new ideas of things that I can do. If you haven't ask; yes, I've been bugging my supervisor to give me something to do. With such attitude, which HR dude wouldn't wanna hire me eh?
i confess, i've slept in the toilet before~
Last weekend was good. Went up to Seremban on Friday evening to enjoy a short 3 days holiday which I desperately need. On Saturday GerX and her family and I went up to KL. Our first stop was Plaza Low Yat but her dad must've heard wrongly, we ended up at some other shopping complex. Funny though. When I step foot into
'Low Yat'
my first thoughts were,
"Wow~ Low Yat sure changed a lot. Big lights, lots of retail stalls and makan places"
. I was sleeping while on the way to KL, so don't blame me for being blur and acting stupid. :P Anyway, upon realization of our error.. error.. error.. (think
Euro Trip
), GerX dad was patient enough to drive us all the way to the 'real' Low Yat Plaza.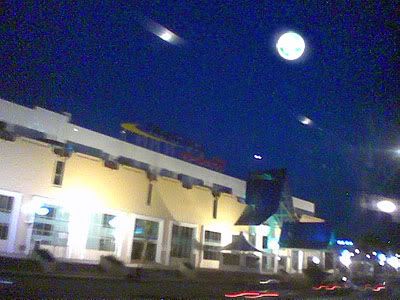 the upcoming Melaka Mall
note: moon was added to make the pic look nice
Heh~ Low Yat hasn't changed at all. Tall shopping complex filled with computer shops and gadgetries.. if there's such a word
*checks Wikipedia*
. Yup, there is. Aneeweyy, we had 3 hours to shop, find some makan place and get our butts to MPO KLCC before the show starts. GerX wanted to find the old PIXMA 1000 series printer but unfortunately it's obsolete, so we settled for a new Kingston 512MB DDR2 RAM while her bro got himself a Samsung 740N 17" LCD monitor. Coming to Low Yat, seeing all those sweet, sweet gadgets and watching them buy those stuffs makes me feel slightly envious and wish that I was rich
*sigh*
. Fortunately I'm not so pathetic. On to dinner and MPO.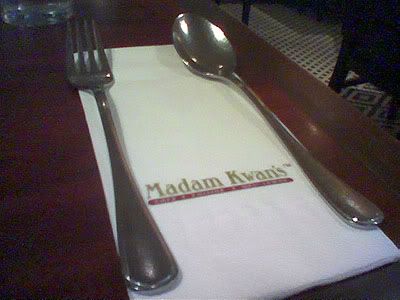 sounds like some ah ma's shop
We ate in KLCC's
Madam Kwan's
. It's a rather exclusive restaurant, despite its name. According to GerX their specialty is their
Nasi Lemak
(translates to Fat Rice) and so I played along with it. After looking at their menu, blood almost spurt out of my nose. RM15 for a plate of
nasi lemak
?! After ordering and waiting for 20 minutes or so, our food finally arrived. Rice with
ikan bilis sambal
, 2 slices of cucumber, 2 pieces of
rendang
chicken, half of boiled egg, and fine chicken floss. As much as GerX tried to persuade me that this
nasi lemak
is very good, I was truly skeptical about it. Come on, who can blame me eh?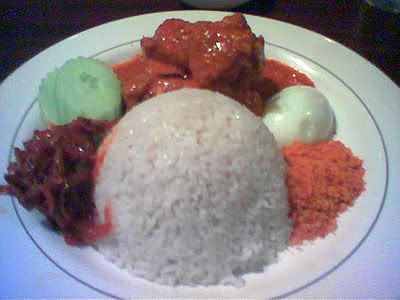 puke blood punk
The smells good, lots of coconut milk in it. The
sambal
well.. I can't comment as I'm a fan of all
sambals
. The
rendang
was okay, sadly I got the breast meat, and I don't like chicken breast meat. The boiled egg.. WAS SOOO GOOD!! .:.:.:.:.:.
Yeah right~
Who am I kidding. It taste like every other boiled egg that has ever been boiled! Nothing special there. The chicken floss has got to be the funniest thing I've ever seen on a plate of nasi lemak. When they say chicken floss, they
really
floss the chicken. It's like eating pounded-to-powder chicken. But I've got to admit, it does taste better than the conventional
nasi lemak
but for RM15, I'd rather stick to the RM1.50 ones. I had almost vomit blood while walking out of the store.
the awesome lights of MPO
MPO was the main event of the trip. We're here because GerX's godsis was the featured pianist. I wore the full-black shirt and slacks that I wore for NOCIV and double that with a rented coat, GerX's dad said that I looked like a bouncer - a short bouncer.
Sial~~
But after taking a look in the mirror,
hey~!
I DO look like a
short
(
insert random vain word
) bouncer. MPO's hall was nicely designed. To the inexperience, they wouldn't had notice the architecture of the building, fully absorbing wooden walls. In fact, almost the whole hall is made entirely out of wood, even the seats so that the sound can resonate in it. The position was such that the full power of an orchestra could be heard in every corner of the hall. To a musician, it's sooooo cool.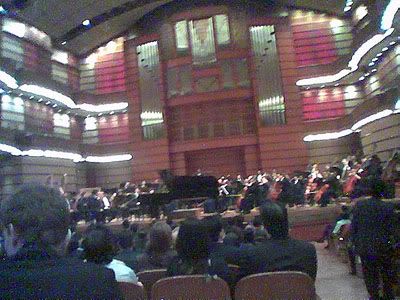 wish i had a better handphone camera
A sexy voice spoke on the speakers,
"For your viewing pleasure, no recording devices, including flahs photography is allowed. Thank you."
I obeyed~ I didn't use any flash, just my trusty rusty Nokia 3650 camera. The pieces were great but a few times, they played those
really, really
slow ones that could just bore you to death. After waiting for more than an hour listening to classical pieces, GerX's godsis, Foo Mei Yee aka The Pianist
(i thought it would sound cool to call her 'The Pianist')
walked on stage. Humbly bowing her head whilst giving off a sweet smile, she prepared herself to perform for us. She was as graceful as swans swimming in the lake, like salmon going up-stream, like your boss sitting on a toilet bowl. Before you know it, her performance was over, just like most things like ice-cream and that sinfully tempting chocolate. She played for only 15 minutes?! We came all the way here just to see 15 minutes of her. Rip-off!
isn't she cute?
According to GerX's mom, Mei Yee (The Pianist) is a very very talented pianist. Won numerous competitions and is now currently based in the UK as an international pianist. For this event, she was paid RM25k for a 3 nights performance with flight (business class), and lodging all paid for. Can anyone say,
daaaammnn~
25 grand to play for 15 minutes for 3 nights.
I wanna marry her.
mean while, back at home..
Alas, on Sunday I returned home along with GerX to celebrate Father's Day. Brother did all the hard work this time. He went to Windmill and asked dad's old friend, Angel (yes, her name is Angel) for a
special
favor. After picking me up from GerX's place we went home to get ready and headed straight for Windmill. We ordered our individual meals. For me was my usual Grilled Salmon while the others ordered double lamb/sirloin steak and ostrich meat. How fun is it to eat a bird who sticks its head in holes.
ahaks~
The food was great and we sat very near the LCD projector and had a good view of the football match that's being showed.
we wish you a merry christmas~ lalala~
Half way through our meal, the screen went blue and then suddenly black. Dad was puzzled and made a small complaint. Out of no where Celine Dion's inspiring music was playing through the speakers.
"For all the times you stood by me.. For all the.."
And out came the words 'To Liu Hsun Ping' followed by our old family pictures and words. Dad was shocked and was almost in tears. In the end of the flash, the words 'also, in loving memory of..' and the picture of dad, bro and I standing beside my late-grandfather appeared. Dad was deeply touched.. and embarrass but mostly touched. Hope you had the best Father's Day present ever dad.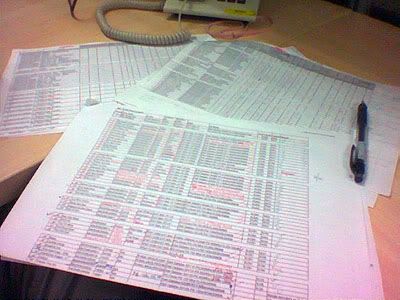 back to work.. if i had any
Well, that was the weekend. Now I'm back at work, stuck with nothing to do. In fact, I had nothing to do for the past 3 days.. aaand I've just repeated myself again. I've read finish 2 books and now I plan to see how long it will take me to read the bible from Genesis, all the way to Malachi. Boredom has never been so boring. I just feel like escaping from all of these feelings and run away. Far, far away. And I'm begging You to be my escape.
*sigh*
relient k
be my escape

i've given up on giving up slowly
i'm blending in so You won't even know me
apart from this whole world that shares my fate
this one last bullet you mention
is my last shot at redemption
because i know to live you must give your life away

and i've been housing all this doubt and insecurity and
i've been locked inside that house all the while You hold the key
and i've been dying to get out and that might be the death of me
and even though, there's no way in knowing where to go
promise i'm going because

i gotta get out of here
i'm stuck inside this rut that i fell into by mistake
yea, i gotta get out of here
and i'm begging You, i'm begging You
i'm begging You to be my escape

i'm giving up on doing this alone now
cause i've failed and i'm ready to be shown how
He's told me the way and i'm trying to get there
and this life sentence that i'm serving
i admit that i'm every bit deserving
but the beauty of grace is that it makes life not fair

and i've been housing all this doubt and insecurity and
i've been locked inside that house all the while You hold the key
and i've been dying to get out and that might be the death of me
and even though, there's no way in knowing where to go
promise i'm going because

i gotta get out of here
cause i'm afraid that this complacency is something i can't shake
yea, i gotta get out of here
and i'm begging You, i'm begging You
i'm begging You to be my escape

i am a hostage to my own humanity
self detained and forced to live in this mess i've made
and all i'm asking is for You to do what You can with me
but i can't ask You to give what You already gave

cause i've been housing all this doubt and insecurity and
i've been locked inside that house all the while You hold the key
and i've been dying to get out and that might be the death of me
and even though, there's no way in knowing where to go
promise i'm going because

i gotta get out of here
i'm stuck inside this rut that i fell into by mistake
yea, i gotta get out of here
and i'm begging You, i'm begging You
i'm begging You to be my escape