Legs are feeling funny now. Guess that's what jogging does to ya huh? I only managed 4 laps around MMU's track - which is bad. Compared to my NS days, with good old and dear friends, we could go way way further but now, it seems I have seriously slacked.. a lot.
Had dinner with dad last night. We were scouring our
taman
in search for Some Good Food® Near Liu
(sounds like "near you", catch it? .. never mind)
, which are hard to come by these days. Ate at a normal Chinese-fried restaurant with a cafe'ish atmosphere deeper in my
taman
who could most probably attract more customer if it weren't for horrible Manglish in their spelling like,
Spegeti
- bravo.
Anyway.
On our way out, I saw this signboard whose cursive T's looked like cursive J's and in turn, their cursive J's look-a-like spelled out a similar name..
go figure dudes~
Since last week's CG was all about the
Bacon & Cheese
, this week for our
lepak-session
we decided that we'd jog out all them bacon fats. The outcome of my jog is as seen on the first paragraph.
*koff*
My friend, Shu Lin would be disappointed in me.. or just maybe.
hehe~
say; "ella ella ella eh eh eh"
HL (no reference to High-Low milk or Half-Life games), all suited up in her ex-high school's sports wear, gave us the low-down on warm-ups. I figured we'd pay more attention to doing warm-ups better if it were conducted by a girl;
Adam: So Jamie, what do you think?
Jamie: Myth confirmed!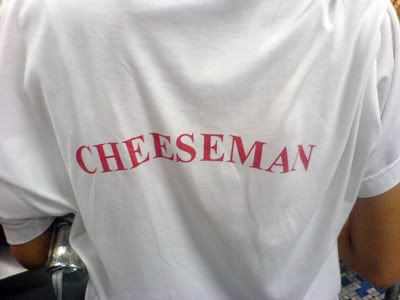 cHEEeessSEEeeMAAann~ (from a movie called Old School)
After a good jog and prayer, we headed down to get some chow at Slow Uncle aka Hainanese Uncle aka Mario (Luigi is somewhere behind). There are some good stuff over there but unfortunately, my favourite
Kong Pau Zhu Rou
was not as good as I hoped it to be. Oh well, ya can't win 'em all. Gonna write an original song about
Kong Pau Zhu Rou
one day. It's gonna start like this;
Kong Pau Zhu Rou, it's our hero
Gonna take mah' thinness down to zero

It's my powers magnified
And it's growing my waist from side to side

"You'll pay for this Kong Pau Zhu Rou!"

We're the obesekidsaddictedtoplayingwow24hoursnonstop
You can be one too
Cause saving our char siew is the thing to do!

Good, healthy lifestyle is not the way
Hear what Kong Pau Zhu Rou has to say!

"The Power is Yours!"

*sobs* sucha beautiful song..
The pic's for ya Jan Sen. I would like to request to everyone that ya'll help me out in finding Jan Sen a nice English name. My mind seems to be blanked at names recently and Victoria just... doesn't seem to fit Jan Sen.
Hmmmm...
Good nite and God bless peeps!!
OUT!!