Presenting to you, live from the halls of City Community Church's new building in
Bukit Baru
- the Band for aCt'07 : The Invisible Cloak.
At the corner stone of the band, we have..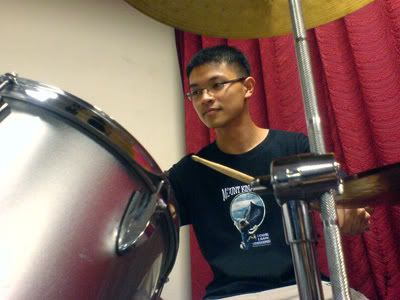 Sir Ng Jia Tsing
Larry: So who's your favorite drummer-cum-mentor, JT?
JT: Dude.. that's a nice tie..
*sniff*
I dig Mozzart and Barry White
JT: Yea.. keeping it real, ya noe~ Heavy metal and stuff..
Larry: ...
On the keys,
meister
of the many..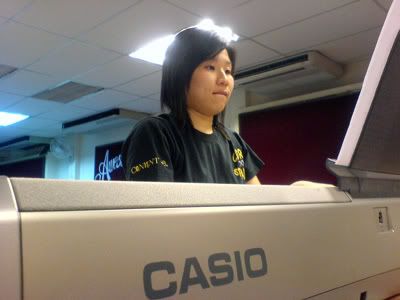 Mdm Ai Ai
Larry: Your drummer says he digs Mozzart and the likes. Same interest?
Ai Ai: I'vegotalittlegiftforyou.. averyspecialgiftforyou.. *sways body*
Larry: ...
Rocking on along with the axe, the one, the only..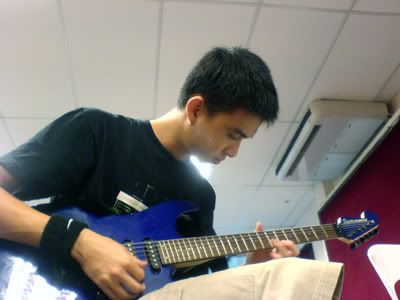 Sir Jan Sen
Larry: Cool guitar dude! Awesome skillz! So do yo-
Jan Sen: Uh uh - not guilty~
Larry: ...
On the bass guitar.. The funk master! The one, the only..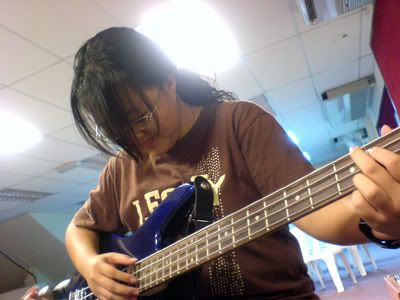 Mdm Es-ther-dear
Larry: ... Hi..
Esther: Hey~ How are you doing?
Larry: - oh, wow. You seem to be the only normal one in the Band huh?
Esther: I beg your pardon?
Larry: Ya seem to be the only norm-
Esther: Haha - Haha - Haha - Haha - Haha - Haha - Haha - Haha- Haha
Esther: Haha - Haha - Haha - Haha - Haha - Haha - Haha - Haha- Haha
Esther: Haha - Haha - Haha - Haha - Haha - Haha - Haha - Haha- Haha
Larry: ...
*sigh*
I hate my job.
And that it ladies and gentlemen. The final Band member is an unimportant person and therefore needs not to be mentioned. Watch out for aCt'07, The Invisible Cloak, the best musical in MMU history, live band, alive actors and actresses, blasting you on the
19th December 2007
!
this is a community service reminder
As of from Monday till today, we've only had 4 days of practice - yesterday was a short holiday to recover from our battle scares and the trauma on our hands, fingers, feet and body. 6 hours of practice a day for 3 days in a row does that to you. Ai Ai suffered with two blisters on the middle and index fingers. Esther on the other hand.. needs not mentioning too.
heh~
running out of fingers to use
In the previous years of CF-made musicals, there would be only one member of the fairer sex in the Band but this year is even more special because we have to roses amongst the thorns that's in the Band. Give a cheer to 2 of the Happy Three Friends.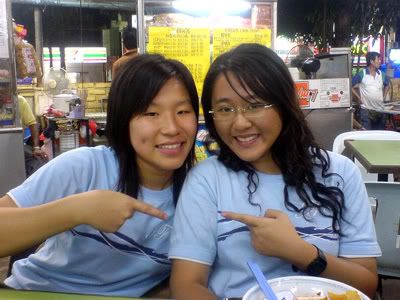 Gotta crash. Waking up at 8am to have breakfast and another good round of practice. Hopefully, we'll be able to record everything down for ya'll to practice with later tonight.
hehe~
Good nite and God bless peeps~