Upon starting a new semester, I expected myself to be rather busy with studies and other miscellaneous activities but for the past few days, my entire day is packed and I have little time for myself to check my mail, chat with friends or even blog. But it ain't all that bad. Though busy, I had quite the fun as most of my activities include a lot of gastronomical adventures that's nearing the border of gluttony. Yeap~ Food's good and it's one of the few ways to men's heart. At least I'm honest.
heh~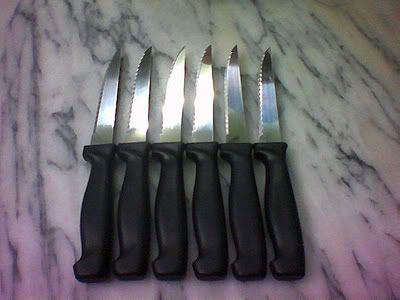 forgot to take pics of the steaks.. heh~
Last Friday night my dad grilled us some succulent steak (3 pieces per person), with potato chips with garlic powder and salt, potato wedges with sour-cream powder, and carrot sticks with thousand island sauce. It's great to have a dad who can cook
really
good food, especially western food. I believe people who have eaten my dad's cooking would say so too.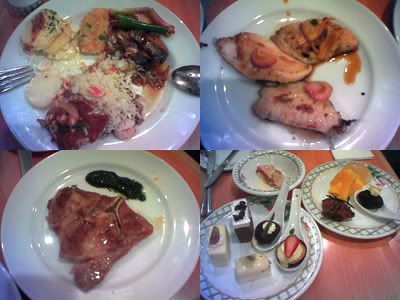 forgot to take more pictures.. heh~
The following night I was at Seremban's Allson Kelana Jaya Club for a seafood buffet. They serve some really good seafood. Among the dishes I had was some salad with virgin olive,
spicy ikan bakar
, fish with Teriyaki sauce, cheese-cream fish, potato gratin, grilled fish, lamb chop, and raw oyster with a dash of lemon. We had a bunch of assorted sweet-stuffs for dessert but my favourite was the chocolate-chip ice cream that I topped with more rice chocolate and crushed nuts.
Ahhhhh~
Gotta love eating. I ate so much that my stomach literally bloated.
i will worship You for who You are
Upon arriving home on Sunday afternoon, I hurried to music practice as I was already late. Luckily Joel's a nice patient dude. Renee was supposed to song lead but alas, she was busy with some personal stuff. Ergo she asked Lucius to cover for her but then it seems he too, was busy with some matters and asked Joel to song lead instead. Joel's a nice guy and Rachel's a lucky gal.
ahaks~
and i will be still, know You are God
The following incidents were nothing really special. Practice, practice, practice. Went shopping at
Jaya Jusco
, set up GerX's bed frame from IKEA. 7.30pm went to EP to pick up some dudes to go to Samuel Yau's farewell party. Just when I had settled down, I volunteered to fetch the Paddlepoppers. I'm such a nice guy eh? After munching down some really good grub, I noticed the CF'ers were separated into a few groups, namely..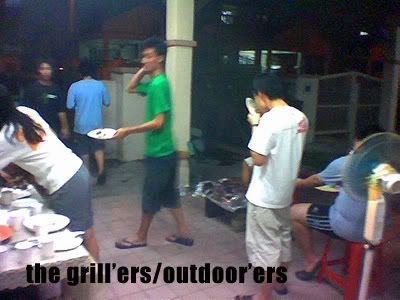 peeps who chill at the out-side compound,
grilling those yummy chicken wings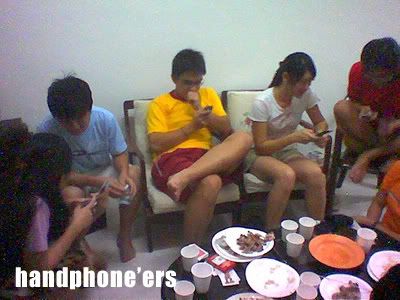 peeps who keep on playing with their high-tech handphones while playing some irritating techno music.. ah beng! hehe~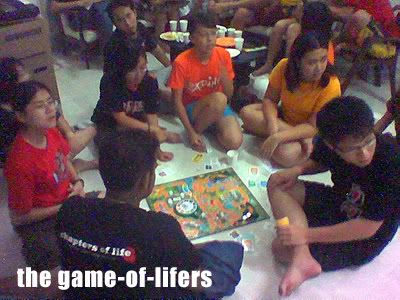 peeps who were playing the uber-cool board game called The Game Of Life marshaled by The Evil Sith Mama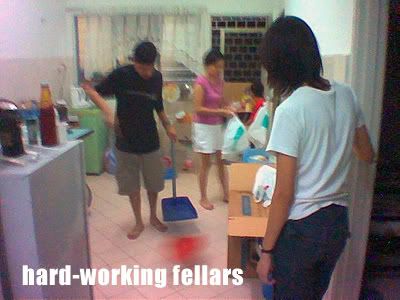 Though it was his farewell party, Sam did most of the jobs from preparing the food to cooking them, doing his best to ensure that our stomachs were filled and smiles were plastered on our faces. Even at his last few hours he spent them serving us. Thanks Sam.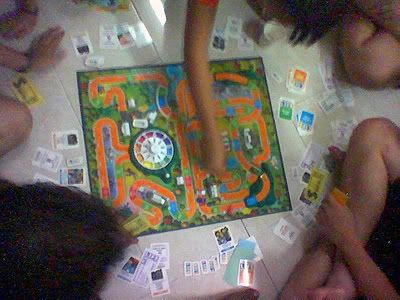 behold the wheel-of-fortune-of-life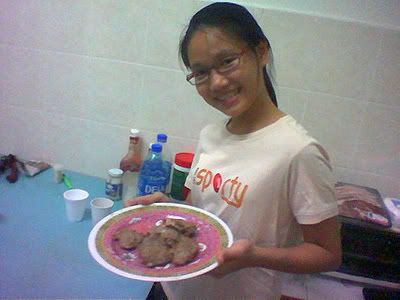 makan lah burger Sam's! memang sedap!
Alas, we had a bunch of fun and will definitely miss good ol' Uncle Sam. Hopefully he will continue to visit us occasionally and bring back some grand tales of the wild world of adulthood. Thanks for shepherding us for such a long time. God bless ya Sam.
Looks like I have another long day ahead of me. Well, good nite peeps~