Okay.. looks like I'll be dumping another huge pile of pictures here, more pics equals less words.. I hope. Anyway, here's the final part of my great experience in Singapore and may you guys not fall asleep while reading just like the last post.
heh~
I'll make it as short and sweet as I can.
get the new Firefox 2.0. Internet Explorer is EVIIIIIL~
Sentosa drained lots of my energy but hey, I'm wontdieone. It's a beautiful morning in Singapore and we got up early to do some good ol' must-have morning hike up
Bukit Timah
. Believe it or not, I was actually some what excited about this trip. It's been awhile since I've took a long jog and get some proper exercise and back in my NS days, I really enjoyed those really, really, really long jogs that stretched tens of kilometers long. So yea, this kinda activity translates as fun for me. Weird huh?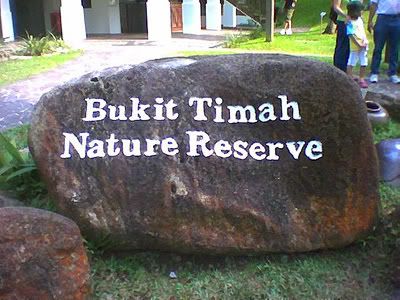 the foot-hill.. of the hill.. lame~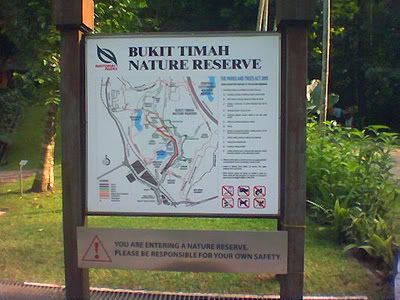 the path of Neo wontdieone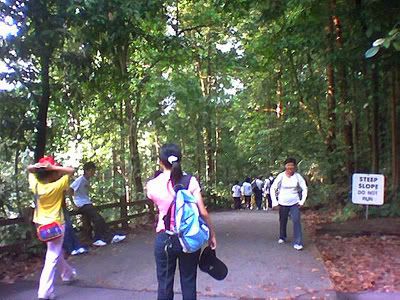 other walkers, joggers, hikers or whatever you call them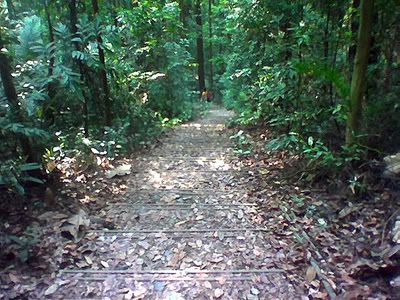 it's a loooooong way down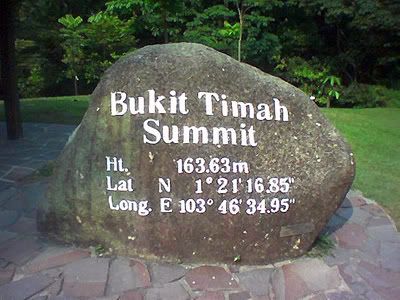 1 pwn3d j00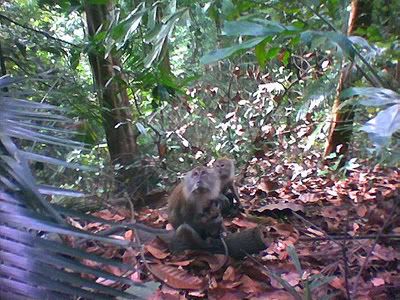 hey bro! what are you doing in Singapore man?!
wipe that smirk of ur face ya monkey~
After a very fruitful hike we went to some shopping complex who's name I've forgotten. Grab some lunch and found some cool stuff that Malaysia's shopping complexes don't have (to my knowledge at least). Stuff like instant pop-corn machines and Singapore's own S$2 shop (and it's all Japanese products!). Come to think of it, most of Singapore's stores are very Japanese'ish. Came home after shopping for a bunch of stuffs. I got myself a new shot glass from that S$2 shop. Felt very accomplished.
ahaks~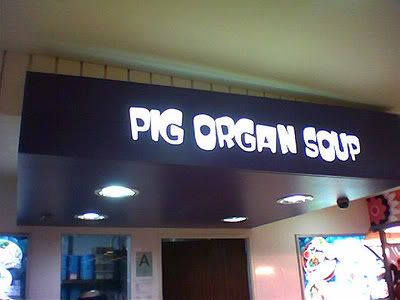 i'd live to see this in malaysia's foodcourt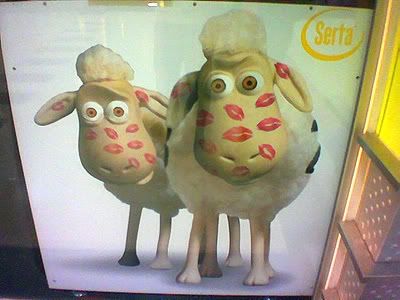 awwww.. sooo kiut!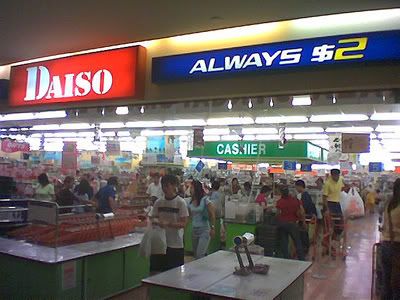 always S$2 x 2.30 = RM4.60! scam!!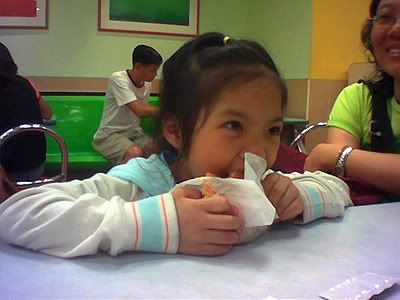 awww.. sooo kiuteerr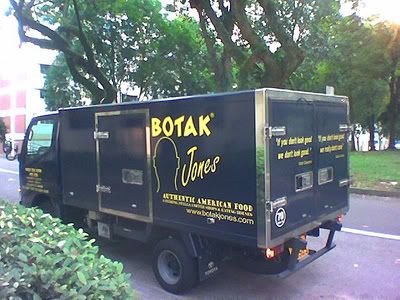 back at clementi, botak jones.. heh~
Later that night we went to Wisma Atria (see picture below) to window shop some more. GerX got herself a new wallet while a choke at all the prices.
*sigh*
The great part comes during dinner. Got to munch on some very delicious Korean food. Especially like that
Sado
Sabo
Saku
.. that fish thingie that they sell. Good stuff. Wanted to try out their Teppanyaki cause it looks soooo mouth watering and cool to eat but alas, circumstances got in the way. Live to eat another day.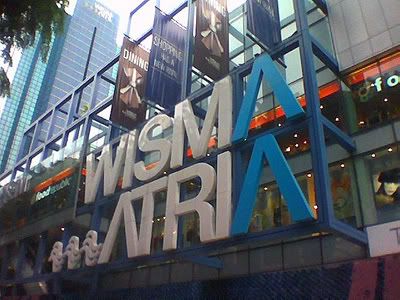 read paragraph above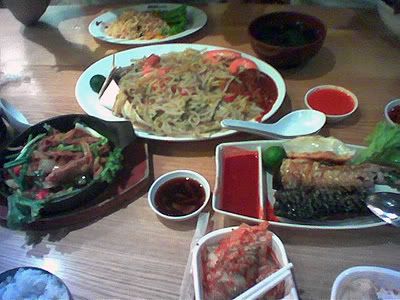 korean bbq pork and fish.. *droooool*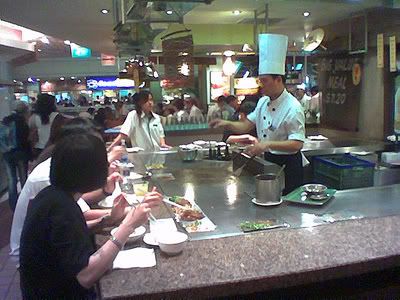 hait maam! watch out for ya fingers
The next morning, a Monday morning to be precise would be our last day in Singapore. GerX has been eagerly wanting to go to the Singapore Science Centre and Singapore Discovery Centre since the beginning of the trip. Since her brothers are too lazy to wake up from their comfortable beds and accompany their sister, I knew I had to fulfill my duty as a gentleman and escort GerX on her little trip but alas..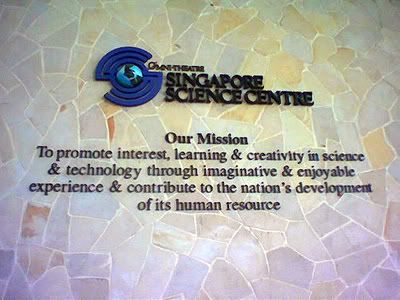 never been here before.. GerX says it's cool though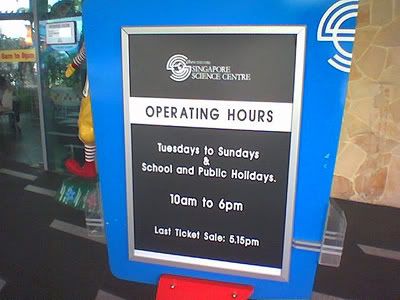 open from tuesdays to sundays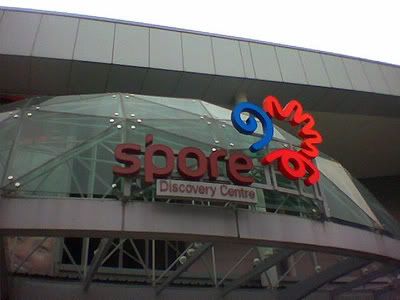 never been here too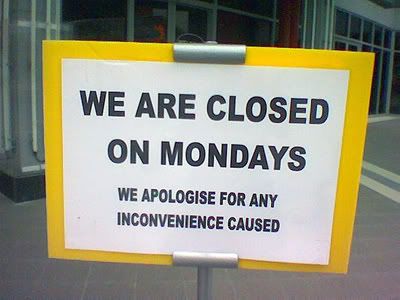 JENG! JENG! JENG!
They were all closed on Monday. GerX was pretty disappointed. Can't blame her though, it was quite the
JENG! JENG! JENG!
after all. Wasted a lot of money on the cabbie fares. I thought a trip to Singapore's Supreme Court Gallery would cheer her up (lawyers all dig these kinda stuff.. weird). We were greeted by a huge grand glass door that automagically opens!
w00t!
Jakun Mode : On! As expected, the security was very tight and I wasn't allowed to take any pictures. Too bad. Did managed to poke fun at all their judges.
heh~
remember kids, be a good child and be a saint - like me
Then we decided to check out St Andrew's Cathedral -
*ahem*
MY cathedral. Being a saint has its perks I tell ya.
ahaks~
Being tourist we also checked out the Esplanade Durian Dome Dheatre. Singaporeans really like their durians eh? Before rushing back, GerX and I decided it was high time to eat something that'll make this trip memorable - sushi. We hit the doorsteps of Sakae Sushi and no, it isn't pronounced as sa-kai. Notty peoples.
*tsk tsk tsk*
Though the picture has only 2 dishes, we actually ordered 3 but it was so yummy-licious, I forgotten to take pictures of it.
hehe~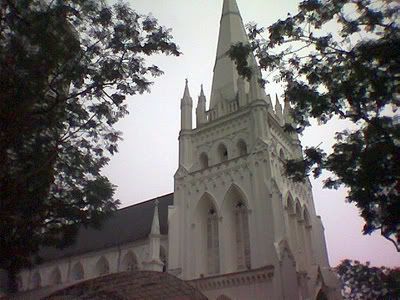 grand eh? i designed it myself. heh~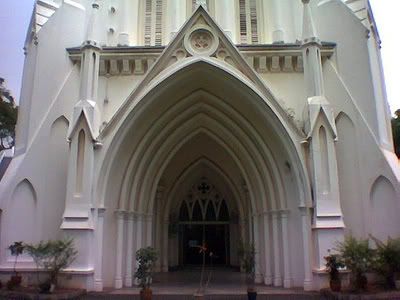 enter.. my child..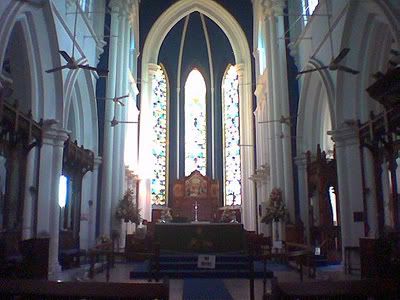 and the angels resound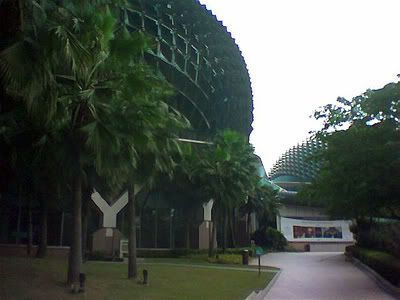 to big round balls of durian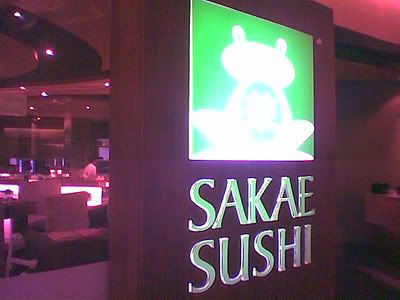 i wish they had one in melaka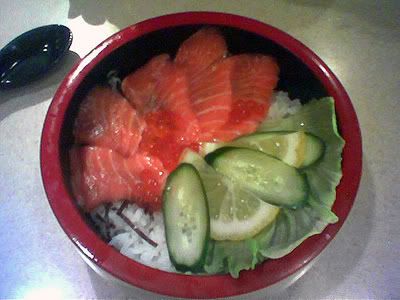 sashimi rice thing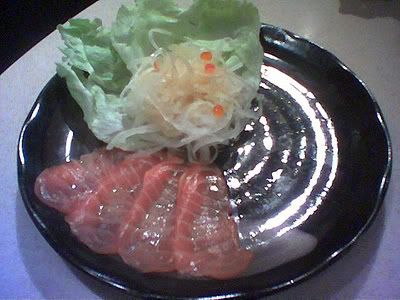 as you can see, i love my sashimi
Later that evening, along with her younger bros we headed to the Lowyat of Singapore, Sim Lim Square. After checking out their prices and stuff I came to one and only one conclusion, Lowyat's much cheaper. Go get your gadgets and toys from there mann.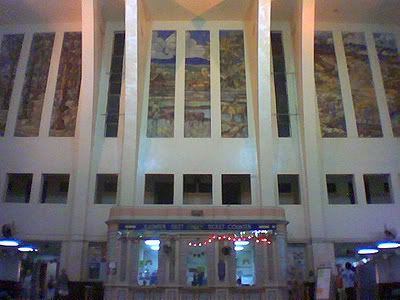 met billy in the train station, he's on the way to kl
Soon night came and it was time to bid farewell to the wonderful city of
Stinkapore
Singapore. It's been a pleasure and all. Sentosa, Beach-Babes 1, 2 and 3, Bukit Timah, Korean Food, Sushi, Sim Lim Square, and those whom I forgot to mention.
heh~
It was great and I had fun. Hope you guys had fun reading too. Good nite peeps~ Morning class calls.