Wow~ It's been a spiritually refreshing and unimaginably loud weekend for me. With UNITED from Hillsongs Australia on Friday night and Chiller Plant on Saturday night, my ears had little time to rest. Both were great and, uh.. loud? And you know happens when I have a good weekend?
*drumroooool*
Lots and lots of pictures!! World!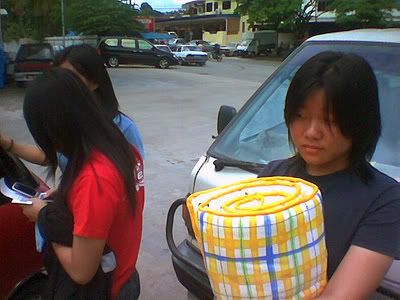 she called someone fat.. heh~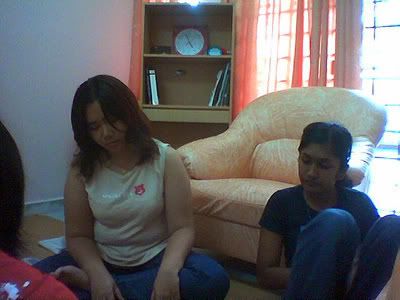 stoning at wee liem's crib
Initially I was to follow ZX's car up to KL but
Stef
called and asked if I could sit in her car instead as she doesn't want her car to consist only girls. In case of any emergency, she'll need a man to be there and I,
*koff*
, am that man.
heh~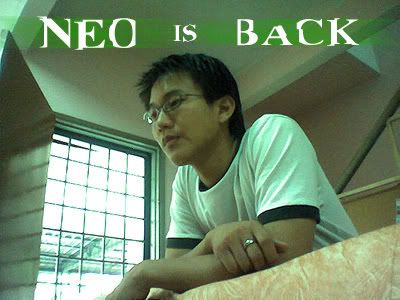 yea, his real name is Neo
Neo was kind enough to host us and let us bunk in his rented house (along with Joshua) for 2 nights. He even provided us with a tin of biscuits. God have mercy on those biscuits for their suffering ended swiftly. Staying at Neo's place was VJ, ZX, JT, JL, KB (korean boii), Ernest (ZX's housemate), Ed, and Andrew Liu Teck Ming. Acronyms are fun.
looks like JAKIM's work.. opps~ did i say JAKIM?
The night came quickly and everyone was excited as ever. We came at 7pm and the entrance was already full. By 7.20pm, the staircase was literally packed with sweaty, slimy, smelly bunch of people on fire for God. Note to self; always end things with a positive note, it'll get you out of trouble. Most of the CFers came and we sat up on the balcony which I feel was a wise choice, seeing how under us packed like sardine and very hot.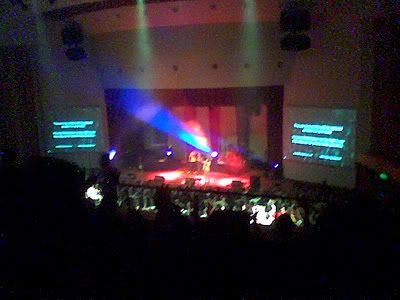 SHOUT OUT TO GOD WITH A VOICE OF TRIUMPH!
SHOUT OUT TO GOD WITH A VOICE OF PRAISE!
After a good wait, UNITED came on stage and rocked the place, playing the intro to the United We Stand album. Everyone was jumping and shouting praises to God above and we were taught by J.D. to dance like a
cacat
person, even Jason Teoh standing next to me was grinning away. I especially liked the moment when Joel, the worship leader for UNITED, said this that they didn't come to perform a show, and neither did we come to watch one; we're all here to give praise and glory to The Living God. The whole experience was truly
AWESOMENESS~
I was greatly blessed and refreshed. I guess I really needed that touch from God - everyone does.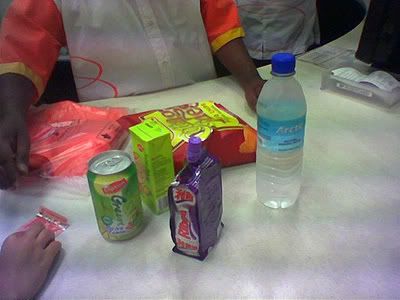 everyone needed a drink after screaming like that.. heh~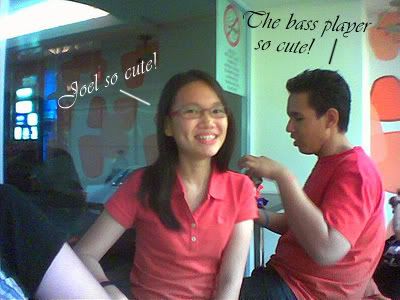 men are women are like cheese and bandwidth
Though the concert ended, everyone was still pumped from all the energy and grinning from teeth to teeth like a monkey staring at a banana. We met up at the BP petrol station next to the venue and chilled as we discus and talk about that awesome time of worship and how J.D. jumped over the bassist, etc, etc. Feeling very satisfyingly tired and hungry from the event a whole bunch of CFers from MMU and Cyber went to a nearby food court to get some chow. There was a dude sleeping with his head gracefully balance right above a bowl. Now that was cool too.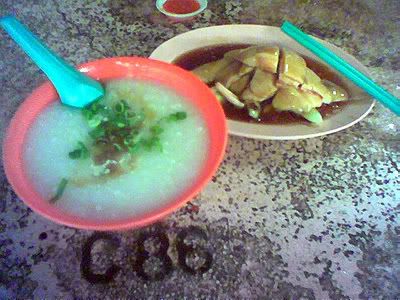 gotta be one of the nicer poridge i've eatnen
i know i'm bad but i just can't help myself
After a night's rest sleeping between VJ and ZX (it's scary i tell ya) we were up in noon to check out Foursquare Church, the venue for the Chiller Plant event. Oneted (pronounced 'one-ted' not 'o-ne-ted') and PG165 set up their equipments, did a quick sound-check and practiced their list of songs. That night itself the whole church was packed and well decorated for the
'chill'
atmosphere. We're talking about small tables, candlelights and no chairs. I told Ed that the place almost looked like a crack joint.
*koff*
I guess I shouldn't write that in my blog.
hmmm~
But in all seriousness, the setting was perfect.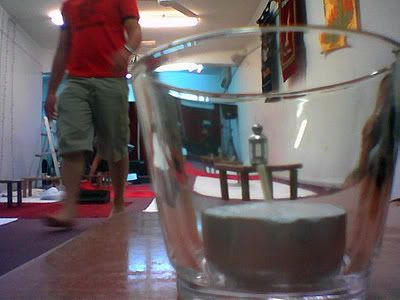 earlier that day..
Unabashed went up the stage first and delivered 3 songs. More importantly, he revealed something of great wisdom - lead singers can't count. If you weren't there, you wouldn't catch it so lets move on. Oneted went up next with Neo singing a cover of Hinder's song, Lips Of An Angel and 2 of their own songs. After a that, there's this group of people who called themselves The Jungle People (no relation to The Flower People) came up and broke the ice with their really cool, crowd-participated, jungle rumbles with percussion instruments, bottles, sticks and container covers. Everyone had a blast making noise. It seems to be the only thing we human beings are good at anyway.
ahaks~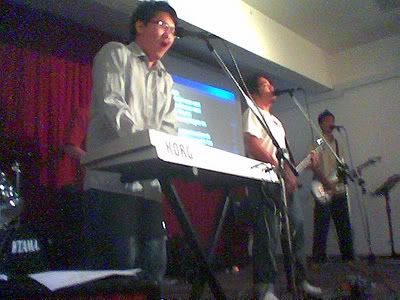 jason singing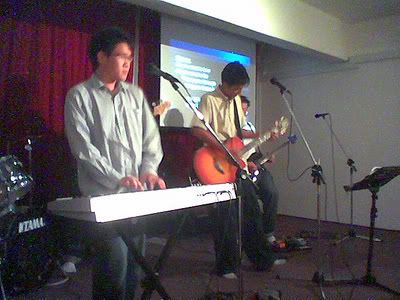 justin singing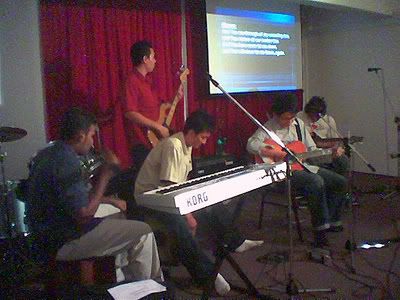 deric singing.. so much for comments huh?
Finally, it was PG165's turn to take the stage. Loud positive rock music flooded the airwaves and the crowd was good at cheering too. On a side note, JT's pre-amp booster was blasting away my ear drums. If I'm not mistaken PG165 played a total of 7 of their own songs. Deric even played the guitar and sang a song he wrote and shared during last year's MMUCF Sharenight called
'You'
. Other names for the song includes, Buttons, Who's Your Daddy, and other titles I can't mention in this PG-17 rated blog. I met an old friend whom I haven't seen in a far too long time too, good to see she's doing well.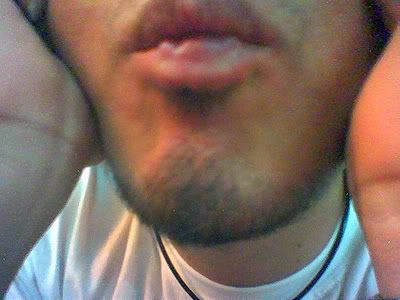 eat my gottee
In the end, it was a fun event planned my Mel, the sweet Cyber CF gal who gave us directions and hosted us too. After packing up, everyone went to chill at the
mamak
stall, taking up more than 7 tables. By the way, Un Sam came for the event too. Unfortunately, he didn't eat anything at the
mamak
because a certain girl commented that he was fat. You know who you are! Feel the guilt!!
MUAHAHAHAHA~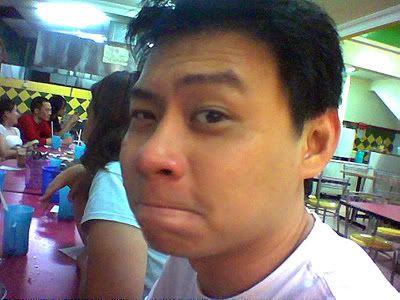 "she called me fat.. *sob* *sob*"
Sunday morning was back in Melaka and managed to meet and catch up with my bro before he went back up to KL to continue his Industrial Training. It's been indeed a fun weekend for me but alas, half of me wish I was in Melaka on Saturday as my dear friend, Shu Lin was down in Melaka that time and was leaving to KL on Sunday morning. So yea, totally missed her. Oh well~ I'll catch ya other time larr kay?
hehe~
Nites peeps~