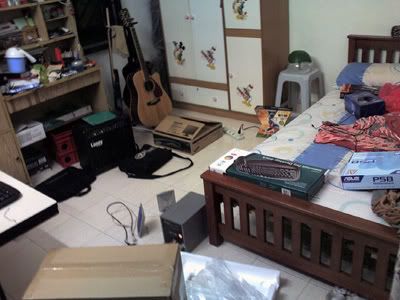 flood fallout fa-la-la-la-la
Yea, my room's still quite messy even as I'm typing this post. Still taking time to adjust to the new computer being in this semi-sanctuary of mine. Messy. Yea. Them boxes are still around and table's still a huge pile of mess. Junks needed be sorted out.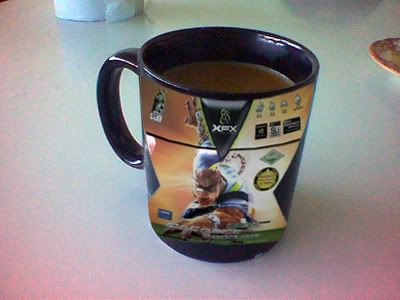 they packed an xfx 7900gs mug for me too!
Not really. Just using the new feature in Photoshop CS2 - real cool stuff I tell ya. Went to Seremban last Saturday for, well, holiday.
heh~
A little rubbing of shoulders before and during the journey up but it's all good. Shoot straight to Port Dickson upon arrival and ate at some very yummy seafood restaurant that's
'halal'
. What's up with that eh? At least them lobster with cheese sauce was super good.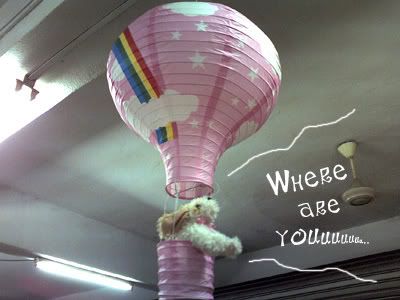 damsel in distress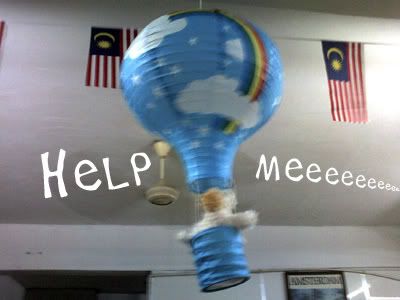 dumb-head in distress
The next day, a Sunday
(dear God, I'm sorry I missed church!)
, we went up to Sunway Lagoon to have some fun
(i'm really really sorry God!!)
under the sun. But alas.. as if it were a sign..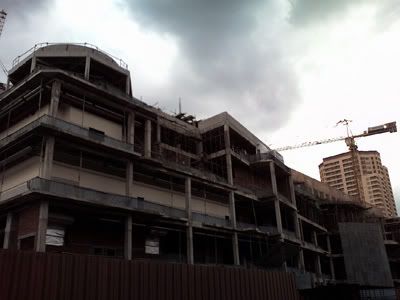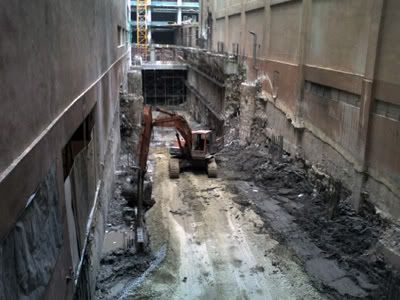 Sunway Lagoon Closed - Under Major Construction!
Just kidding. It's all good.
I guess I could sum up my experience at Sunway Lagoon with just two words -
wet babes
.
heh~
Kidding. I ain't that sad of a case. Should I rate Sunway based on the holiday places I normally visit, I'd say that it's much more fun than Genting. Sure Genting is real chilly and stuff but Sunway is just hot.. with babes.
hahahaha~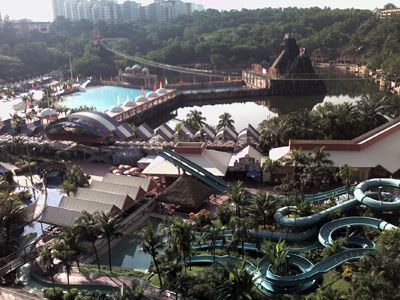 one of the only few pics i took
After much fun and since we were IN Sunway Lagoon, why not check out Sunway Pyramid? So we did. I think we spent more time staring at the ice skating ring than walking around. Guess it'll be more fun if
came with them hot babes from Sunway Lagoon
we weren't so exhausted. Spent another night in Seremban and headed back home early Monday morning in a not that great mood, but it's all good.
heh~
met the chick at the lagoon
After transferring my essential files and folders from the old PC and doing much system administration on the new rig, I did what anyone would do - overclock 'em. But I tweak the Core 2 Duo a little only as I'm not that experience in overclocking. So I went from the stock 2.13GHz to 2.49GHz. Not that big of a difference but it'll go up.. soon. As for the graphics, I have 3 games installed; X3: Reunion, Prey, and Dawn Of War : Dark Crusade and I gotta say, the graphics looking real awesomely sweet.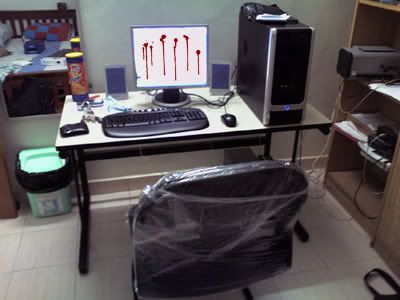 MY EYES! MY EYES!!
Another funny note. At the back of the XFX 7900GS on the bottom left of the box, there's a warning note with a huge exclamation mark. It reads;
Extreme Gaming Experience
Health Warning
People with high blood pressure,
a back or heart condition should
not use this card; the unmatched
graphics quality may be too
exhilarating and realistic.
(We're just kidding! It's all good.
XFX products are safe.)
Now that's what I call attitude in a box.
heh~
Have a great night peeps. Those who're in Penang right now, hope you guys have fun ya? To my dear friend, take it easy okay? WontdieonE signing out.