It's a brand new season of the hot reality TV show,
The Simple Life Of MMU'ians
. In the end of the last season, we watched as Andrew from MMUCF got his new computer and got attached to his pet sugar glider, SugarGabe. Also, accompanying Pastor Joanne to Bethel Church last Saturday was Renee and Jason L on the vocals while Jo-L and Andy handled the guitars. Last season ended in a nerve-wrenching cliffhanger as Jess was about to reveal her new boy-friend..
actually, her name is Mom.. seriously
Mann, that'll be one heck of a show wouldn't it? But alas, Jess is still mighty single and availability depends on the ever changing market.
Heh~
But anyways, now that the semester has started I fear that I have not fulfill all the goals I set out to accomplish before the holiday
started
. Lets recap.
Things I'm gonna do:
1. Go Sunway Lagoon Resort with X
(done)
2. Go KL and go nuts (that's a 2 in 1) with X
(done)
3. Take a B to Friends Cafe'
(done)
4. Visit S at National Service Camp (bring fast-food)
(done- without fast-food though)
5. Take S2 out go kai-kai
(failed)
6. Take E (if she's in melaka) out for 21st Bday treat
(failed)
7. Chill out with other konn manns
(done)
Things I wanna do:
1. Workout and get back that super sexy body I once had. heh~
(failed.. miserably)
2. Finally buy that new computer I've been waiting for ages to get
(done)
3. Somehow drastically improve my guitar skills - just like in them mangas
(subjective)
4. Oh yea~ Read mangas, and watch animes and TV series
(failed)
5. Drop my average speed to 90kmh.
(failed)
6. For crying out loud, wash my bike.
(failed)
7. Cut my hair.
(failed)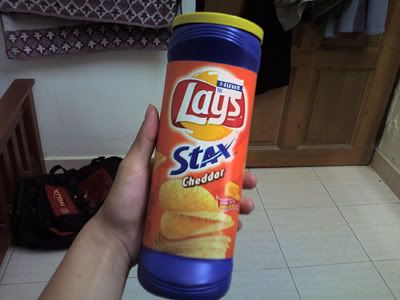 Lays at Giant are only RM5! 7/11 sells 'em at RM8!!
and they taste soooooo goooooood~
Hmmm.. Guess I ain't to surprise to see how the holiday turned up. The first week wasn't that great. The second week got slightly better. The third was getting good. And the only problem is that there's no fourth week. I need longer holidays.
*sigh*
Quite a crazy thing though this semester's schedule. My Mondays are so packed that I can't even eat lunch. Check this out, my lectures from 8am-10am, 12pm-5pm, 6pm-7pm and finally, 8pm-10pm. Nutz I tell ya. Here's my favourite pic of the holiday.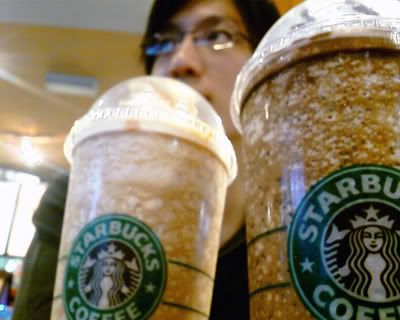 Starbucks Times Square with bro