ACHTUNG!
DEATH TO 56K USERS!
This post is more like a plog (a mark choo term), chronologically following events that happened and is stored in the form of images starting from the 4th of January, 2007. So do brace yourself for an unbelievably long loading time.
only if you're a malaysian using suxmyx as your isp.
dewan sri negri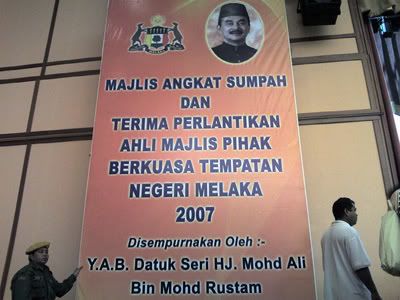 the man who pissed everyone off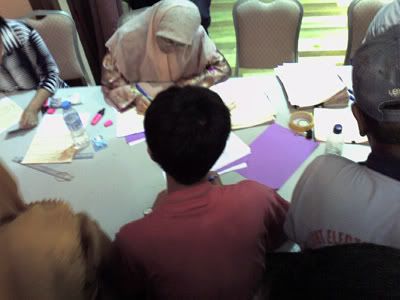 'i hate my job' - clerk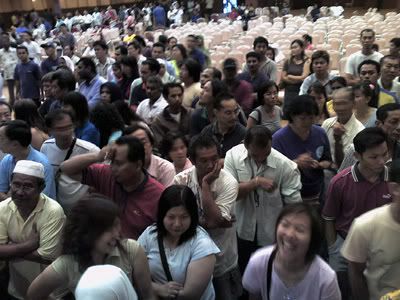 still a very very long line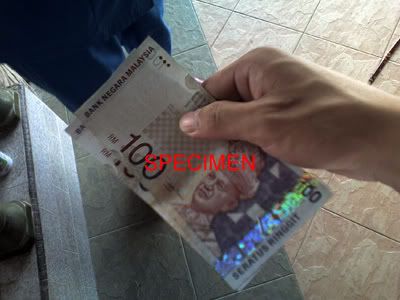 after 1 and a half hour of waiting..
Was having lunch with GerX in Bukit Beruang area when suddenly my mom called.
"Son! Faster come to Dewan Sri Negeri now. Can collect the flood funds already!".
Good bye lunch. Good bye GerX. Hello soon-to-be-
mine
-my-family's RM200.
heh~
Flew there, entered the hall and now, for the most exciting part of it all...!! waitied.. and waited.. and waited for my-dear-turtle knows how long. After 1 and a half hours,
*ka-ching!*
show me the money- RM200? Awww.. At least RM200 is better than nothing eh?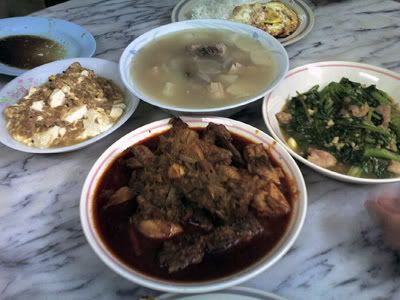 dinner that night
Mom was a little happy with the extra cash. Though how little it was, mom celebrated by cooking a very very yummylicious meal of chicken, beef and mutton in curry-satay sauce, egg tofu and mince meat, chinese stir-fry vegetales, and of course, spicy soup.
Ahhh~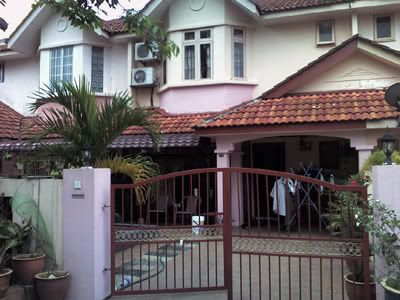 the sanctuary to the goh family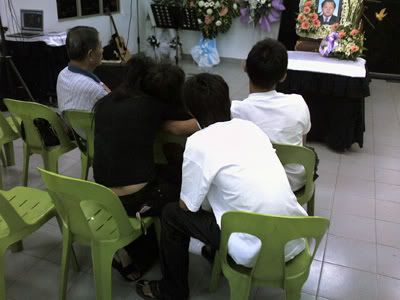 when the pillars are weak, support is given..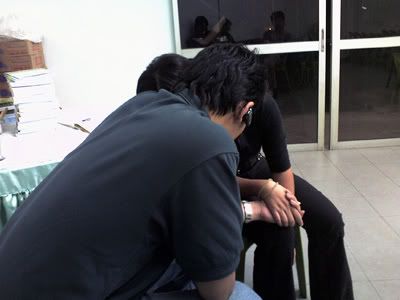 ..be it through presence..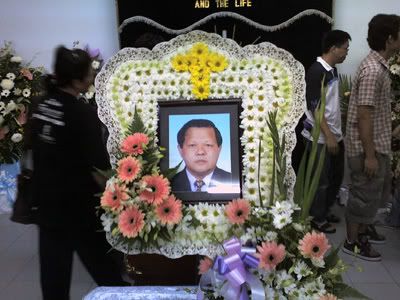 ..or memory..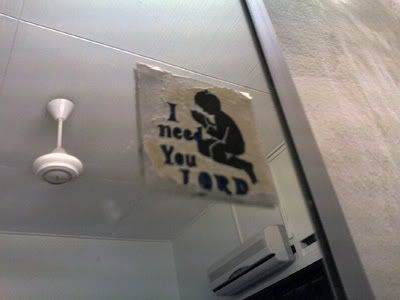 ..or prayer~
Early Friday morning. Dad received a call that carried shockingly devastating news from brother. Un Phillip Goh had just passed away earlier that morning. Dad took emergency leave while mom took early leave and came back in the afternoon. By 2pm we started our journey up to Puchong. We came and helped out what little we could but I guess all that we could really do, is just be there for them. By nightfall, the wake service started and tears streamed down the cheeks of the Goh family. Friends, families, relatives all came. A number of CFers came too to show their support to Grace and Richard. At the end of it all, we were reminded of how easy it is to lose a loved one and how we should cherish what we have; be grateful to God for what He has given us.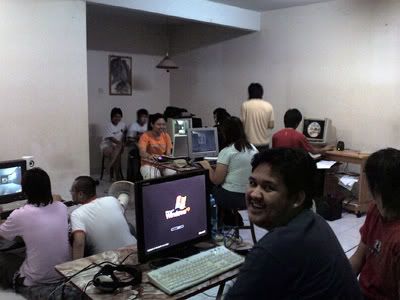 Sunday night LAN party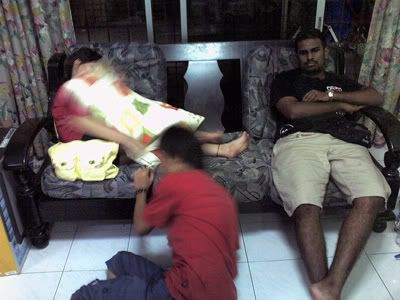 W accidentally touching E's thighs.. hmmm~
On Sunday night, after finishing my final paper I went to the LAN party at Elijah's crib. The event was organized by VJ and he did a rather good job for an amateur. Many CFers came and we played various games ranging from the good ol' Quake III Arena, to the classical Counter-Strike, the now-getting-uber-boring Warcraft III DOTA and the seldom played Alien vs Predator 2. Stef was kind enough to bring her Playstation 2 so people who aren't really PC fans can also enjoy themselves getting a whoop-ass from Stef in DOA and other fighting games.
heh~
Played till 4am in the morning, went out for some dim-sum and head home. It's all gooooood~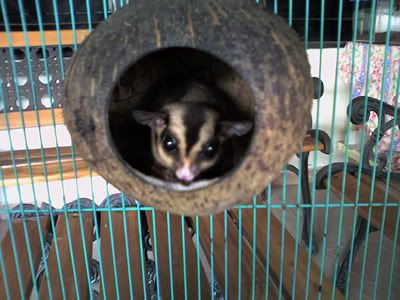 shoooo kiuuut~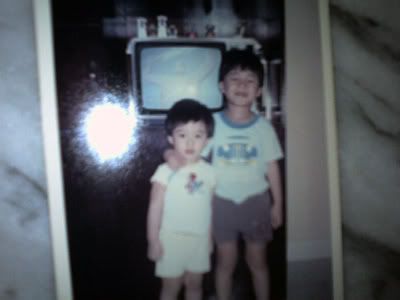 xtra shoooo kiuuuut~
During the hair-pulling long blackout that strike my taman, I got bored. So I fed the family pets, and took a long video recording of my family python, Trial attacking and eating a very cute mousy. It's fun watching him strike its prey and swallow it whole. It's like having Animal Planet or Nat Geo right in front of your eyes.
Crikey!
That night I found a picture I have never seen before in my entire life; a picture of my brother and I when we were kids. Aren't I cute?
my wives reunited once again.. now dear, don't fight ya?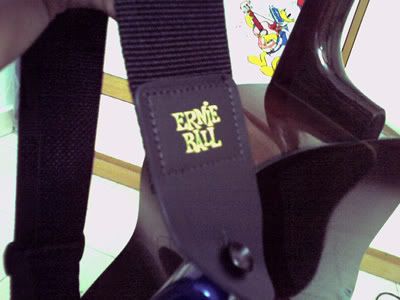 got two of them new ernie's ball straps.. heh~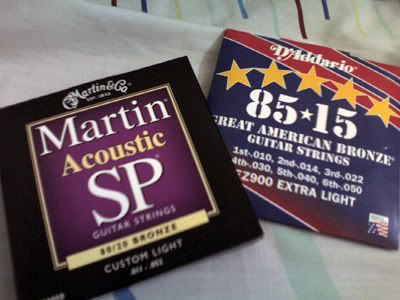 got my 1st wife and 3rd wife new strings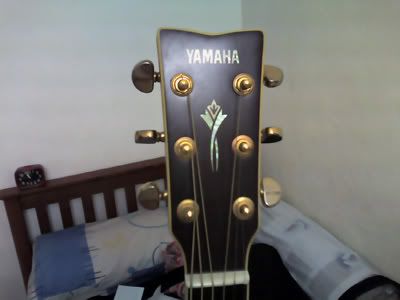 3rd wife looking really pretty.. (me happy)
Recently got my wives back too. All thanks to Kok Wei who so happened to be around after a holiday in Genting. If he wasn't at home, I wouldn't be able to see my wife till the new semester starts and that makes me sad sad. So I bought them presents. New straps for the electric and semi-acoustic, and new strings for the semi-acoustic and acoustic. I changed the strings of the acoustic too so that when I start the guitar class next semester, people will find it easier to press the strings. Get ready Paddlepoppers (and others).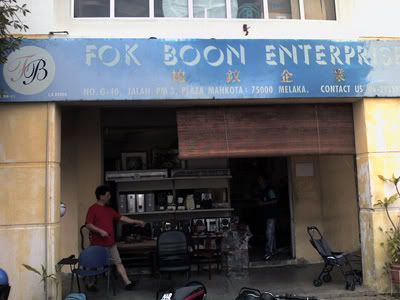 the best 2nd hand furniture shop in Melaka (free-advert)
Bought new, second-hand, computer table and chair for the coming of my new computer.
*excited*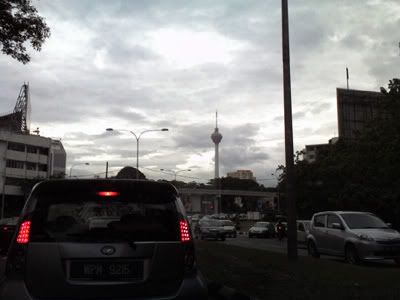 look familiar?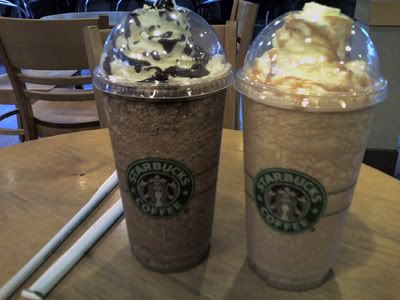 nothing beats drinking great coffee during a long day
Went to KL on Thursday afternoon after brother gave the go ahead that his contact in
Low Yat
can get the exact specs I wanted for the computer. Took the 2.30pm Transnational bus and I must say, of all the trips I've taken across states, this bus driver has to be the most slacker and reckless of them all. SMSing and talking on the phone will driving, eating and reading magazine WHILE driving, and the most annoying was singing SUPER loud while driving. But it's quite funny to watch him do all those things though.
heh~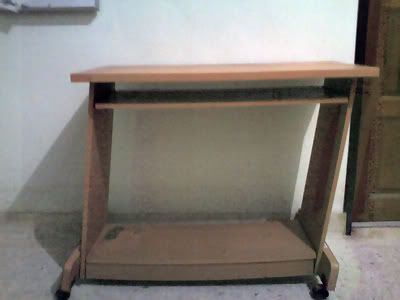 good bye old flood-ridden computer table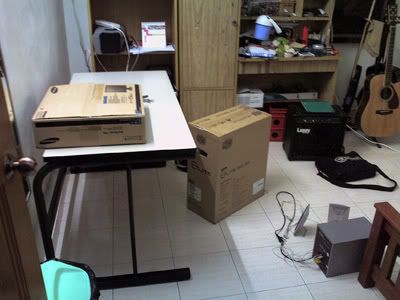 hello new computer table.. this phrase is getting redundant eh?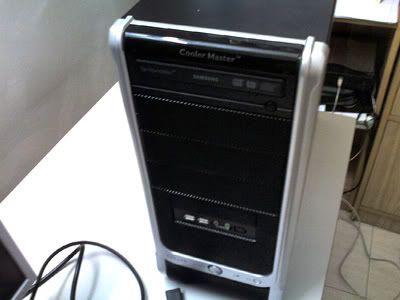 looks simple.. i wonder what's inside tho..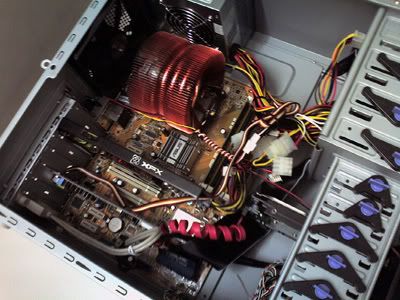 i get excited every time i see this picture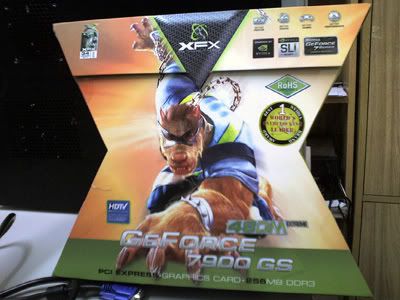 the xfx 7900 gs.. gonna overclock her once warranty's over
ladies and gentlemen, my new PC
After a night at the Goh's residence, I came back yesterday with a very broad and wide smile on my face. Finally, my very own first PC. I feel.. so.. touched.. not by M.J. though.. that would be just weird and stuff.
*long pause...*
Okay, back to the PC. Though the price fetches a 4k, it's still much cheaper than what I could've gotten on my own. Through bro's contact I got everything seriously cheaper than I expected. I was especially surprise with the price of the graphic card. To end this really unnecessarily long post, I'm gonna lay down the relevant specs and price of my new PC.
Intel C2D E6400 2.13GHz                RM820
Asus P5B Motherboard                   RM550
Kingston 1GB DDR2 RAM                  RM350
160GB Maxtor SATA Harddisk             RM198
Samsung 740N 17" LCD                   RM590
Zalman CPU Fan CNPS9500 LED            RM230
XFX nVidia 7900GS 256MB PCI-E          RM760

The funny thing is that they didn't have Windows XP installer with them at that time, thus I took the PC home software-less and can't use it yet. Gonna take it to Viewcom later today. Wish me luck ya! Have a great holiday peeps~