So far on my side I've, only sat for one paper on Wednesday. The next is this later this evening. Mixed feelings about this one again. Seems easy but yet, you'll never know what kinda question them sick demented lecturers might give eh?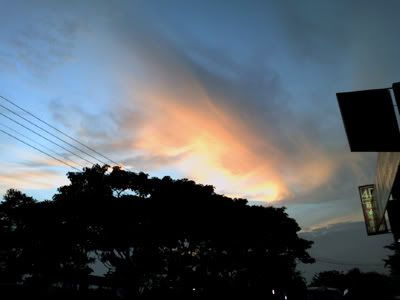 kinda sets the mood before cf starts
Last Tuesday's CF, honestly, felt a little routine at the beginning. As I sat amongst familiar faces and chatted away. But then, it was I this time who is responsible to bring these people whom might have that same routine-feeling I had and bring to to worship God. I listened as closely as I can to that silent Spirit of God. Hopefully, I too, laid down my burdens at the door.
them is teh hebrew old testament!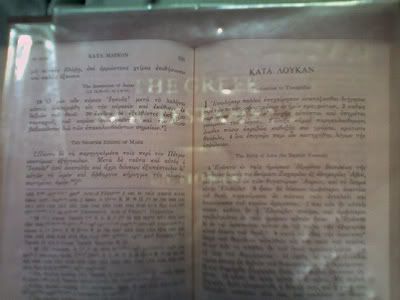 them is teh greek new testament!! w00t~
This is the 3rd time I've felt, open and flipped through pages of a hebrew bible. Despite how I know nothing of its language nor understand the meaning behind those lines and dots, I know it is significant. Preacher laughs funny. People laugh at preacher's funny laugh. Tired..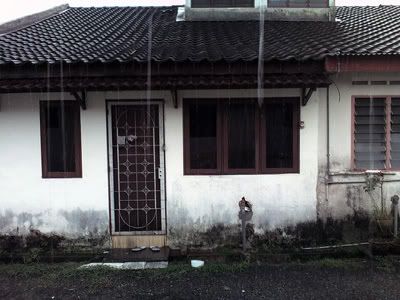 the rain that emo'ed the world
When it rained the next day, many people's status were emo status. The rain sure knows how to bring those cries of the heart out, even if a little. Deep down. I was emo'ing too but I ain't gonna spill it here. Not when the world is reading this. Oh no! I can't! It's.. too embarrassing as I'm sucha macho, handsomely tough guy.
heh~
Thankfully, I'm wontdieone.
them big pile of fries
Thursday came and it was time to push aside books and knowledge of the world and focus on
the
Word. If there are two highlights in my life during the weekdays, it would be Tuesdays and Thursdays. Monday is too full of classes and Wednesday just bores me out. Friday on the other hand, is full of mixed art of motion. The Aiyooooooooo CG leeched on our transportation to go to Ayer Keroh's Mc D. I felt so... used.
heh~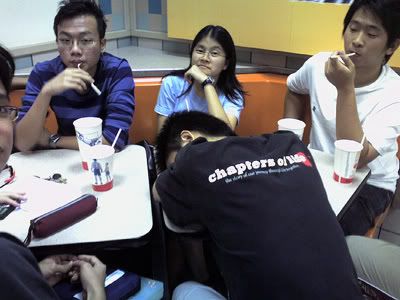 he ain't meditating mann
But now, for some reason, I felt awful lot better now.
heh~
Gotta get back into studying.
masking the face that hides the heart