Take heed o ye MMU students whom traverses through Mosque Square. There lurks a hungry beast whom, if thou heed not my words of warning, thou shalt be swept by the claws of Cyber-P students and shalt perish in their belly. These glowing-red-eyed monstrosities are hungry for naive Alpha students, capturing all with no distinction of friends and family, all shall be taken. If thou fear for their life, support them and buy their stuffs less thou see not the next Tuesday CF.
heh~
GerX's and Jess' booth, C3 or CCC. pastor should have it copyrighted..
all profits given to charity!!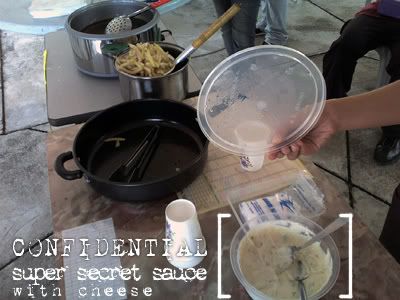 Renee's and Shih Wen's booth called.. uh.. forgot liao~
fries with yummy sauce! cheeeeeese~!!
Enough of promotion liao k? I remember seeing ZX for awhile in Mosque Square saying he has a booth and stuff but then he disappeared. Oh well..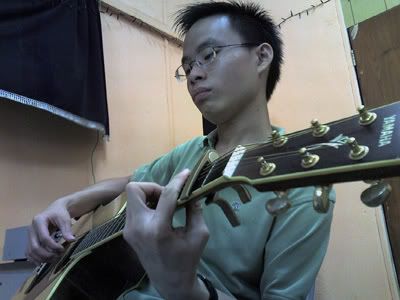 looking like his older bro while going solo
its a season to be jolly high.. a good high - drugs bad~
Wednesday night was the FINAL practice but yet, many people didn't turned up. Didn't practice with full band either. Seong had to work over-time while Elaine used the keyboard so Shih Wen's hands are empty too. No use of a bass without the drums so Julian didn't play and there's no use of an axe without the drums and bass, so I messed around for awhile but realize I wasn't really contributing a lot, so packed up my equipment. All that's left is J.T. on the piano and Jo-L going acoustic.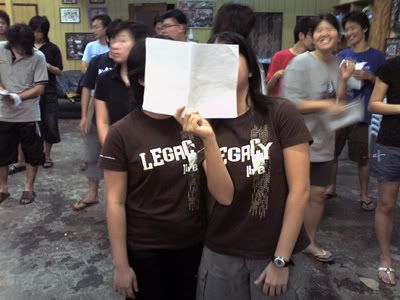 singers' spirits were standing tall..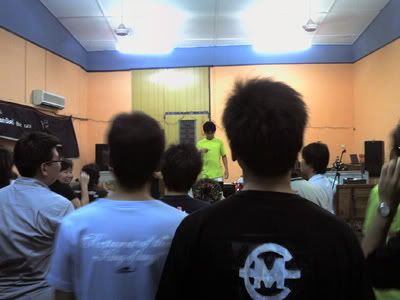 ..while the conductor was short.. hahahah~ jahat~
I wonder if we're truly ready for the cantata this Sunday. We're gonna rehearse in the venue itself on Thursday and Friday night and yet, earlier last night there seemed to be a lot that needs to be brushed up. Even for us musicians, there are couple of songs where we really need to play tighter.. so, yea.. wonder if we're ready. Honestly, no feelings of nervousness but more of excitement.
Hehe~
It's gonna be fun. Gonna play my best for Christ. Went home to grab supper with parents; black coffee and Cheesy Chachos'.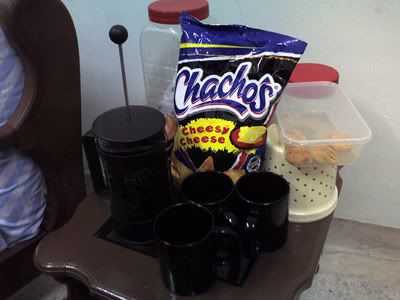 supper with the Liu's
Mercy Me
Drummer Boy

come they told me
pa rum pum pum pum
a newborn King to see
pa rum pum pum pum
our finest gifts we bring
pa rum pum pum pum
to lay before the King
pa rum pum pum pum
rum pum pum pum
rum pum pum pum
so to honor Him
pa rum pum pum pum
when we come

little Baby
pa rum pum pum pum
i am a poor boy too
pa rum pum pum pum
i have no gift to bring
pa rum pum pum pum
that's fit to give the King
pa rum pum pum pum
rum pum pum pum
rum pum pum pum
shall I play for You?
pa rum pum pum pum
on my drum

shall I play for You?
shall I play for You?
Mary looked at me and nodded
the ox and lamb kept time
oh I played my drum for Him
oh I played my best for Christ

then He smiled at me
God bless~