Currently listening to: Relient K,
Between You and Me
(dctalk cover)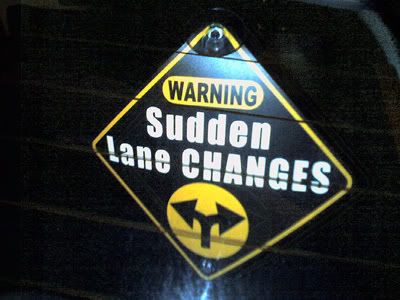 works well in kl
Elaine's Hawaiian burfday ended a little late past midnight around 2 (or 3) am and after exchanging tearful good byes and farewells, the rest of us who are staying over went to check out the apartment we're gonna stay in. After dropping off most of the luggage we, as how we are back in Melaka, went to grab some supper. As if the food at the party wasn't fattening enough for us.
heh~
Grab a quick bite and some drinks and crashed in the crib.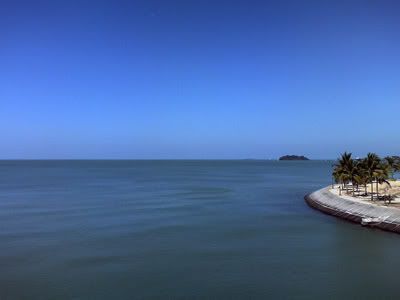 great view from the balcony of the apartment, renting for RM200+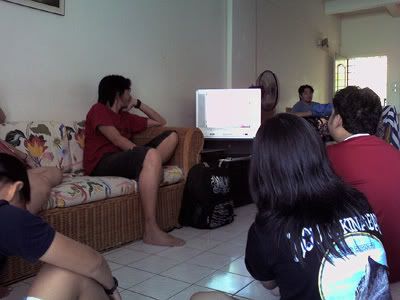 stoning the tv
Elaine (more like Lavenda) took us to makan breakfast/lunch or brunch. Brunch doesn't sound cool enough. Lets call it breakfunch.
Yea~
We had breakfunch at some nearby coffee shop that sold good ol' mee and pork rice. We had some cute entertainment as their resident doggie family warmly greeted us with
kiut
yawn. Half of us ordered pork rice while the others order noodles and the likes. Some of those who ordered the noodles had a fun time in the toilet though.
heh~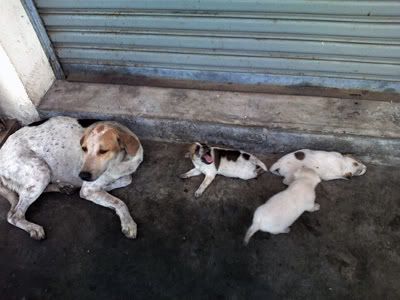 in that exact moment, for a second, i pitied Gloria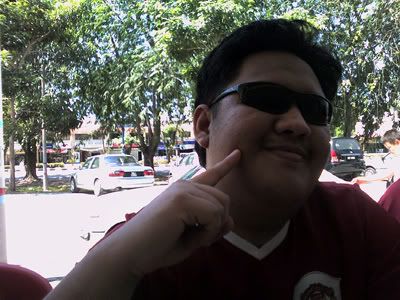 nippie snippie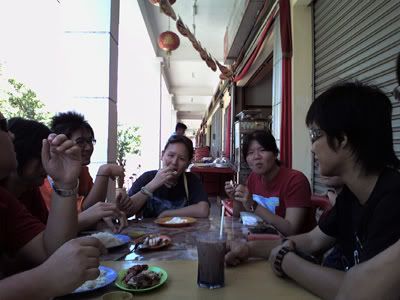 elaine chowing for the camera
justin stoning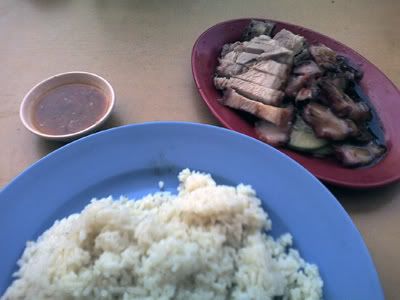 taste so-so.. can't beat Melaka's pork rice
After a long drive to KL, we followed PG165 as they went to meet up with Deric to practice at some jamming studio in KL. Watching them jam made me reminisce my younger days when I used to pay RM20 just to jam in those studios too. It was one heck of a waste of precious money back then but coming to think of it, it was a good experience for me. Made me understood the level of playing with other people.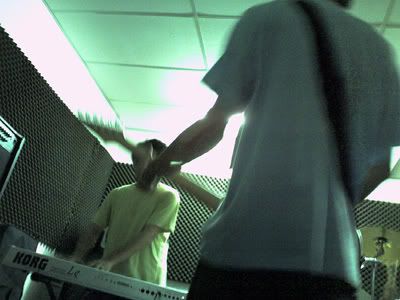 introducing, PG165..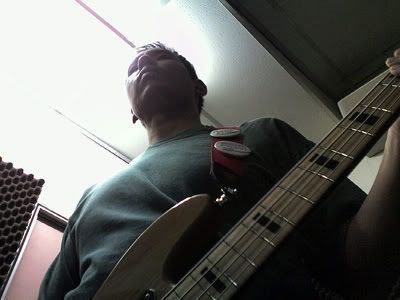 bon-jovi on bass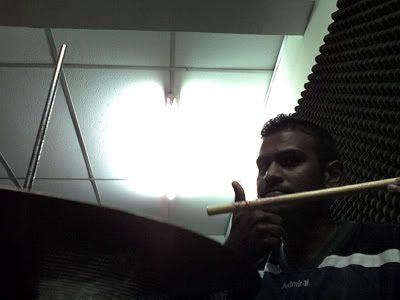 travis on drums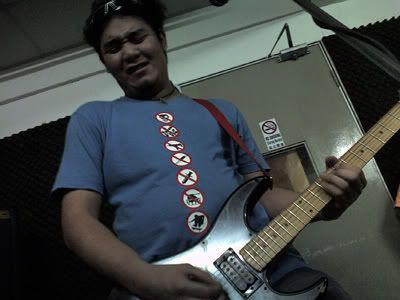 tremonti on lead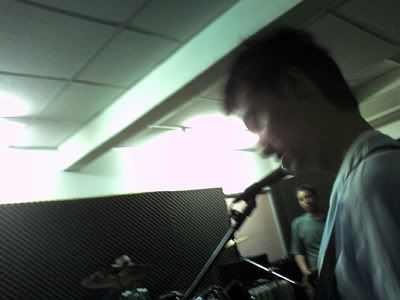 stick-man on electric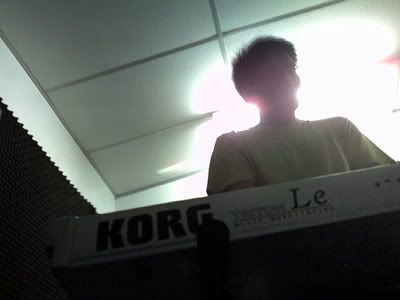 storm on keys
The dudes that followed them were so tired, they stoned while watching PG165 jam. Kinda funny watching them (myself included), especially Vain playing air-drums to the songs. After packing up, we chill at Mc D for a moment as it was a very, super duper hot day. The walk to the nearest Mc D was quite a distance. To make things worst, their service was the worst I've EVER seen in my life for a Mc D branch. No kidding.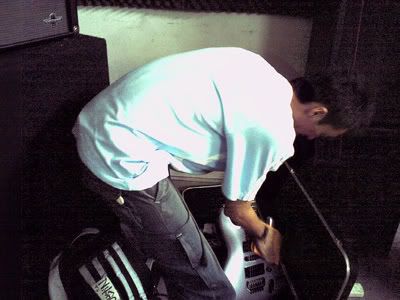 barely even friends..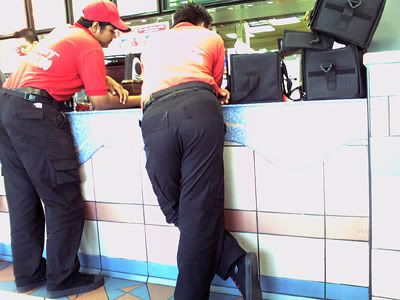 ..then somebody bends..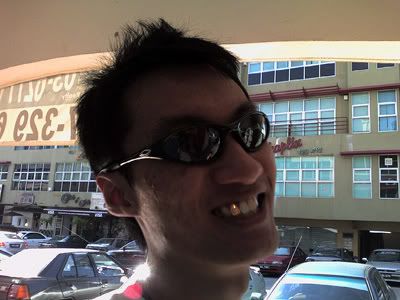 ..unexpectedly
Hmmm.. Since it's a rather good post so far, so I'll just skip the part where we got lost for nearly more than an hour in KL with an almost empty tank.
Yea~
Lets skip that. So ya, later that night it was time for the Indie-Licious gig at Jam Asia Cafe. First dude that performed was
the guy that reviews guitars for Star
a dude. Up next was la-la and finally, PG165 took the stage. They warmed the crowd with
Oh! Gravity
and
Vertigo
followed by 3 of their own songs.
practice at Jam Asia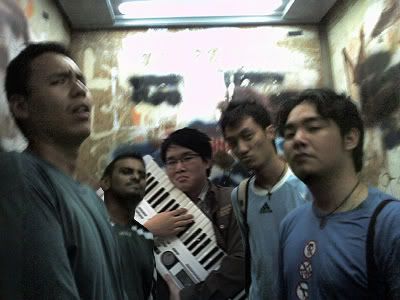 a semi-group photo that looks like a CD cover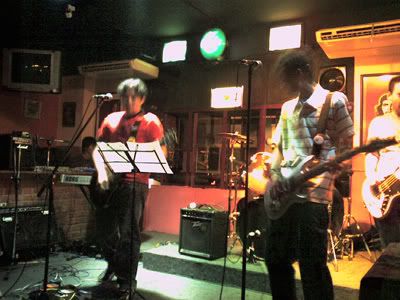 rocking the stage
Their performance was (honestly) better than when at the jamming studio la, but I guess that's to be expected. We stayed till Project Ei8ht played and our stomachs got the better of us. Bunch of hungry CFers, lost in KL chillin' at some
mamak
, eating some good food, catching up with old friends. Went home and stayed home. Tired~
p.s. it seems everyone's getting hitched these days.. :S