Joash? Who in the world is Joash?
heh~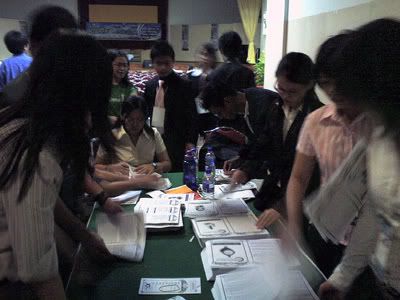 the ever-busy people of them inter-faith.. dudes..
MMU's Interfaith Talk was on again last Monday night. The topic this time;
'Why I Choose My Religion'
. Once again, for some unknown reason (to me), the working committee is comprise mostly of MMUcf - the underdog of MMU. After all, Multimedia University does not allow the running of any sort of
religious society
in campus. But hey, there's a mosque in there so no biggie eh?
heh~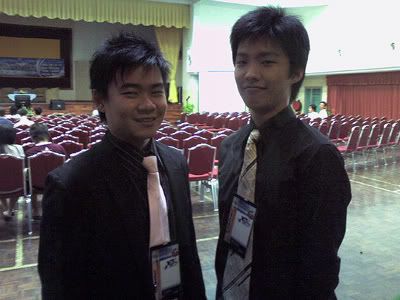 teh twims
While
fooling around with my undie on my head
helping out with the folding of them pamphlets and stuff, I saw
Mark
completely filling up the rating form even before the forum started. He said this,
"You've seen'em once, you've seen them all."
Wonder what that means.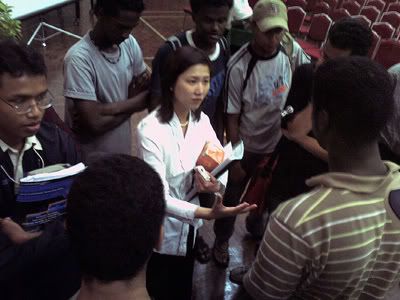 Nah, actually her name's Ms I'Ching Thomas. She married an
ang moh
; as Koh Wei said, one less nice chinese girl taken by a foreigner.
hehe~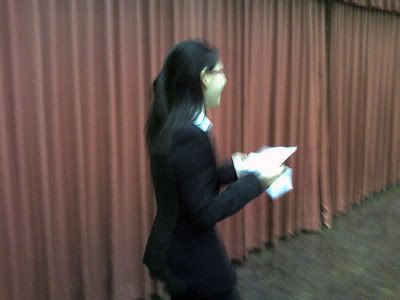 Meister Of Ceremony.. scoring out of 1 to 5 -> 6 - kok wei
Anyway, back to the Interfaith Talk. The first up was the Buddhist speaker was Ms Something Something, a graduate of an English monastery college. Cool eh? Though she spoke in good english, her presentation was rather blur and not-that-good. Next up was the Christian speaker. She was strong in her presentation and did just as well as last time she spoke. The Muslim speaker was also equally as good in his showmanship. But it sounded more like a marketing campaign than answering, 'Why Did I Choose My Religion'. The Hindu speaker, however, though it may not be a nice thing to say, is dull and boring. Seriously monotonous and boring, unfortunately.
like married only... swt
It's fun to watch how all the people who's couple is in the Interfaith Talk committee waited for their other-half to finish doing all their work. It's even funnier when one is dressed up so nicely and the other
selekeh
as always.
a family that eats together, stays together.. heh~
Tuesday's CF was good too. Though I had to miss the praise and worship due to my class from 8 to 9pm, I came in time to see our guest speaker, Ps Joshua shared is message. This is not the first time he came and even special, this time he brought his goatee along. Looks funny on him though.
heh~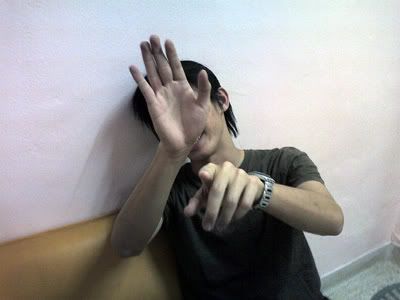 "i'm gonna get ya one day.." - joash
I've always wondered why Joash doesn't let me take any of his pictures. Guess he just can't let go of his beautiful, hot and sexy
past
.
heh~