It's been nearly 10 days of nirvana on wontdieone.blogspot.com. By nirvana, I mean nothingness which, ironically, is what this blog is about in the first place; nothing.
heh~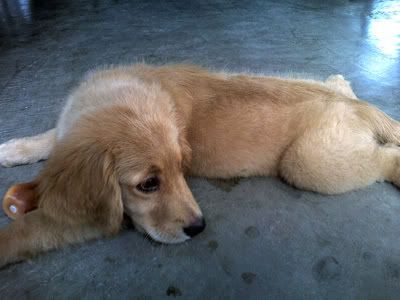 Gloria in the fullness of her.. glory
So yea,
*koff*
*spits phlegm*
, prepare yourself for the usual after-holiday
crap
special as I bombard you various non-related picture and talk about 'oh-how-lovely-my-holiday-was-*butterflies*' ya da, ya da, etc, etc - you know, the usual fix.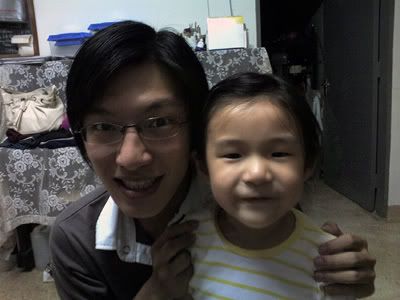 my sepet (but kiut!!) niece
The
Chinese New Year
tradition of my family goes like this. Eve; reunion dinner, 1st day; father's side, 2nd day; mother's side, 3rd day and beyond are for friends and other people. In the previous years, to me, 3rd day and beyond meant going to random chinese houses and collect those much wanted
ang paus
from those poor, unsuspecting recently married couples. A great tip is to go in flocks of friends - like locust.
heh~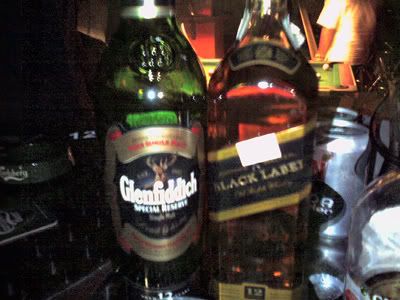 a lil drink with a few good friends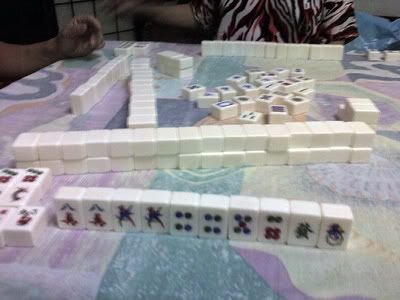 mah jong - go figure
Reunion dinner was held at my father's side older sister, aka the eldest aunt. It's customary for us to bring our butts to her house and eats some real good
hakka
shit
food! After eating my aunt's food, you know it's good when everyone around you keep pilling up on those bowls of rice. Gotta especially love that super-spicy soup, aunt's specialty - made with love and heat. Came home and had some good
mah jong
with the family.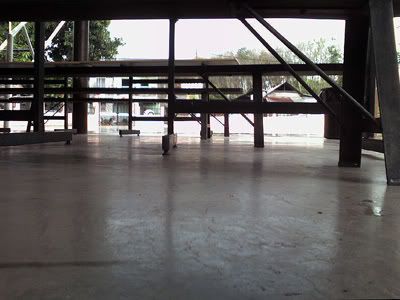 i'll never get bored staring into the peace that is asahan
Went to my mom's hometown aka my kampung in Asahan which is very near to the famed and legendary
Gunung Ledang
. If there's any REAL good place to find peace and quiet to study or ponder, nothing beats my grandma's place. It was pleasant sight to see all my cousins and also uncles and aunties. Nothing beats saying
'pai seh, pai seh'
when accepting those
ang paus
.
hehe~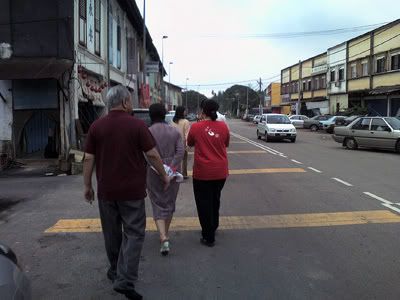 the evy-yer-muz-do-wann walk
if you noticed; the roads leads to an endless nowhere
Oh yea, we brought Gloria along too and she was an instant hit to all my cuzzies as we're all doggie lurvahs. It's a good thing that we brought her too. She was all excited seeing this very VERY open new environment where she can just run and run and run - fall, then run and run again. Of course, she did shit and pissed all around the compound but, hey! bro's there to clean up her mess. Isn't he such a nice guy?
heh~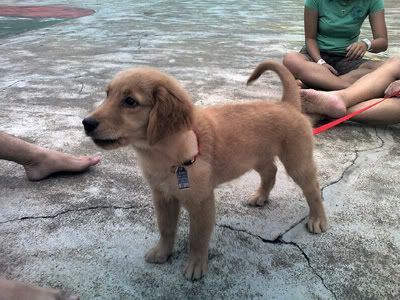 she took away my spotlight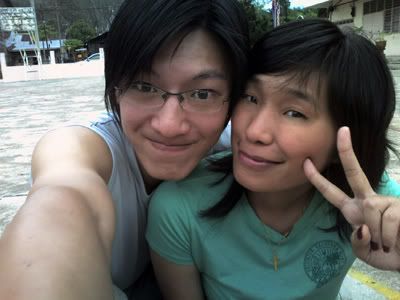 remember her? the single cuzzie.. heh~
Came home at night feeling ever tired, exhausted and super satisfied. Once a year, I get to return to my sanctuary and let go of all my sadness, grief, hatred and anger - things that you don't (almost never) see from me.
hahahaha~
The next few days I've been very unproductive. Haven't gone around to collect them
ang paus
. Sleeping very late and waking up even later. But I've spent a lot of time playing with Gloria who seems to be in the stage where puppies throw tantrums and bite a lot.
hmmm~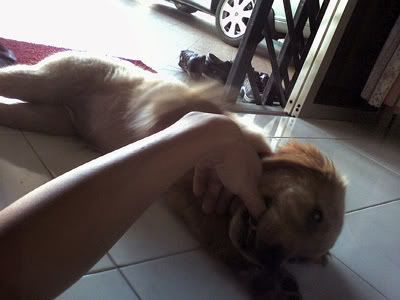 mom only lets her in the house when its a hot day
wake up
eat
sleep
repeat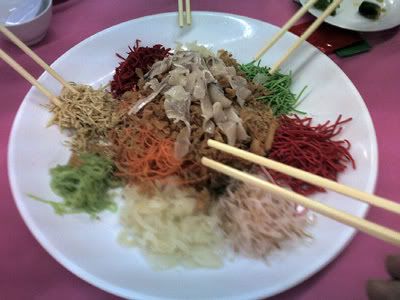 somebody say, YEE SAAAANG!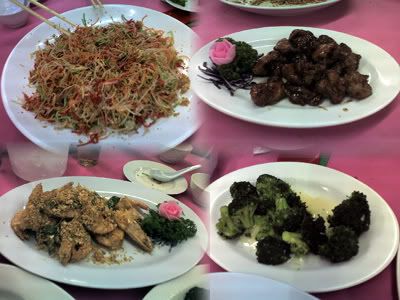 My family knows this real good sea food restaurant at the back of my taman. The owner who's the chef, is a rather close family friend has he often invites us over for a drink and
makan
. But after a few days of 'cant-come-busy-sorry' from our part, we decided it was time we pay them a little due visit. We ordered our usual food and was happily eating away when suddenly his wife came with four bowls of soup but this ain't any ordinary soup, this is the famed
Monk Jumps Over The Wall soup
. Boiled for 3 days to bring out the ultimate taste and boy does it taste good. In fact, it taste soooo good that I've completely forgotten to take pictures of it, thus it's only for me to enjoy, visually and taste-budly.
heh~
The following days was...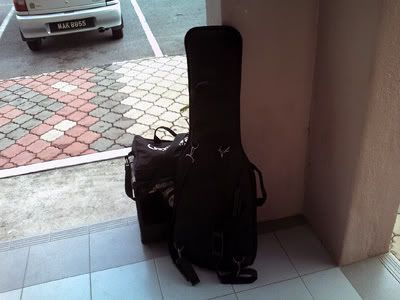 Friday practice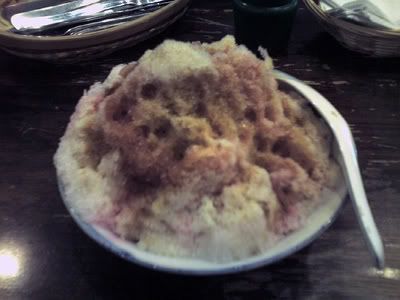 Thong Sui House after practice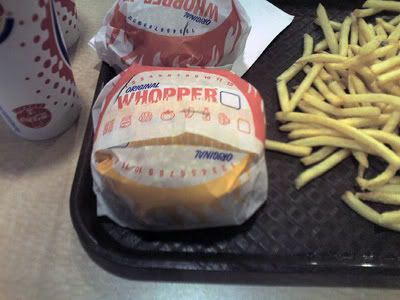 Saturday lunch
Just my opinion ya? It may differ with people but I felt that the ABC I paid at the Thong Sui House was over-charged at a crazy RM2.50. In fact, I don't like ABC and I have no clue as to why I ordered it in the first place. Crazy right?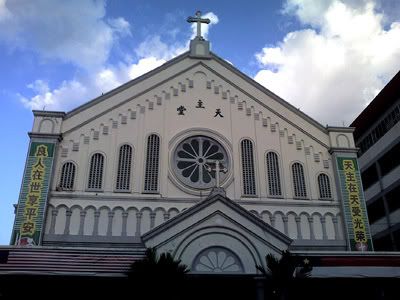 when one wakes up too early..
I did it again. Yes, I did. Once I again, I woke up 7am and went to church at 7.40am thinking that Chinese Service at CCC starts at 8am. This is the second time I've done such a thing and boy it drains the life out of me. As if me having not enough sleep was bad enough. Luckily though, I had my bro and GerX to teman me throughout this..
"ordeal"
.
heh~
We went to check out
the chicks
the nearby catholic church for awhile too.
check out them eyes - thanks bro
Though I was seriously exhausted to unexplainable limits, I had a great time worshiping God today. Once again, Louis did a great job leading the people in to presence of God. Another plus point is that the specially invited pastor, Ps Leroy who preached was able to deliver the sermon is a exciting and funny manner that caught all our attention.
CHING!
He made a great point about evangelism too that is true to the core. After practice our music boss,
Jason Leong
wanted to meet up and discuss stuff with us.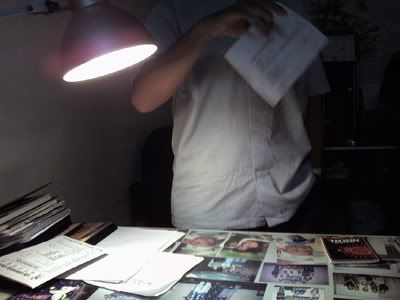 in godfather voice; "you do as i say.. ching?!"
After such a great Sunday service I feel all excited and energetic to face a week of study and mid-term!!
Yea right~
Oh well, it's good to be blogging again. I wonder if anybody missed my blog during the holiday.
heh~
I assure you posting will continue in the usual routine.
Well, before I go, I present you the newest couple in MMUCF.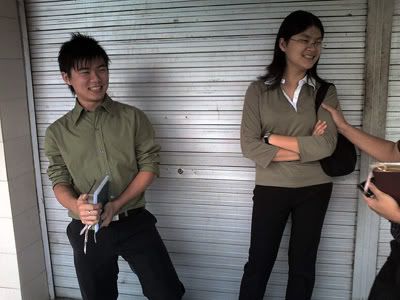 shooooo shiieee~
Nites peeps~