We had it all planned, well, not really, other than the makan part, we're clueless as to what we're gonna do. But anyway, we dropped down in downtown, down to a drowned place called Carry On that's drawn up on the second floor whose drinks are drowned down. Whatever.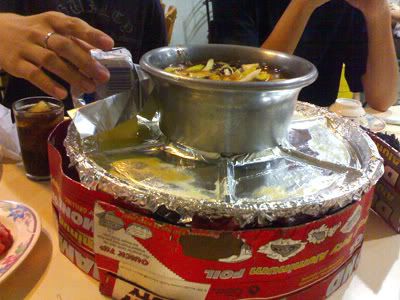 bring on the BUTTER!!
Carry On is a haven for every meat lover who can't afford eating at places like double ex restaurants like
Seoul Garden
and it's com padres. And since its price is WAY much cheaper than Soul Garden (SG), one should expect that the food's not as great as SG. I'm not saying the food taste bad, I'm saying that it's not as GREAT WONDERFUL MAGICUL as SG. But heck, for a poor guy like me, I have few little choices eh?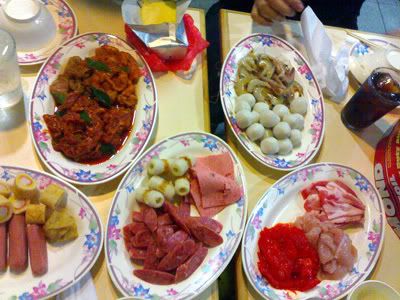 eat meat and meet them meeks and geeks.. yea
We brought our own butter. After that
blissful experience
I had cooking plain beef with butter, I was never the same man again. Thus, I came looking forward to eating butter drenched beef (i'm salivating) cooked half-raw that's sooo juicy, you'd quite smoking/drinking/gambling/wayning.
heh~
But to my utter horror, after cleaning one full plate of beef, the dumb shop owner comes and tell me that they're out of beef! And it's only like 8pm ONLY.
GRRRRRR!!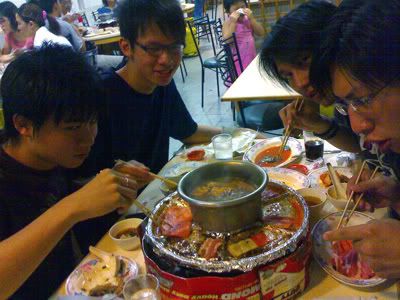 the guys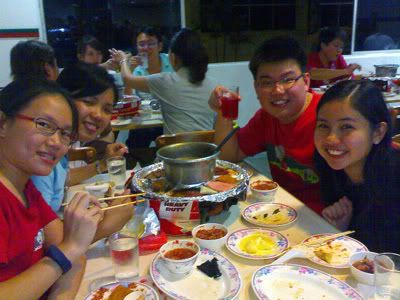 and the girls - oh wait.. yea, girls.. heh~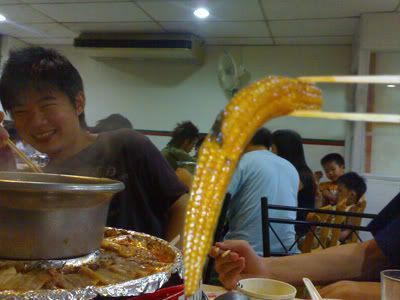 fear the wiener (or its lookalike)
Despite the setbacks and disappointments of incompetent and irresponsible workers (yes, i'm sensitive about my beef..
heh~
), nevertheless, we had loads of fun, as seen in the 'lucius fears the wiener-wannabe' pic. We stuffed out bellies, retaliate for the lack of beef by grossing out the soup (Jess was excited about it) and I pranked almost everyone by mixing their drinks but no one noticed a thing. Now what does that tell you about soft-drinks? If you've tasted one, you've tasted them all.
heh~
you're okay with the way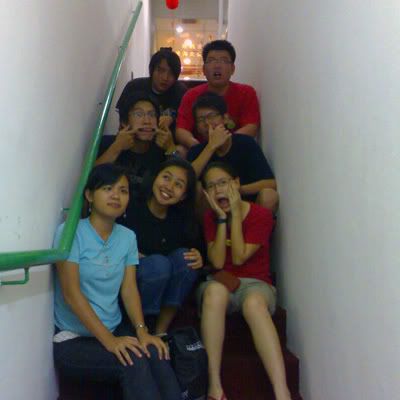 this is going to be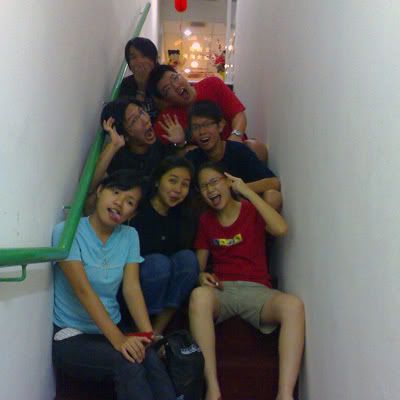 cause this is going to be
the best thing we've ever seen
The nice group picture was taken by our photographer, Lucius who's more than happy to take for us since
jess' in the pic
he's sucha nice guy and a great friend. Thanx dude.
heh~
After we were satisfied with our wayness, we went next door to play some pool at Senyum Super.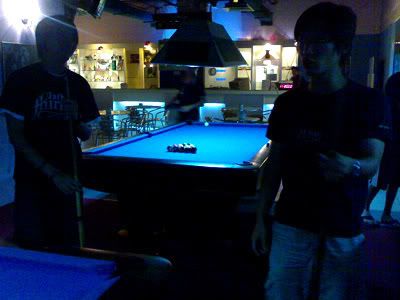 havent played pool for almost...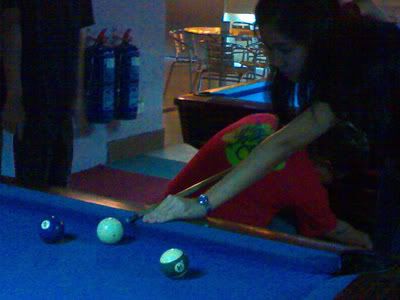 a whole super long year!!
So yea, the 7 of us Ish-ies and the CG Coordinator, Lucius get down and dirty and played some pool. We had two tables so we split ourselves into 2 groups, Soly, Lucius, Richard and Merilyn on one table, while Su Be, Jess, Edmund and I played on the other. We also paired ourselves and took turn chasing that blardy ball that doesn't want to enter the hole.
hahaha~
Can't blame the ball, actually, I admit, I've slacked a lot in my skills and aim. What a fun night it was.
hehe~
later that night
As we were heading back, it rained so heavily that half of Bukit Beruang was living in darkness due to a power-cut. So just as Soly was driving Ed back to UG, Jess called me asking if we'd like to go
yum cha
at some Zubaidah. Soly needed to head home as Ai Ai was alone (sucha nice bro), so it's only Ed, Lulu, Jess, Mer, Rich and I. At Zubaidah, Jess revealed that she had planned an activity but since we didn't go to the beach, it didn't work out.. or so she thought. Not wanting her precious plan to go to waste, we supported her idea and did some cool souveniers for everyone - write something nice about everyone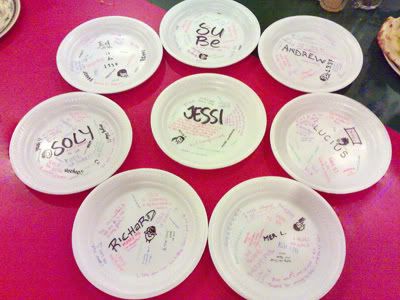 "at first.. you're a dumb ass
but now.. you're still an ass
but kind and helpful nonetheless.
~by someone to me~
Wow~ Three months flew by without us realizing and now it's coming to an end. I believe there's a whole bunch of mixed feelings amongst us Ish-Ish'ians. For Jess, I guess it's her salvation from the hell she went through taking care of us.
heh~
Thanx Jess for making this sucha great CG. You rock, Abby.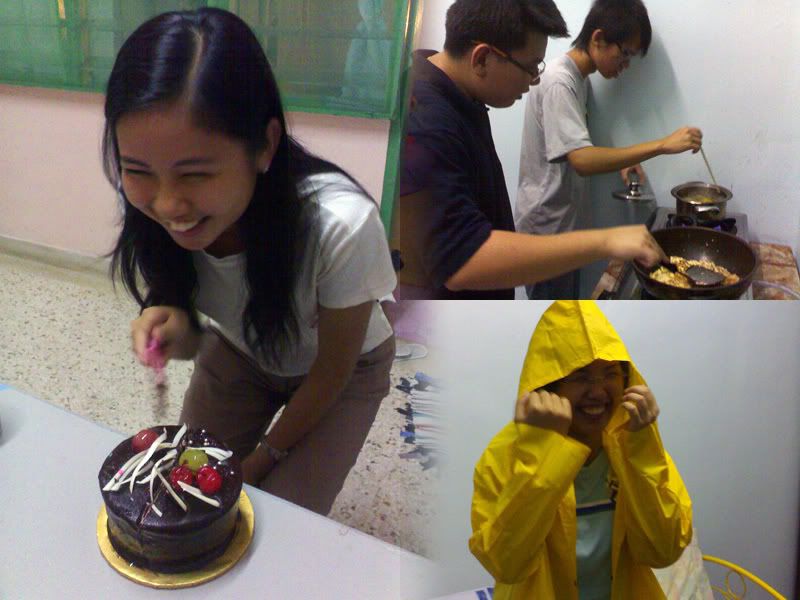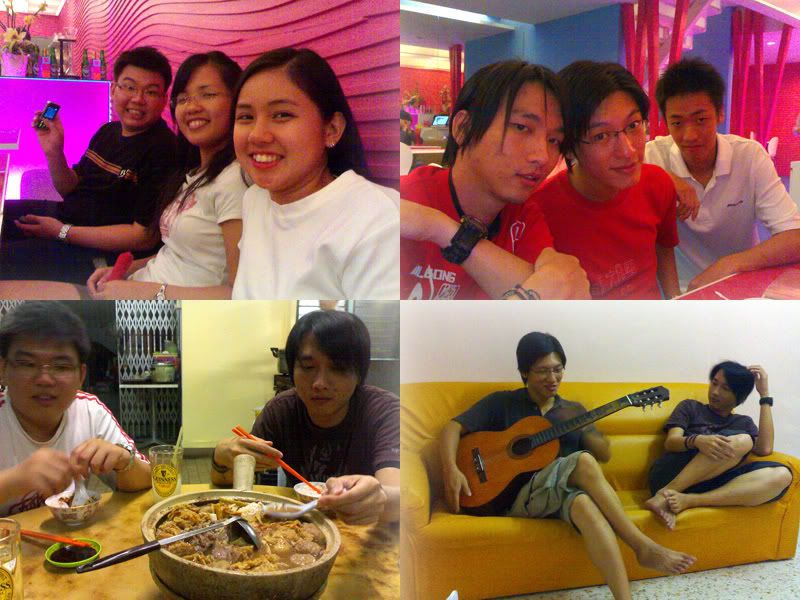 Click on the pics for a bigger resolution.
Nite peeps~
Nite Ish-Ish'ians. I had fun - loads of it.