..either that or that site's really getting personal. Photobucket.com and Suxmyx are a match made in
jigoku
and boy, do they make a really
'great'
couple.
*rant rant rant*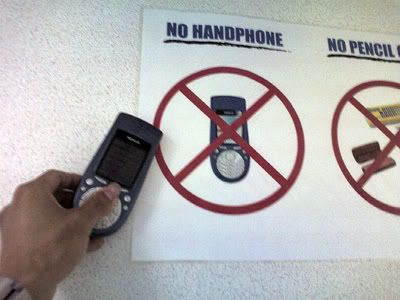 do they hate my cellphone or what?
I saw that after coming out my replacement class last night. Didn't know they'd discriminate my cellphone, specifically my Nokia 3650. So much for the end of the apartheid or them KKKs. My cellphone's already over obsolete and yet, they're degrading it by putting up such posters.
*sad*
The end is near I tell ya.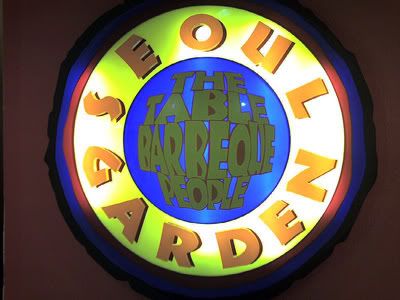 couldn't find Deric anywhere
After all the hype from people around me, I guess it's about time I head down to Mahkota Parade and check out Seoul Garden for real. I haven't been to MP for like, I dunno. Kinda lost count of them days. The good news, is that it shows that I have a life.
heh~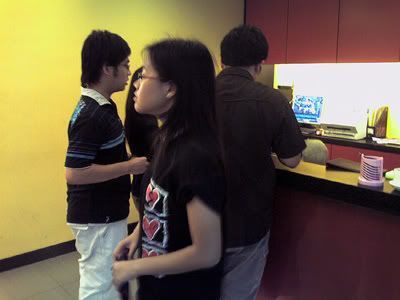 Normal = RM20+ | Student = RM16+ | Student ID = No regrets
The pricing after deducting student discount is roughly similar to that of Carry On or Malim's Steamboat. There were 5 of us and the bill amounted to a whopping
RM107.20
. I spoke with a vengeance in my heart and I said, "This.. better be good".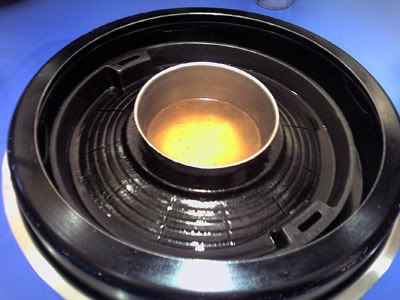 its.. not that big actually..
If ya look at the pic, the bowl in the center there, is a joke. It's as small as your ice kacang bowl or smaller in fact and believe it or not, that's your SOUP bowl. Go ahead. Laugh. Another thing to note, unlike Carry On or the Malim's Steamboat, ya don't have to add margarine as the pan is already oiled. What kind off oil? I have no idea.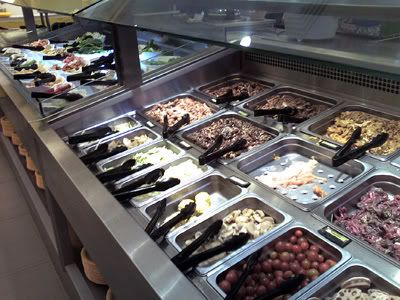 3 corners; food, appetizers, and desserts
If compared based on variety, Malim's Steamboat comes up first, while Carry On's the runner up and Seoul Garden, last. But, if compared to quality of the food, I have to admit it, Seoul Garden's marination is far superior than the likes of Carry On and Malim's Steamboat.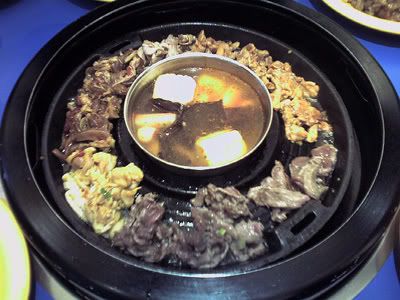 go for the beef!!
Basically, we took every form of meat available. They have a wide selection of different marinated chicken, 2 different marination of beef, fish and squid. They serve rice too but hey, I didn't pay RM20 for rice. I want them meat - beef especially!!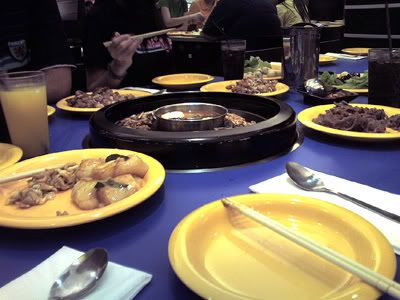 C&C 4 : Korea Strikes Back
Squids taste rather awkward and very rubbery.. for a squid (squids are tasteless). I kinda like them fishes (I like all fishes) both Garlic and Black Pepper but unfortunately for me, my friends weren't sharing the love ya know? Some of the chickens were a little too salty for my delicate taste buds and do yourself a favor, don't take the Coffee Chicken - it taste like crap (coming from a coffee lover). And though there are only two choices (
Bulgogi
and Black Pepepr), them both, as do all beefs do, tastes great. I bet they would taste fantastic if cooked with butter.
non-stick, super-heating pan
Another thing I've forgotten to mention. The meat cooks extremely fast compared to Carry On and Malim's Steamboat. Maybe it's because Seoul Garden don't really mind wasting all those precious fuel for the amount that we paid. So just spread your meat, wait for a minute or so and the meat is done.
sugar water - literally
The appetizers bar is not worth mentioning for it isn't even a bar so I'll just skip on to dessert. Aside from the regular carbonated drinks, they serve orange, mango and blackcurrant juices too. Far end of the bar you have an ABC making bar with modern ice crusher and a variety of goodies to add into your ABC, not forgetting the super extremely watered-down syrups. Think of the dessert bar as your good ol' 4 star hotel buffet dinner's dessert bar.
Yea~
The saving grace of the dessert bar though, is the ice cream. They serve much better ice cream than Malim's Steamboat and I'm just
CRAZY
for
COOKIES AND CREAM
ice cream!!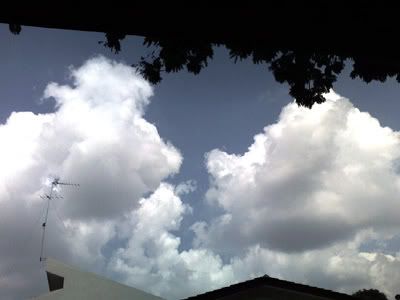 im in meat-heaven
In the end of it all, I must say, Seoul Garden's not that bad after all. It lives up to the hype (though the price's gonna kill ya). Gotta lurve meat and ice cream.