two thoughts..
three calls..
four gals..
..
I love my CG.
Almost had a mild crisis on Thursday. Initially 5 members coming. Good. The problem though, is that the ones who drive can't come. In other words, I'm grounded. But-
jeng jeng jeng
(haven't used that in ages) thankfully, Riro came to the rescue offering to drive her bf's car while he's resting after undergoing minor surgery.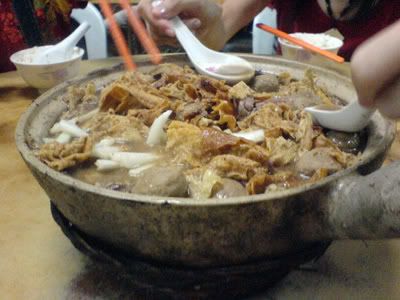 be-be-be-beeeeef~
The above picture marks the two thousandeth picture in my suredieone photobucket account (figure not inclusive of the wontdieone account). Thank you.
So yea! Got transport! Then, suddenly, Jan Sen said he can't make it due to some last minute stuff, leaving me, one man, with four of my beautiful members. Yeap, that's right, one
*koff*
man, and 3 gals; Riro, Kay L, Ana-chan, and Elbert. The 5 of us went to makan Some Good Food® at
Loi's Beef Bak Kut Teh
(available only at selected stores nationwide). Next, we went to JJ to eat some ice cream and go walk, walk.
heh~
.. women.. *rolls eyes*
heh~
It was fun hanging out with em and catching up with em and stuff. Ice cream was good too, though it was only from Mc D's - can't expect much can ya? Still, it was a good time of fellowshipping and fellowshopping.
hahah~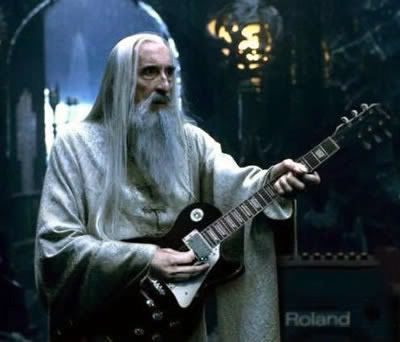 who says one can't just ROCK into Mordor?
We were somewhat talking about relationships and stuff during makan time(Riro brought it up). Had a little discussion on the different ideas of the vastness that is BGR and I shed some light on a one little noticed fact;
a) all men are jerks
b) all women are troublesome
c) because all men are jerks, all women are troublesome
likewise, because all women are troublesome, all men are jerks
deep eh?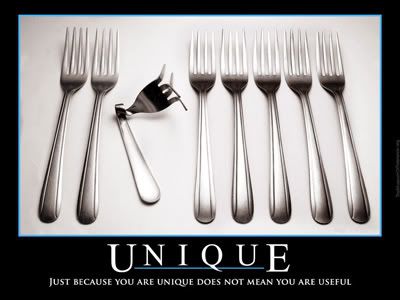 picture not related.. ahaks~
Nite peeps~ Stay unique.
bluek~