13 people gathered at EP at 12.15pm on a hot Friday noon, carrying along our luggages; burdens, worries, assignments, projects, tests, unhappiness, dissatisfactions, and other human emotions. Sure we're going to Kuantan at a time that's jam-packed with due dates. In the end, that's no surprise as the call of servitude, the call to worship requires
sacrifice
.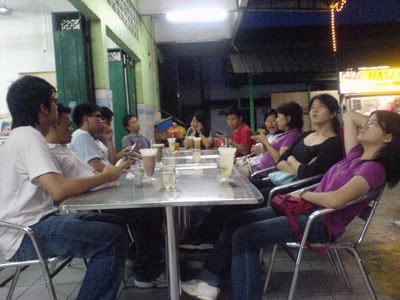 the most plain nasi goreng cina in my entire life
Touched down in Kuantan around 4.30pm. Waited for our lovely host, the
Higher Ground
car owner Vince, rendezvous with Ps Clement and Ps Nirhal and took all of us to our home-for-the-night. Had less than an hour of rest, grabbed dinner and went for the first of the 3 sessions of Youth Alive Connect: Kuantan. The night session's topic: good ol' BGR. Anonymously sent questions give great deal of exposure and education to the young and naive. Oh yea, J.Chean's a pregnant 14 year old.
hahaha~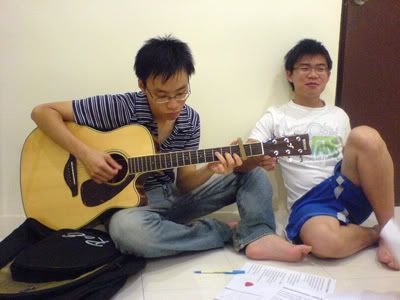 "Nirhal wants us to play Hosanna after his message"
By the time we reached back to our part-time house, it was already past 12am and we were still writing down chords, confirming songs, etc. With the next session starting at 9am, and seeing that we have 8 guys (two from penang) sharing one bathroom, I reckon I'll definitely have to wake up at 6am. Slept at 2am.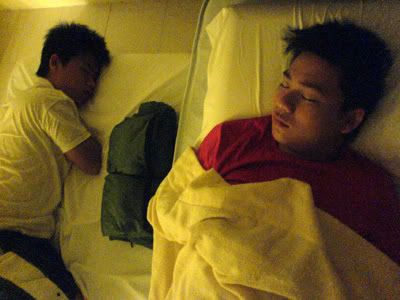 was supposed to do devotion/dedication with me at 6.30am.. they didn't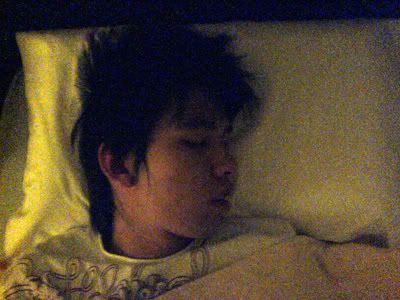 the most clam sleeper of the lot of guys... so angelic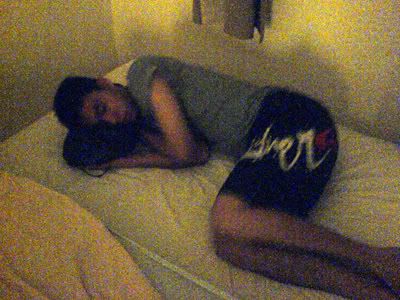 The morning session was lead by our boss and leader, J.Leong (age unknown). Final finalized songs for morning were;
- His Love
- The Time Has Come
- Dancing Generation
- Amazing Love
-
You're Beautiful
Glory In The Highest
- Give Us Clean Hands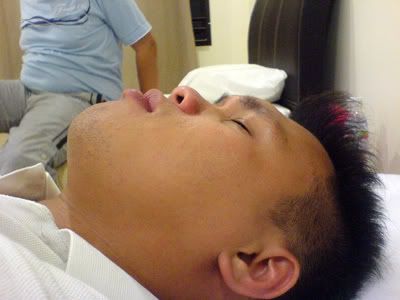 morning session leader
It was good to see the youths respond in worship. After all, if we as worship leaders don't call the people to worship God then what's the point of our role? After that, Ps
Jeremiah
Elijah talked to the youth about leadership etc as the morning session was mainly for youth leaders. After the break we played a short good ol' fashion
One Way
to get them kicking in again. Ps Clement followed through the rest of the session and we ended nearing 2pm.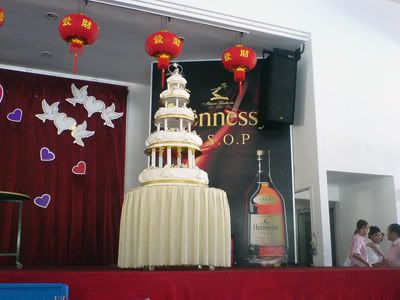 i honestly didn't know such cakes were fake...
Our dedicated host of Kuantanites took the lot of us to a secluded restaurant by the beach. Out of the blue, Shih Wen's dad came and talked to me. It seems I'm the only one whom he recognizes and the last time I remember meeting him was during my last trip to Kuantan,
Higher Ground
event. Food was great as expected from Kuantan.
heh~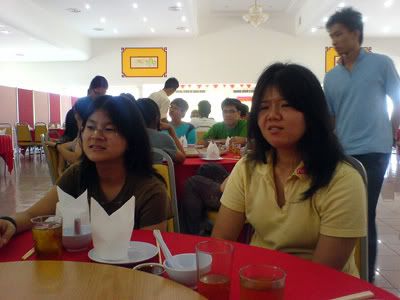 points towards me, "ah gong, make it stand! make it stands!"
j.sen laughs~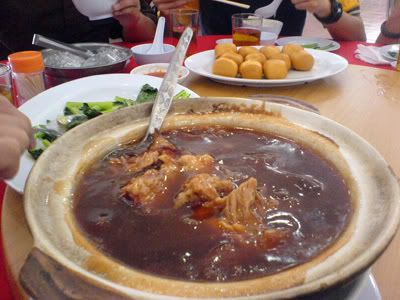 i <3 my porkie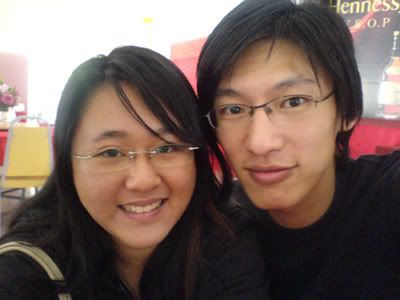 i <3 my es-ther-dear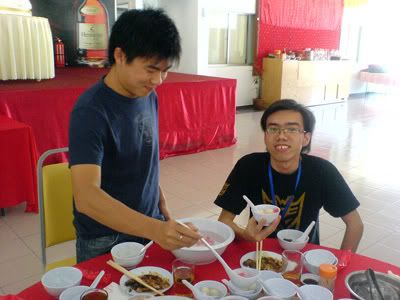 HG-car-owner called Jucius a waitress - pwnt~
At the end of our lunch, Rev Nirhal called for our attention and the attention of the youth leaders of Kuantan who were with us and talked about the
Book Of Hope
. The school-leavers edition is on the book shelves of MMUcf's YAC, do check it out.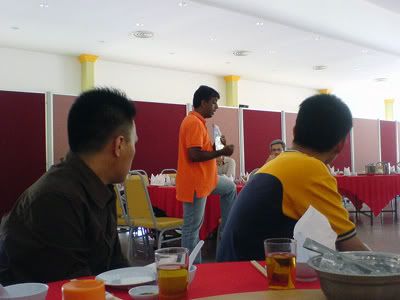 the book brings hope
After lunch we were brought to the beach at
Teluk Chempedak
. Walked here, walked there. Snap pics here, snap pics there. Enjoyed nice cooling breeze right under the sun and headed straight back to catch up on what little rest we could.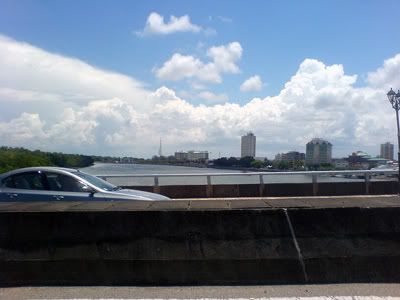 clouds over river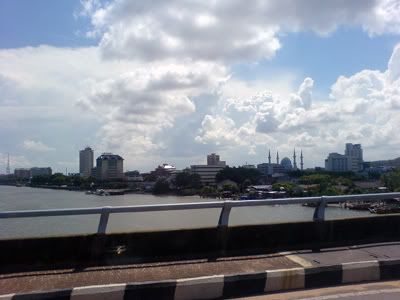 more clouds over river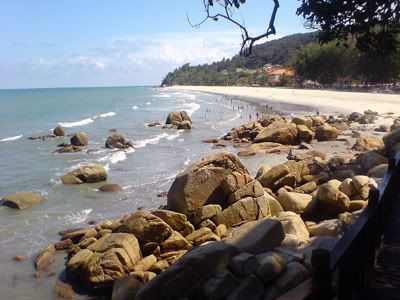 one of the more popular beach it seems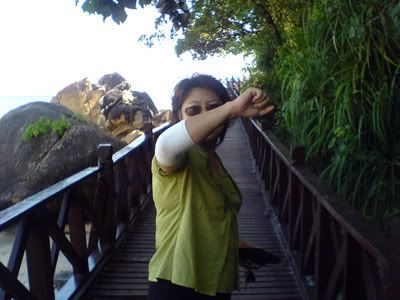 pastor showing of 'the pastor's elbow'
look to You
Showered, dressed up and got ourselves ready for the night concert. Lulus and J.Leong waxed up. J.Sen hair was unwillingly waxed too. Weird stuff I tell ya.
Headed down to the Christian Praise Centre. Did some minor sound test and practices. Talked through what we're gonna do for the night and dedicated ourselves to the work. Soon, more Kuantan youths began coming into the hall. Got the youths hyped up and played the Master-Jusser to break the ice. If it sounds wrong, it's all you dude. Kicked off the night with a blast,
"KUANTAAAAANN!! ARE YOU READIEEEEEEEE!?!!"~
- Introduction riffs
- The Time Has Come
- Majesty
- Dancing Generation
- In Your Freedom
- Mengejar HadirMu
- Fall
- Till I See You
Once again, it was a great encouragement to see the youths worship God. Some lifted their hands, some bowed down on their knees all of them offered their hearts. Ps Joanne came up and ministered to the youths in the last worship song. Ps Nirhal told me to convey to Ps Joanne that she could do whatever she wanted, continuing to minister and let the Spirit flow.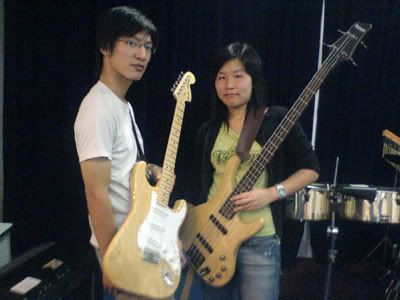 ash ash ash ash ai ai ai ai
Rev Nirhal came up and spoke of worship. The Who, How and Why's of worship. Referencing from
2 Samuel 6:5-7
that there are worship how-to's. By the end, Rev Nirhal called the youths to make a personal commitment of worship to God and many responded. Closed with Hosanna.
Then for the finale, we got the young people pumping with
I'm Not Ashamed
and encouraged them to
Tell The World
. The two songs were quick to end and the youths were shouting for more. Turned to the band and mouthed "Dancing Generation". Drums and bass groove kicked-in. Lots of jumping, dancing and definitely a few decibels of pure screaming.
As much as we would lurv to stick around and fellowship, we were rushing back to Melaka and so we packed up quickly, and left Kuatan at around 10pm. Touched down in Bukit Beruang at 3am, home at 3.15am. Tired. Exhausted.
Once again, great job guys! It's always a blessing to serve with ya'll!
TGBTG!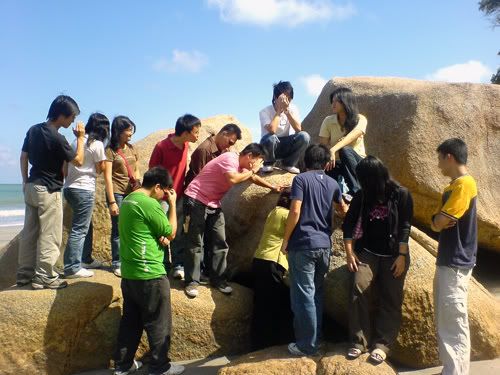 WTO Kuantan Team: L*MB
It's 4.25am and Gloria has been barking for no apparent reason whatsoever. To make things worse, I'm gonna replay a childhood game again for the 5th time and this time, I'm really really gonna save her from Sephiroth!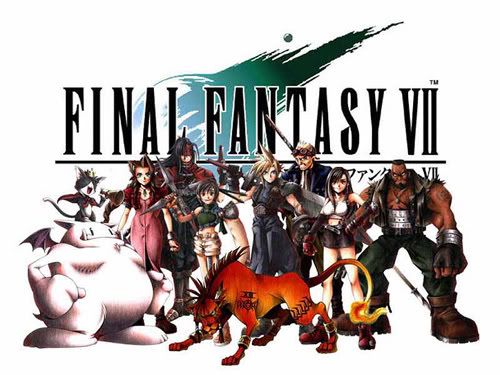 Good nite peeps~