On Friday 9 people from Melaka head off for a journey of their life time..
But before that~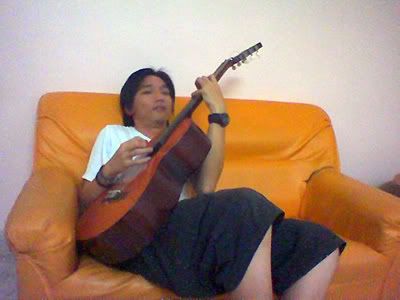 yes, edmund is rockin the guitar
Thursday's CG was fun. The Ishies makan'ed at the chinese restaurant next to Rama Rams. The food is good I tell ya, especially their fried rice. I mean come one, where else can you get prawns in fried rice for only RM3? It's a bargain I tell ya! Later after makan the Ish-Ish CG, the
*hand-on-nose-teasing*
CG, and the New CG met up at Paddlepop's house to have some fun game. The first game we played was murder-winker. Sounds wrong doesn't it? Well, I was the chosen murderer and I 1337 pwn3d those peeps.
Heheh~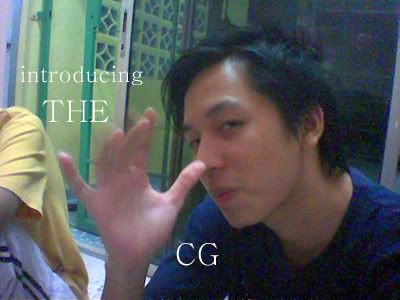 lionel's gonna have a hard time calling his CG
After that we played everyone's favourite game - Mafia: Kiss The Ring. Tension was on high as everyone was a suspect. I personally evaded persecution on 3 games though I was only a citizen and on 2 games, the Executioner killed me. Everyone hates me..
Heh~
. Ai Ai was voted the (wo)man-of-the-match as she was the best Mafia and she killed off all her opponents with much needed brutality and managed to destroy all the evidence. Deadly.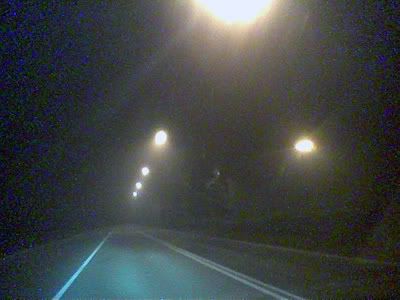 a straight road and 3 guys
Friday night came. After dinner Raj, Justin, Deric, Jason, ZX, VJ, Shih Wen, Wayne and I set off on our journey to Kuantan. 9 peeps, 3 cars, 1 Higher Ground. Jason, Raj, and VJ in car 1, Deric, ZX, and Shih Wen in car 2 and Justin, Wayne and I in car 3. The road to Kuantan is a really long and straight one. Seriously. When I say straight, I do mean straight; no gaying to the left or right.
Heh~
Jason's car had a near death experience as they almost crash into an on-coming vehicle but thankfully, God's mercy covered us all and we manage to reach Kuantan with no injuries.. otherthandericscarashedentedhiscarreversingintoavan.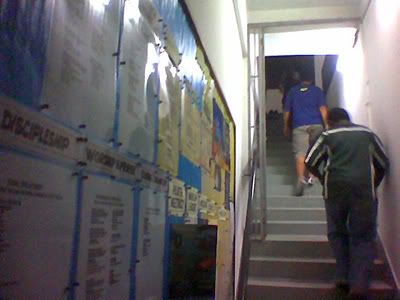 Kuantan Baptist Church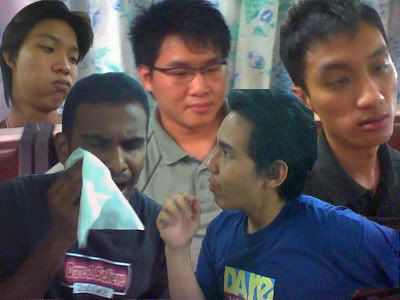 they were all tired and VJ had an emo moment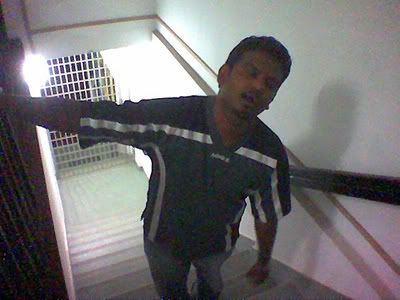 poor guy
It was around 1++am when we arrived at Kuantan Baptist Church (KBC). Shih Wen's parents had just arrived earlier from Ipoh and they gave us a tour of the church and showed us our rooms. They're nice people, just like their daughter.
*smiles*
KBC is a really homey church. Downstairs' the sanctuary, up stairs is practically a house with rooms, a dining table, and a kitchen. I like that place. There's always food on the table!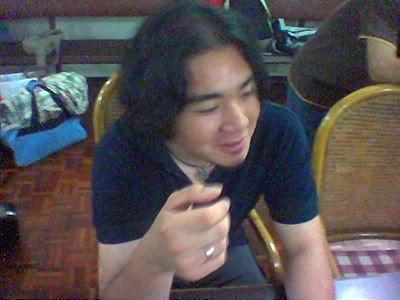 jason's not tired cause he's high on sugar.. heh~
The guys were tired from all the travelling, 5-6 hours of driving and all, but at the same time, I guess we were excited about tomorrow. PG165 will be playing for a combine-youth event called High Ground (HG). HG is an event that is organized every month by the youths of the different churches in the area. In the previous HG, they featured bands such as Altered Frequency and Planet Shakers. This year, PG165 has the honour of blessing them.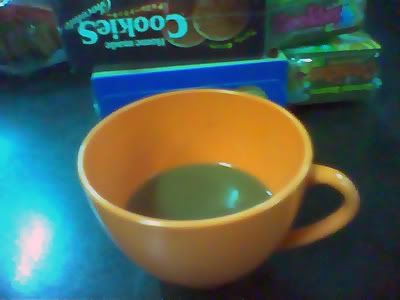 coffee... need coffeeee....
There are 2 rooms with 2 queen-size mattresses in each room. Both rooms fully air-conditioned, comes individual bathrooms and water-heater. Did I mention homey? They gave us biscuits, cookies, eggs, milk, coffee/milo mix, and other goodies on the table for us to consume should we feel hungry at any time. We munch on the tit-bits as we settled down and talked about the up-coming event.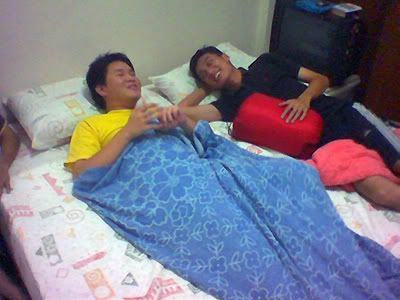 awww... aren't they cute?
Raj, VJ, Jason and Wayne slept in the first room, Justin, Deric, ZX and I slept in the other. I had a slight difficulty sleeping the first night. Justin and Deric kept on talking and sniggling (snuggle and laughing) through out the whole night, hugging their boasters and all. Honestly, it looks really gross and wrong but hey, every guy has his needs.
Hahahaha~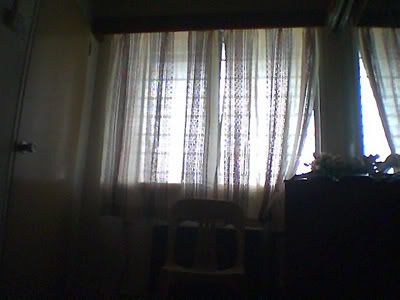 it's a lovely morning folks and the time is 9.45am
We woke up at around 10am. The sun was shinning and the birds were singing out loud. A beautiful morning. ZX and I woke up first, Justin and Deric was still sleeping. Guess they must be exhausted from last night.
Heh~
After washing up, we had our morning prayer and devotion together at the dining table. Raj shared to us the passage from Psalm 133,
"Behold, how good and how pleasant it is for brethren to dwell together in unity!"
.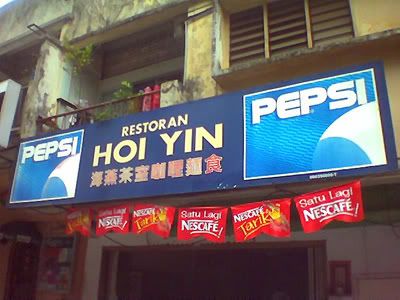 some nice curry mee place
Aaron Phua and Jeshua (i think), came in the morning and gave us a run down on Kuantan and the HG event. Aaron, a college student studying in
*insert college name*
took us out for brunch, Kuantan's proud Curry Mee at a coffee shop near Teluk Chempedak/Chempaka (i forgot which).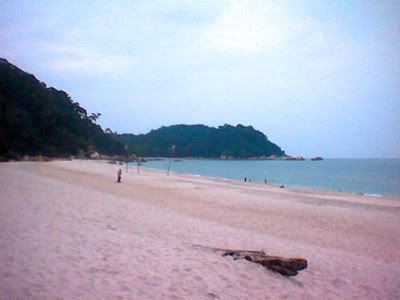 smooth beach and blue ocean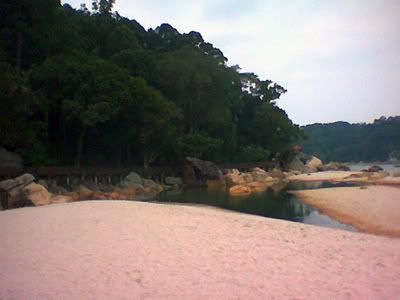 an oasis of waste.. ewww~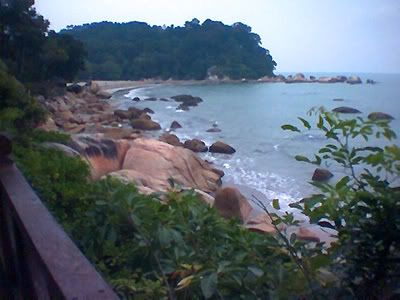 a higher view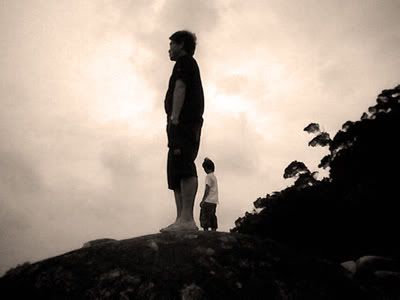 a 'city of angels' moments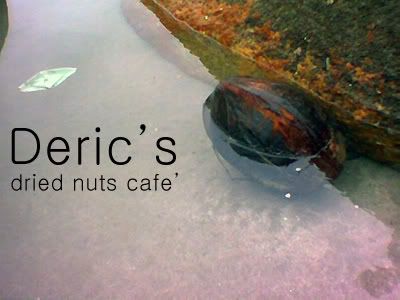 yeah, we found some big nuts
After a very satisfying meal, Aaron took us to Kuantan's beach. It looks much better than Melaka's. Seriously. On a scale of 1 to 10, if Melaka is 2, they're a definite 9. The ocean was blue and the sand was smooth and clean. We spent an hour strolling around the beach, enjoying the fresh air and scenery. Everything about Kuantan's beach is simply.. breath-taking.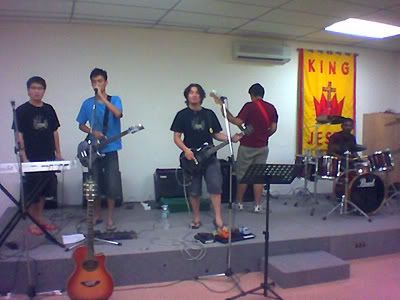 wayne made some funny joke with the word 'test'
When we got back to KBC, we wasted little time and got straight to work. Moved the stage to a better position (after seeking permission of course), set up the equipment and did some sound check. It was a little tricky doing the sound check but with some help, it turned up okay. After a few minutes of softer-louder adjustments we managed to reach the quality of sound that was satisfying and clear. PG165 went on their practice run and though it was just practice, the worship was excellent.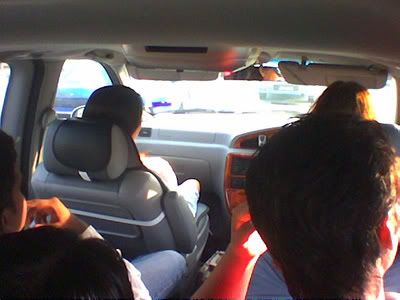 nice car.. *impressed*
Shih Wen's parents was very kind and generous to take us out for dinner. Shih Wen's dad, a civil engineer, is a very funny guy, calling Deric a clown and all.
Hahaha~
Her mom, a teacher, is a very gentle lady who holds her hands together as she talks. So basically Shih Wen looks more like her dad but acts more like her mom.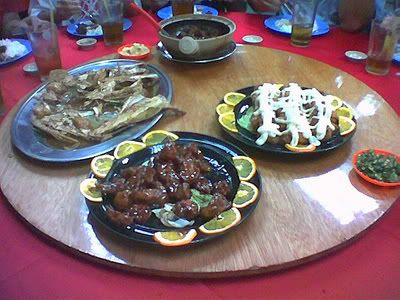 food!!
MORE food!!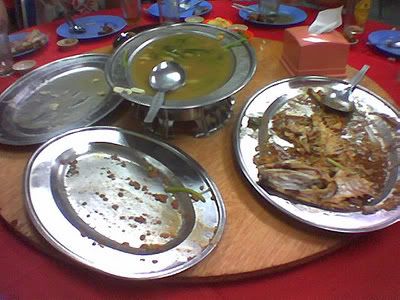 0wn463~
Uncle blessed us with an abundant ammount of food. I mean seriously, the food just kept on coming and coming and coming and it just won't stop! He ordered an 8 course meal and fed us all till we were full and fat. My personal favourite dish was the stuffed-
'yew cha kueh'
and fried praying mantis shrimp that tasted like chicken. Praying Mantis Shrimp = Chicken. The world is truly full of wonders.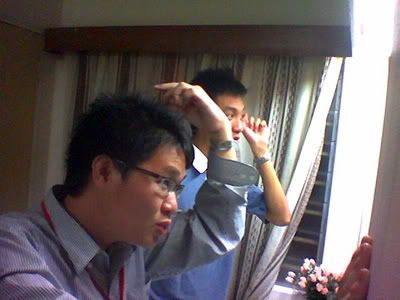 "does this mascara' make me look ugly?"
It was 20 minutes more before the HG event started and everyone was excited. In fact, they were so excited, everyone had to go to the toilet to do some
'big business'
, except me. I guess the curry mee was taking effect at the very wrong moment.
Hehe~
But alas, everyone was okay when the event started. PG165 went on stage and rocked the young crowd in front of them.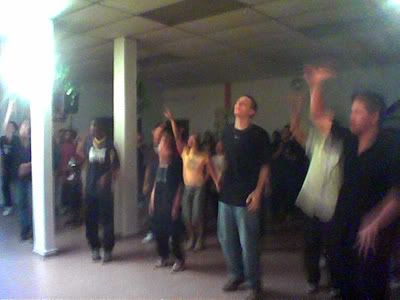 ALWAYS AND FOREVER!!
Overall the praise and worship was great. PG165 started with
Always and Forever
and got the youths to jump around. After the praise songs, Jason told the youths to sit down and the un-plugged session was next. While setting up, Justin interacted with the crowd, explaining what he went through as he wrote his song entitled,
'My Friend'
.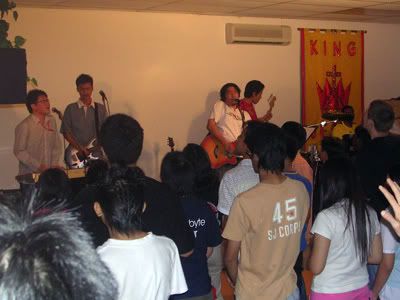 tanah tinggi event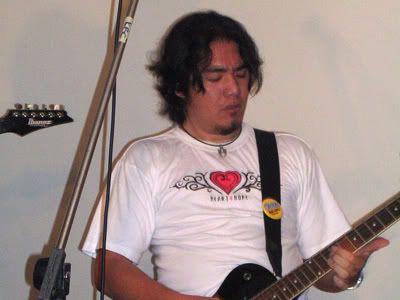 shred that baby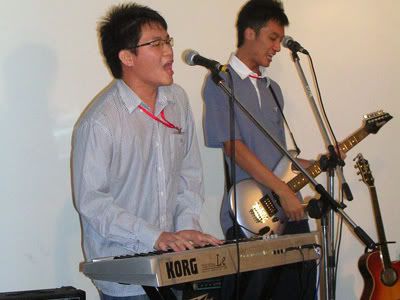 the screamos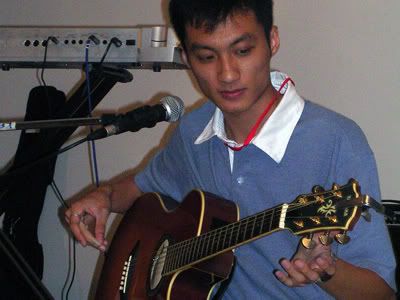 "let me tell you guys what spanar is.." - justin
Strangely enough he started mentioning
'spanar'
but I shall leave that for him to explain to you guys.
Hehe~
With the APX in hand, Justin shared his song that he hasn't been singing for over a year. Then Jason shared his un-plugged song called
'Come Home'
. The worship that came next was one that I haven't had in awhile. The presence of God just came and covered the whole room. I, myself was touched by God.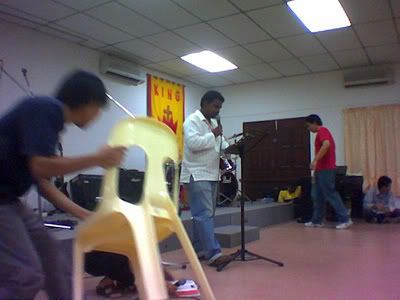 they kept making fun of an American preacher.. tsk tsk tsk~
Raj shared to the youths the story of Jeremiah, which tells the youths that they're never too young for God to use and that God can use anyone to do His will. The youth was attentive in listening to the Word. The youngest among the crowd was an 11 year old boy named Jeremy. Cute lil' kid. After a time of ministering, PG165 took the stage again and ended the event with a big bang. They played
'The Time Has Come'
and
'What The World Will Never Take'
. This time the youth, burning with the strong fire was jumping higher than ever. Went out for mamak and fellowshipped with the youths. Came back and crashed in bed.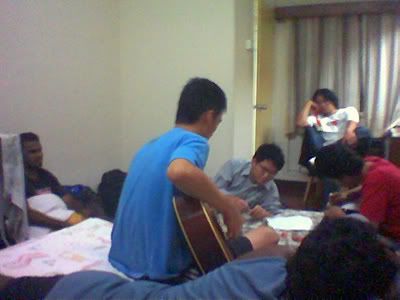 quicky going through the chords for Sunday service
We woke up early for Sunday service. Justin was worship leading. Though they didn't practiced for it, the band was able to lead the people into worship. Raj came up and talked about how he admired the young generation that set up the Higher Ground event and how great it is to see them united. After service we joined their youth service. Played games and Deric called himself Dried Nuts Deric. I'm not joking, he really did call himself that.
Hahaha~
But Deric showed his preach-a-bility as he shared about Jonah and obeying the will of God to the youths. Had a short nap before heading off to another section of Kuantan's beach to eat some really, very good curry puffs. For 50 cents it's the best curry puffs I've ever eaten.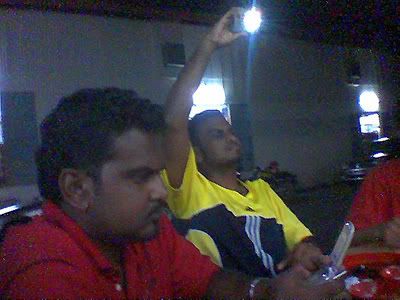 VJ trying to grab the little light
Soon, we said our good byes to Kuantan and headed back to Melaka. We stopped at Tangkak to have our dinner. The food, as usual, was good. Pork with Salted-fish in Clay Pot. Blew my mind. Touched down in Melaka around 11pm and went back to our respective homes.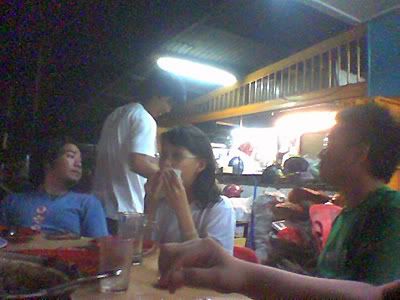 shih wen came back with us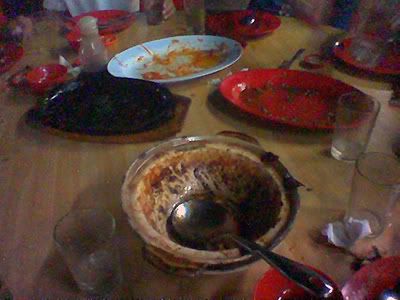 pork with salted-fish in clay pot = heavenly
All in all, it was truly a great experience for me. Even as we blessed them, we in return was truly blessed by them. Hope we can send a team there again one day. PG165 did a great job there once again and I'm glad I was able to helped them.