First off, I'm in a way happy and sad to say that my house has a Window's Vista user. Happy because my dad finally has his own laptop that he can do his work with without having constantly put up with the old, run-down PC that's sitting in the living room. Sad because, well, it's Vista - and it still sucks (for now).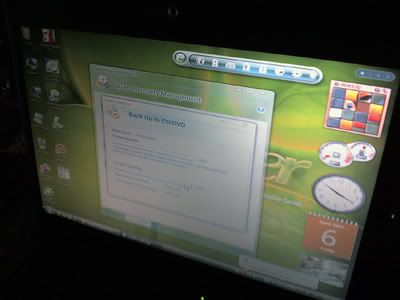 estimated cost ===== RM3100+-
Woke up to the nonexistent hour in my life of 6.30am. Sometimes, 6.30am is the time I go to bed but hey, that's a different story. Why wake up at such an hour you might ask? Well, it's because I'm supposed to be
*koff*
'in-charge' of the short Mission Trip to
Kampung Jus
to teach some simple-minded, running-around-naked, chicken chasing kids proper English. The same kids that mirrored me in my younger days.
heh~
The activities lined-up for the significantly short English class are, Revise, Reteach, and Remember. Then there are Games, Grub, and Goodies. That basically sums it up. Seriously. Go figure~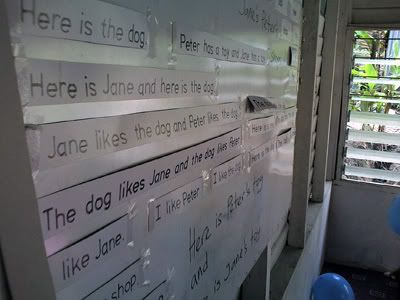 revising, reteaching and remembering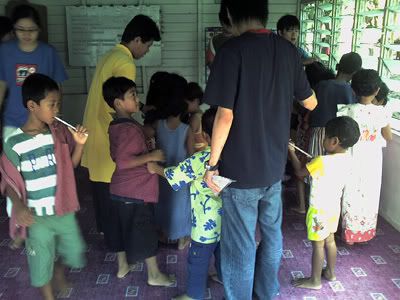 games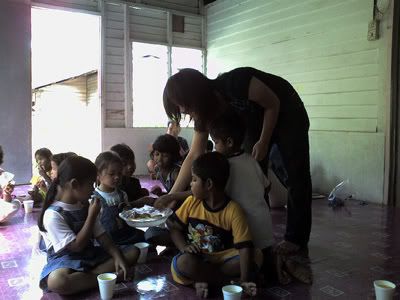 grub (means food la~)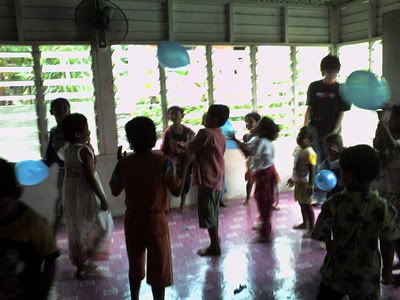 goodies
The whole teaching session was fun and refreshing. I haven't been doing anything like this since I last serve back in Gateway Church. Those were good times.. and the many bad times that followed that church. But that's a another story for another time. Thanks to Marianne for getting all the Cloud 9s, assorted biscuits and other goodies. Tony and Sully for the games, you guys did a good job. Mark for being Barney. Lucius for being Barney's Pet.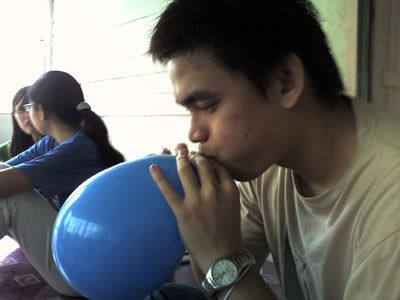 mark giving a good blow into the balloon.. heh~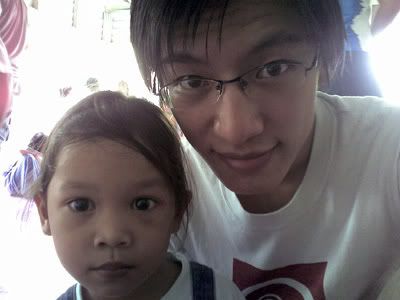 the cutest and one of the best student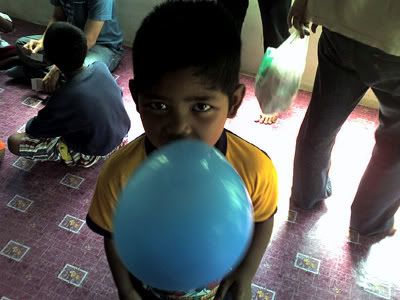 biggest rascal (same goes for his younger bro)
After all the serious teaching lessons and crazy balloon games, we're out of time and needed to head home. The pastor managed to catch us before we were able to make our escape and asked us to have lunch with him. Sucha' nice guy.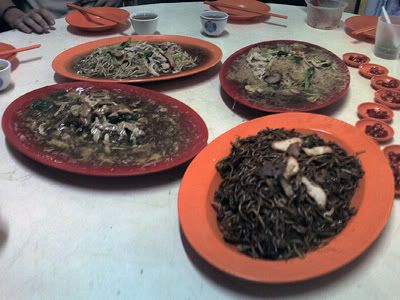 su be's favourite food
Touched-down YAC at around 1.45pm and reached home at 2pm. Stoned and dead tired but as the saying goes,
'there's no rest for the wicked'
. Meeting up at SFC at 4pm for music practice and knowing myself, should I fall asleep, I wouldn't wake up till after dinner. So alas, I stayed awake and carried on playing
Andy Mckee
's Rylynn. Went for practice, had a cold beer, and did loads of self-thinking.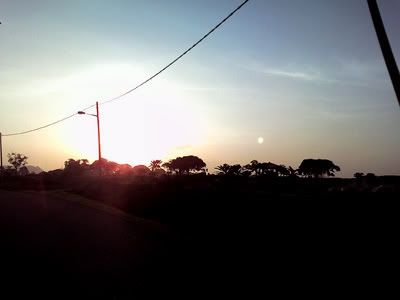 To cause another to stumble.
Which is a sin?
In the bible doesn't state ones actions are wrong,
1) but a fellow brother or sister confronts you stating that your actions are wrong and he stumbles. Is it one's sin?
2) but a fellow brother or sister believes that it is wrong and he stumbles due to your action. Is it one's sin?
one man's meat is another man's poison