I've come to understand certain things in this life, many of which took me through very discouraging and tough roads that challenge my own ethical principles and integrity. In just 3 days I've gone on a wild roller-coaster ride called life, like a duck that appears calm and graceful above but in actuality is running its feet below unseen eye.
heh~
But first, let me take you back to Saturday.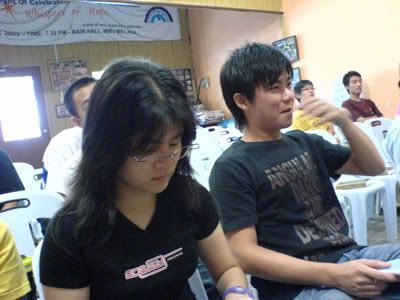 three words: i ain't saying anything
Apologetics training on an early morning Saturday proved to be a great workout for the mind as we'll as the spirit. L.T. and I-Ching did a great job in presenting and training us so much so that I would love to sit in another session of apologetics. Philosophy, intellect thingie.. gotta love it.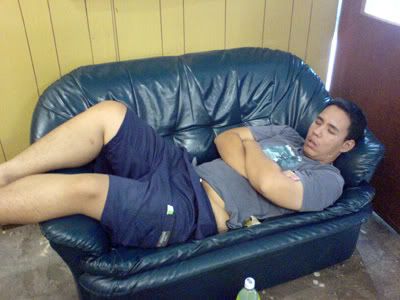 taking a moment to digest excess info
Saturday didn't end (no Saturdays does). The training session started at 9am and ended nearing 11am++ so lunch was next in order. Since I had church music practice at 3pm, I crashed at the ever welcoming home of the peddlepoppers - people who pop peddles.
Hmmmm..~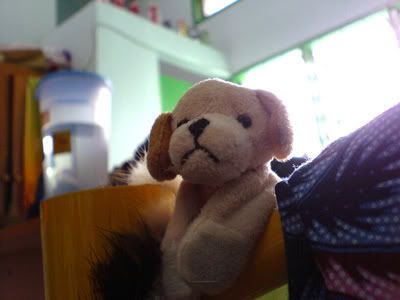 Jess and Elaine wasn't around so I hang(ed) out with the remaining peddlepoppers. They proved to be entertaining.
Muahahahha~
Just kidding, you guys have always been fun. I chilled out in Deb 'n' Becca's room killing time while waiting to meet up for practice at 3pm. Me not having enough sleep the previous night tempted me to just crash and forget everything, but like every other great Andrew, I persevered and pushed on for great justice!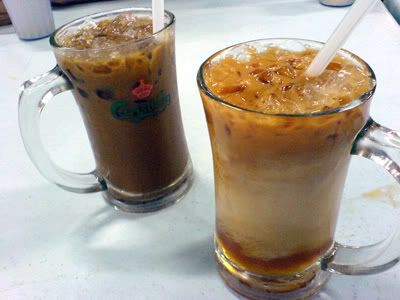 quote: wisdom would mean ordering two drinks for all occasions
Practice was fruitful and at the same time, a little challenging. For some reason that we didn't get the opportunity to discuss, practice for english service was slightly difficult and just-not-hitting-that-spot. Can't really say I know the reason for it though but Joel did a great job nonetheless. Chinese service practice was fun as we had the super boy-band song that made Boss very happy for
*koff*
syiok sendiri
great, far-seeing reasons.
heh~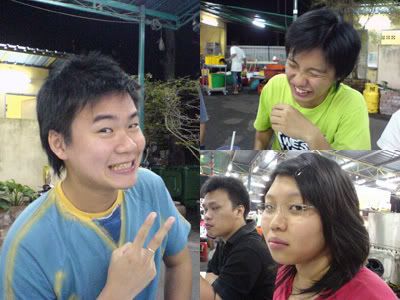 ma-lak fallout : crazy, happy and sad
After practice, the lot of us when to good ol' Newton to makan our favourite food among which has reach cult-status in our CF; the powder-from-hell : Darth Ma-Lak. The best view that night was to watch
Vain
Wayne, confidently eating 2 of them hell sausages at one go, Boss, eating 3 then going to the toilet and lastly, Louis' face lighting up red like a Christmas tree or like when he first met..
*ahem*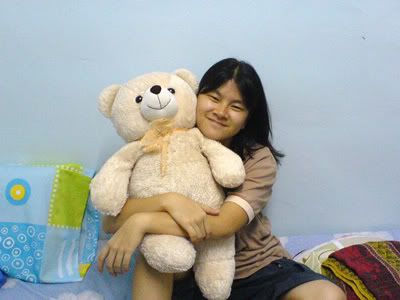 *gasp!* the feminine side of jou!
That night, Jou, Becca and I had a very fruitful (subjective) discussion about various subjects of interest, applying the apologetics knowledge that we acquired. We touched many topics of interest from National Geographic, rambling nonsense, etc but amongst the striking ones (or the only one a actually remembered) were about good ol', everyone's favourite topic since 1992 - BGR! Big Great Rock!!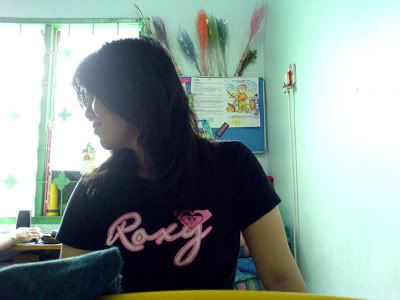 IT'S DEBBIE'S BURFDAY!!
I-Ching spoke in our church the following Sunday morning. When a person who holds a Master's Degree in Apologetics talks, one should amp-up their brian power to follow and understand or just give up and walk out the door. Kidding about the latter one. Her sermon was considerably light and easy to catch larr.
heh~
Apologetics really strike my 'excited and interested' chord so much so, I could really say that I've gained..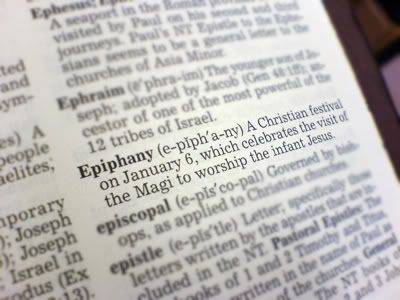 epiphany
After getting very little rest I went for my cuz's wedding dinner that night. Congrats on your wedding and all but as Jou and I talked about yesterday, I wished he was a Christian. Hope ya'll have a great life ahead!
hehe~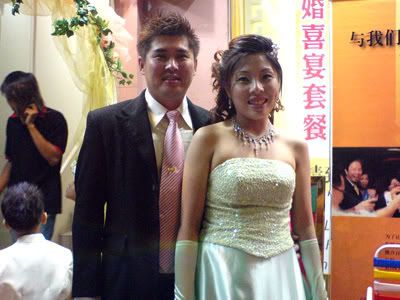 so stiff looking.. =.="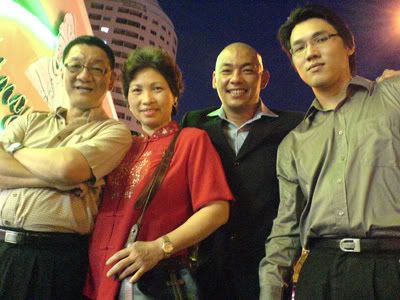 a bouncer for a cuz
My cuz's youngest sister (also called 'my cuz'), of which some of ya'll may have met before somewhere in your lifetime, talked about her interesting trip to Korea recently for an 8 days international conference held by Campus Crusade. The theme for the conference is the Great Commission and the urgency for it to be fulfilled. I'm very glad that her faith is strong as ever.
*smiles*
Korea... Lucky her.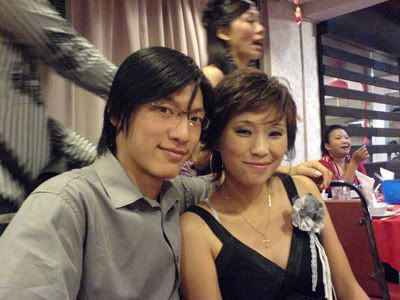 heavy makeup = aunty
but you're still pretty as ever.. heh~
Unfortunately the wedding was messy and there weren't enough seats for our side of the family. For that to happen is a very bad thing. To make matters worse, we cuzies whom haven't seen each other for awhile can't really catch up as the super unbelievably loud speakers right next to us that spews the voices crap ah-lien/ah-beng singers on stage prevented us from any communication whatsoever. The songs were worst though. Clubbing and wedding NEVER EVER go hand-in-hand.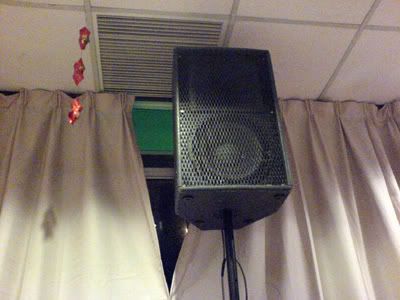 thanks.. for nothing
At least the food was good though. Roasted piglet, super butter prawns and of course, shark's fin soup with lots of vinegar and whiskey. Oh yea, them drummets earlier on in the beginning of the course was de-lish~
MmmMmmm~!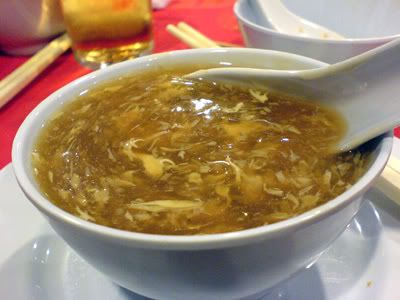 yummmeh~
It's Monday, last night had arguments with the entire family that was sparked by a seriously small matter that would make God smack our heads for fighting over it. But it did, however revealed certain things about my family and their views to me.
I'd tell people that neither sticks nor stones, words nor spears could ever harm me, but the simple tongues of my beloved family members can tear apart the very being of my soul in its entirety. Another added scar to my already-filled-with-scars ugly soul.
Thankfully, by the intervention of the Holy Spirit, it was resolved within that night itself but the words spoken can never be reversed and I intend to keep that scar and be reminded of it, forever. Whether it'll bear fruit of good or bad doesn't matter. I don't want to forget it, the words of my beloved family.
K, for the anti-emo medicine, ladies, gentlemen and lentlemen, I present thee:
The Awesomest Best (Better Than In Front Of Town's) Char Siew Fan in Melaka Baru!!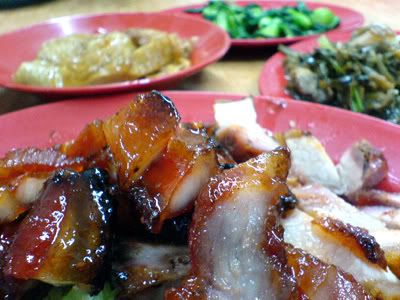 looking at it makes me hungry.. seriously
There's no char siew in this world that can ever match this honey-coated, roasted to perfection, smoked and crisply-burnt delicacy, food-of-the-gods level char siew fan. I'm not exaggerating, in fact, I think that description is not enough. Another food to add to my list of Places To Bring CF'ers To Makan list.
heh~
Good nite peeps~ Stay hungry.