I said come on! Get up! The King is here!
There's something happening in the atmosphere!!
I said jump up! Jump up! Jump up and shout it out!
The King is here! Go tell the world about!
His love! His grace! Spread the word around!
Jump up! Jump up! Jump up and shout it out!
That's the chorus for Planetshaker's new live album, Pick It Up. The pastor with the cracked, rough voice has the prefect voice for this album. Screamo tu da maxx mann.
"COME ON PLANETSHAKERS!!"
hehe~
Feel so hyped up mann after hearing this album and it's already 4.10am. Can't get that tune out of my head! Looks like I'm gonna havta
rock
myself to sleep.
ahaks~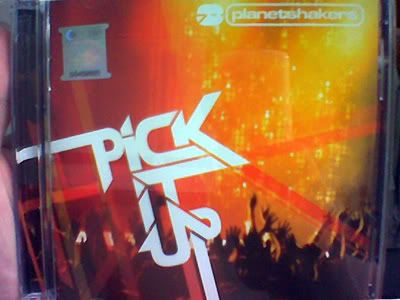 Planetshakers 2006 : Pick It Up
Oh yea, I managed to sneak into Renee's room earlier this afternoon while she's not around and took a picture of her lovely room with new drapes. The orange, yellow thingy colored curtains really look good especially when the sun is up and the color drowns the room and gives out such a.. warm ambiance. Real nice. Wish I had curtains in my room too. I think my neighbour peeks into my window whenever I'm nude.
Hehe~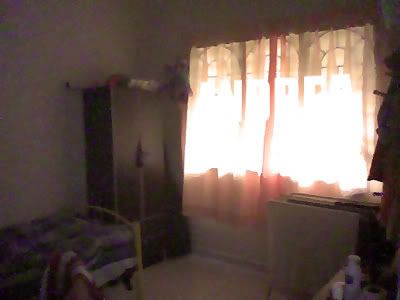 what's that on her curtains...
I have a bad fashion sense. Or at least that's what my sisters tell me all the time. Heck, I think the whole world thinks I have a bad fashion sense so much so that they'll give me
nice
clothing as a present during my birthday. To me, I wear what I feel is nice to me
I as I do various vain poses
when I look into the mirror and am not really bothered by what people say about my plain-looking clothing. As one girl once reprimand me, "Wear something nicer larr. Handsome people must wear better clothes". I dunno if she's hinting me or what, but she called me handsome and that's good enough for me.
Hehe~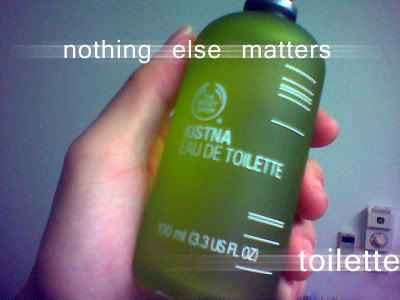 toilette? cologne for toilette? WHAT?!
But then.. On my 20th birthday (gifts are still welcomed) my bro and grace gave me a cologne/perfume whateveritscalled as a gift. Wonder what they're trying to hint me. Nahh~ I'm tired of thinking for now. Gotta sleep. 4.30am. And people wonder why I sleep so late.