Elysia Tiun of the Trio-Tiun-Sisters (sounds like some anime heroine gang.
heh~
) tagged me on the 5th of August. She's the latest blogger of the TTS gang,
"MAKE UP!!"
. No, I don't read Sailormoon. Thinking about them makes me feel.. nauseating.
*vomits*
. So yea, do check out her
blog
, especially the people she tagged, Louis, Ai Ai, Sully, Renee, Elvi, Timmy and some dude I dunno.
Heh~
What's XionBloop anyway?
So.. what ARE the 8 things I want to have in my ideal lover. I bet you gals out there are wondering the same thing but rest assure, they're not those shallow comments and stuff. In fact, they're quite cliche I guess. QUICK! Get those pen and paper! Here I go:
No 8.
Loves God
No 7.
God fearing
No 6.
Prayer gal
No 5.
Talks to God often
No 4.
Loves God more than me
No 3.
A pillar of Christ in a family
No 2.
Has an intimate relationship with God
No 1!
*drum-roll*
.
.
Muz be pweettee. Kan tok guud inglish. Muz lub mee a lot lot.
Muz b lo-man-tik. Muz bee phunny wan. Kan kook guud food oso.
Oso.. ermm.. whut ah.. oh ya, karing. Ya, muz b caring heart.
Hahahahaha~
Well, if you gals are looking for the Ideal Boyfriend 2005/2006, look no further. Here are some of the most eligable Ideal Boyfriends as voted by
YOU!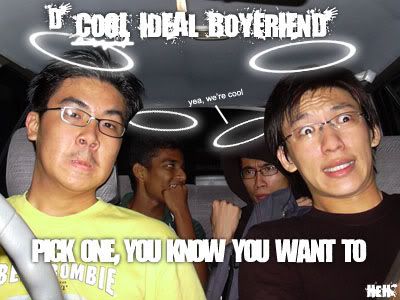 good looking, angelic guys - heh~
they look good and they're cool - Tim's favourite
unpredictable and wild, like a stallion!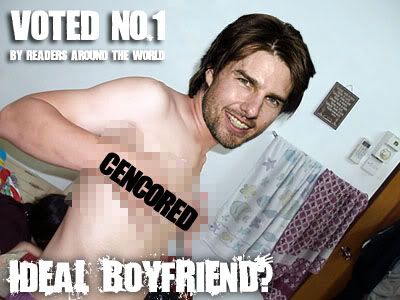 after an accidental release of the pic
Hope ya'll had a good laugh - I know I did. Well, it's more of a mixture of laughter and disgust. Can anyone relate to that? No? Then it's just me.
ahaks~
Good nite peeps! By the way, Blessed One Year ger~
*smiles*note: picture used without permission
but i do hope ya'll don't sue me